Anyone can make money trading options.
Today, we're not only going to show you how this is possible, but we're also going to get you started with a specific options trade: the "covered call."
So what is a covered call in options trading?
Call options give the holder the right, but not the obligation, to buy shares of the underlying stock at a fixed price by a certain date. If you think the market is going up, you want to own calls.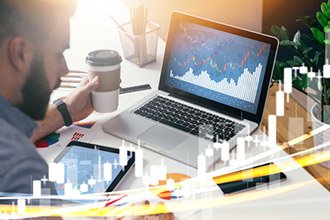 A covered call is a strategy where you sell a call option on a stock you already own. You're immediately paid the price of the options, and your own shares cover, or protect, you from some of the risks. And if the stock's price doesn't rise, then you bank the entire cost of the option as profit.
The best part of this options trading strategy is that your risk is very low, which means it's even accessible for beginners getting their feet wet.
If you sell call options, you don't think the market will move significantly higher. The problem is that if it does move significantly higher, you can lose a lot of money unless you have a built-in safety valve. We'll describe how that works in a minute.
But first, here's how you can protect yourself from the unlimited risk of this options trade.
The Risk of a Covered Call in Options Trading
Selling call options without already owning the stock is called a "naked call," and it carries unlimited risk.
If the underlying stock increases in price, the buyer of that call option will "call away" shares, which is a fancy way to say they will demand that you sell them shares at the price stated by the option. If you don't already own shares, you will have to go into the market to buy them, and they could cost far more than the price designated in the option. That opens you up to tremendous risk.
7-Day Cash Course: With the secrets in this video series, you could potentially start collecting anywhere from $1,190, $1,313, and even $2,830 in consistent income – each and every week. And it can be yours for only $1…
Let's say you sell a naked call with a strike price of $40, and the underlying stock is currently trading at $37 per share. If the stock rises to $43 per share by the time the option expires, you'll buy shares at $43 to deliver, but you will only receive $40. That's a significant loss.
And if shares trade at $50 when the option expires, you lose even more. That's why we say the risk is unlimited.
Instead, you could put a cap on this risk by selling a covered call.
By selling a covered call, you won't have to pay the higher price to buy shares in order to deliver them to the buyer. You will already own them. And you'll still make a profit from the difference between the delivery price and the price at which the stock was trading when you sold the option in the first place.
But you can even further hedge the risk of a covered call by knowing when to use it.
When to Use a Covered Call
There are two reasons to sell a covered call. The first is to create additional income from a stock you already own.
Let's say you have 100 shares of XYZ stock, currently trading at $60 per share. You sell a call with a strike price of $65 that expires in perhaps one to two months. A credit is deposited into your account, and you are OK with possibly having to sell your stock at $65 a share.
If the stock stays where it is at expiration, the option expires worthless, and you get to keep the credit.
If the stock moves up to $66, you keep the credit but have to sell your stock at $65. You still made a profit on the stock.
If the stock moves up to $85, you keep the credit but still have to sell your stock at $65. You still make a profit but might regret not being able to make more profit on the stock.
Obviously, you use this strategy when you don't expect the share price to rise within the time frame of an option. The goal is earning income with the secondary goal of selling your stock at a higher price.
The second reason to use a covered call is to enhance returns for a stock that has already seen nice gains. You sell a covered call with a strike price above the current stock price and are willing to part with the stock if and when it reaches that higher level.
You use this strategy if you think you can sell your stock at a higher price with a secondary goal of increasing your income. These are the same goals as before but in the reverse order.
While a covered call is a great way to earn some extra income through options, there are even more options trading strategies that could pad your pockets.
Options Strategies for Everybody