When Bankrate asked investors which asset they'd rather park their money in for the next decade, their answer shocked us.
Thirty-one percent of investors said they'd prefer to keep their money in real estate. Just 20% of respondents preferred stocks, and a mere 4% opted for cryptocurrencies like Bitcoin.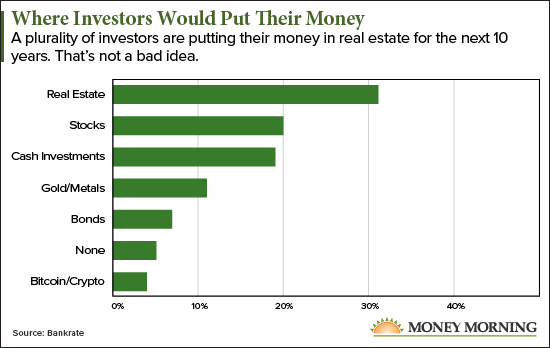 That might surprise you, but these investors might be onto something.
While we're not giving up on stocks, or even moon-shot plays like Bitcoin, right now could be one of the best times to jump into real estate. And you don't need to apply for a mortgage and pay interest on a loan to do it either.
You can start profiting right now.
But before we show you our real estate play, we're going to show you why investing in real estate right now makes complete sense.
Stocks Are King - but Now Is Real Estate's Time to Shine
2019 has been a roller-coaster year for the stock market. Despite being up about 18% on the year, the S&P 500 has seen pullbacks of 7% and 6% over the summer. The VIX surged 100% higher to kick off August, and even though things have settled since then, it's still sitting above the 50-day average.
An escalating trade war, a yield curve inversion, and an increasingly uncertain market outlook has kept a lid on stocks despite sterling economic numbers.
Did You Catch This? Serial entrepreneur Neil Patel reveals what it takes to become the world's next angel investor. Click here to watch...
And it doesn't look like it's going to let up anytime soon - just last week, the White House slapped another 15% tariff on an additional $112 billion worth of Chinese goods.
With analysts warning of a recession on the horizon, real estate could add some much-needed stability to your portfolio. Plus, with the future of the stock market up in the air, real estate could even be a growth sector.
Since the bull market kicked off about 10 years ago, stock prices have nearly quadrupled, sending valuations through the roof.
That's been great for shareholders. But high valuations are a warning sign for future market stability - especially when you look at a metric known as the cyclically adjusted price/earnings (CAPE) ratio.
Also known as the Shiller P/E ratio, the CAPE is a common stock market tool used to determine the average of 10 years of earnings generated by the S&P 500.
Historically, a high CAPE ratio has signaled trouble for markets as an indicator stocks are overvalued - and it's been flashing red for most of 2019.
At the beginning of the year, the CAPE clocked its second highest reading ever for the S&P 500 - just above where it was for the great stock market crash of 1929 and only exceeded by the dot-com bust of the early 2000s.
With valuations near record highs and recession warnings abounding, stocks may not have as much growth room as before.
But these are environments where real estate has typically performed well.
Even better, you don't need to go buy a home or property to reap the rewards of real estate investing. You don't need a ton of cash, either.
Take a look at how you can own a slice of one of the most lucrative and diversified real estate portfolios on the planet.
Your investment will begin yielding 7% right out of the gate thanks to the enormous money rolling into this portfolio.
That's not including its growth potential either.
One hundred percent of analysts consider this a "Buy," and the value of this real estate investment could jump more than 20% in the next year. Try finding that return on a property in your neighborhood...
The One Real Estate Investment You Need