The National Institute of Cannabis Investors says 2019 is the biggest year yet for CBD, which is why we're giving you the top three CBD oil stocks to watch now.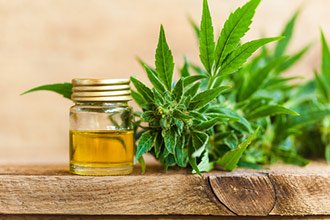 Since the federal government legalized hemp production in December 2018, the value of the CBD market in the United States alone has soared to $591 million. And that's just the beginning. According to Brightfield Group, those figures could top $22 billion by 2022, representing a staggering growth rate of 3,623%.
This rapid growth is why marijuana stocks should be at the top of your investing list, and we're going to tell you about the companies that are producing and selling CBD products.
But before we list those three top CBD stocks, here is why this space is seeing such incredible growth this year.
Why 2019 Has Become a Breakout Year for CBD
The first major catalyst for CBD oil stocks coming into this year was the passage of the Farm Bill at the end of 2018. This law made it legal to cultivate hemp, make CBD, and sell it on a national scale.
The Next American Aristocracy is expected to be fueled by today's cannabis boom. If you take advantage now, you could enjoy the kind of wealth "that lasts generations." Click here to see for yourself...
Growing and extracting CBD is easiest with hemp, and this new law has opened up a major market in North America. You see, unlike traditional forms of marijuana which intoxicate the user, CBD does not. That's important since it has so many health benefits. Healthline reports that it has been proven to help with pain, stress, inflammation, and other common issues.
Major retailers are now embracing CBD as well. You can find these products at places like Walgreens Boots Alliance Inc. (NYSE: WBA) and on Amazon.com Inc. (NASDAQ: AMZN).
These are just a few of the reasons why investors will want to take a close look at the best CBD oil stocks, one of which could more than double your money.
Top CBD Oil Stocks to Watch Now, No. 3: Cronos
Cronos Group Inc. (NASDAQ: CRON) is our No. 3 pick for CBD stocks to watch today.
It is a Canadian marijuana company founded in 2013 and remains one of the largest cannabis firms in the world.
What's exciting about Cronos, other than its size, is that it is an innovator in this space. Just a year ago, the company reached an agreement with Ginkgo Bioworks to make CBD oil. This collaboration, which has a value of about $100 million, also created a novel way to produce the oil.
Instead of using traditional methods to grow cannabis and hemp, the two groups would start with yeast cultures and inject them with CBD DNA strands. This produces highly pure and refined CBD oil, and there is no need to find bigger farmland for hemp cultivation.
Plus, one of the world's largest tobacco companies, Altria Group Inc. (NYSE: MO), made a $1.8 billion investment in Cronos in March of this year.
This massive investment will allow the company to boost its CBD production as well as acquire other firms.
Cronos grew 120% in the first quarter of this year, and it has a $4.19 billion market cap. You can expect these figures to swell as Canada continues to rollout full legalization as well as enter the lucrative U.S. market by the end of this year.
CRON is currently trading at $11.31 per share, and analysts have given it a $19.46 price target. This would give today's investor a 72% potential upside.
Top CBD Oil Stocks to Watch Now, No. 2: Canopy Growth
Canopy Growth Corp. (NYSE: CGC) has been one of the top cannabis stocks to buy for several years, and it is also a leading CBD stock to watch.
Just like Cronos, it's a Canada-based firm founded in 2013. It is also one of the largest cannabis firms you'll find.
Even though it's huge, there's still plenty of room for growth. Just because it's already becoming a household name doesn't mean it can't grow any larger. Look at what's happened with Amazon and Microsoft Corp. (NASDAQ: MSFT) over the years. Both have seen massive growth over the last decade despite already being massive companies.
Canopy also has brand-name appeal thanks to big-name celebrity partners like Seth Rogen, Snoop Dogg, and even Martha Stewart. Earlier this year it snapped up Acreage Holdings Inc. (OTCMKTS: ACRGF), a U.S.-based marijuana company.
That acquisition positioned Canopy well for expansion into the CBD market since Acreage already operates in nine states.
Canopy's market cap currently sits at $9.49 billion, but this should soar with further expansion and more legalization in the United States.
CGC currently trades at $27.29, and there is a $78 price target on this stock. That's a stunning 185% potential return in just one year.
But our top stock to watch is a little-known firm with just as much one-year upside, not to mention you'd be getting in close to the ground floor...
The Best CBD Oil Stock to Watch Now