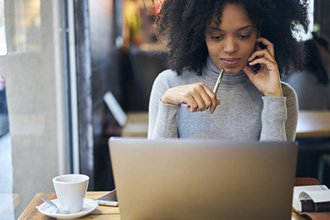 So you're ready to begin trading options.
You've learned the basics. You know your strategy. And you've set aside an appropriate amount of money to trade.
Now it's time to get started making money trading options. And that means finding the right online trading platform for your options transactions.
If you've already been buying and selling stocks online, there's a good chance that your current broker can handle your options trades too.
However, you will have to apply for options trading approval, even if you've been investing for years. Options trading is more advanced than simple stock investing, and it comes with more risks. So your broker needs to determine that you are in a good position to take on that risk.
You're probably also accustomed to transaction fees when trading stocks. The same fees apply to options trading too. But buying and selling option contracts typically come with contract fees as well.
These fees are often less than $1 if you're using a discount online broker, but the key is that they apply to each contract in the trade. An options contract typically involves 100 shares of the underlying stock. So if you're buying options on 500 shares of a certain stock, that would be five option contracts, and therefore five contract fees on top of the overall transaction fee.
7-Day Cash Course: With the secrets in this video series, you could potentially start collecting anywhere from $1,190, $1,313, and even $2,830 in consistent income - each and every week. And it can be yours for only $1...
Still, that trade would likely cost you less than $10, and the difference between one online broker and another typically only amounts to a couple bucks. So while fees are definitely something to take into account when selecting your options trading platform, you also want to prioritize identifying one that you find easy to use and that works well for your style of trading.
So even if you've already got an online broker for stock trading, you may want to shop around for the best platform for options trading based on your particular needs.
With that in mind, here's our list of the best options trading platforms available...
Best Options Trading Platforms, No. 5: TradeStation
TradeStation offers tools for both professional day traders and casual beginners. You can use the company's dedicated desktop software or log in to your account from any web browser.
You can also use TradeStation's mobile app to make and keep track of trades or perform market research while you're on the go.
TradeStation's data technology allows you not just to watch market movements in real time, but also to back-test your trading strategies to see if they're profitable before you put your money on the table.
Once you place a trade, TradeStation offers a 3D graphic interface to track your positions. It also offers drag-and-drop position management. So, you're not stuck with an alphabetized spreadsheet that makes it difficult to watch your strategy play out.
By default, options trades on TradeStation cost $5 per trade plus $0.50 per contract. There are other commission schedules available, but for a beginning trader, the default plan is probably the best way to go.
Traders who are active military, veterans, or first responders have an extra incentive to choose TradeStation. All stock, ETF, and option trades are commission-free for these users when they enroll in the "TradeStation Salutes" program.
Now let's look at the next pick on our list of best options trading platforms...
Best Options Trading Platforms, No. 4: Fidelity
Fidelity Investments has been around as an institution for more than 70 years, and it's one of the largest investment firms in the world, with customer assets of over $7 trillion.
Today, Fidelity counts itself among the most popular online brokerage firms. The fee for option trades is $4.95, plus $0.65 per contract.
Fidelity also offers desktop and mobile trading and tracking. Traders also can sign up for Active Trader Pro, which helps you craft your trading strategy. It also offers advanced analytics and customized alerts, so you can make the right trades at the right time without being glued to your screen all day.
And for those of us who have trouble with complex math - that's a lot of us - Fidelity offers tools to calculate risk as well as price points that represent profit and loss for your potential trades.
That way you'll never enter a trade without knowing exactly what you're getting into.
Fidelity approves options trading at five levels, which vary according to the level of complexity and risk involved. This makes Fidelity one of the best options trading platforms for beginners. You can be approved at the most basic level and gradually gain the experience required to graduate to more advanced levels of trading as you go.
If you're still looking for the best options trading platform for beginners, keep reading...
Best Options Trading Platforms, No. 3: Robinhood
When it comes to options trading, Robinhood is the new kid on the block.
The company launched in 2015 with a mobile app--based trading platform for stocks and ETFs. It has since expanded to include cryptocurrency and option trades through the mobile app or on its website.
The biggest selling point for Robinhood is that all trades, including option trades, are 100% commission-free.
The mobile-oriented trading system and the commission-free trades - not to mention no account minimums - have made Robinhood one of the most popular trading options for millennials. But there are a few caveats to keep in mind before jumping on board the bandwagon.
Beyond trading stocks, ETFs, options, and cryptocurrencies, the offerings from Robinhood are limited.
You can't open a retirement account or trade mutual funds or bonds, which means you'll have to have an account at a different institution in order to maintain a complete, well-balanced investment portfolio.
Learn How to Trade Like the Pros: Tom Gentile just recorded all of his most potentially lucrative trading secrets in America's No. 1 Pattern Trader Cash Course. This could set you up for life - and it'll only cost you $1...
The checking accounts offered by Robinhood have also garnered some criticism, as they do not offer FDIC protection. And trading tools and customer service are limited, as you would expect, given the lack of fees.
Still, using Robinhood for options trading is a great choice for anyone who doesn't need a lot of help and just wants to execute trades easily - and for free.
And now for the two best options trading platforms...
Best Options Trading Platforms, No. 2: E-Trade
E-Trade holds the distinction of being one of the first discount brokerages in the United States, establishing itself in the early 1980s not long after broker fees were deregulated. It was also an early mover in online trading. As such, E-Trade played a major role in popularizing the stock market for everyday citizens who had never met a broker personally before.
Because it's been around for a while, E-Trade excels at delivering a bevy of services that go beyond what you might expect from a "discount" broker. It gets high marks for its integration of educational tools, robust desktop and mobile platforms, and customer service.
Perhaps the only downside for E-Trade is that it's pricier than the other choices here. An option trade costs $6.95, plus $0.75 per contract.
That might be a deal-breaker if you're trading every day. But if you trade more infrequently and you want some help along the way, E-Trade's extra services may be worth an extra couple bucks per transaction.
And here's the final entry in our best options trading platforms list...
[mmpazkzone name="in-story" network="9794" site="307044" id="137008" type="4"]
Best Options Trading Platforms, No. 1: TD Ameritrade
TD Ameritrade was in the discount brokerage game even before E-Trade, back in 1975, when it was founded as Omaha Securities Inc. Now, under its newer name, it has more than $1 trillion in its accounts.
TD Ameritrade's "thinkorswim" desktop trading platform is perfect for serious, self-directed traders. Even if you don't have a ton of trades under your belt, the platform offers a wide range of educational features, including instructor-led courses. You can also chat in real time with other traders and get visualizations of social media sentiment regarding any security you're interested in.
The fee schedule for options is the same as E-Trade's. Plus, you can trade commission-free for the first 60 days after you open an account.
This list should give you an idea of the platform you want to use to start making options trades. Now, if you want to gain more tools to make the best trades possible, we've got you covered...
You Can Learn How to Trade Like the Pros - for Just $1
America's No. 1 Pattern Trader, Tom Gentile, is giving you a rare opportunity to learn how to amass a constant stream of extra cash - year in and year out.
And he's going to teach you how to do it entirely on your own.
People have paid up to $30,000 to access his secrets... but it can all be yours for only $1.
Go here to claim your seat in America's No. 1 Pattern Trader Cash Course...