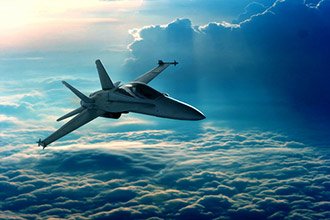 Most investors rightly focus on the long term, but on occasion, there are short-term opportunities that can be exploited.
Take the upcoming 2020 election for example.
Investors around the world will be anxiously awaiting the outcome. Of course, we're still 14 months away. And we've found an excellent profit opportunity to exploit in the run-up to the election.
I can already think of one sector that is going to run wild in advance of the election next year: defense.
Given our current political climate, it's almost a given we see more sensational headlines when it comes to policy plans. We're talking both sides of the aisle, too.
But one of the biggest issues is going to be the trade war.
U.S. President Donald Trump is going to make the trade battle with China his pet project for the year.
As the drama unfolds, what sector do you think will benefit from an uptick in trade tensions?
I'm going with the defense industry.
Live Now: Robert Herjavec is helping Americans find new ways of investing to create generational wealth. Click here to watch...
The industry is already booming. So far in 2019, defense stocks have more than tripled the returns of the S&P 500.
Defense stocks are up 37% compared to 12% for the S&P 500 in 2019.
That extra oomph is a direct result of the trade war with China. Imagine what that outperformance will be when President Trump puts on his reelection show?
Investors love defense stocks during a trade war because the government favors domestically sourced materials for its supplies.
That means local companies are immune to the tariffs and many of the negative impacts of a trade war.
We already know the budget for the defense department will be higher in 2020 compared to 2019. And the budget for the Department of Defense in 2019 is a whopping $693 billion.
That spending, combined with demand for companies that do business domestically, will attract investors to defense stocks in the near term.
It's the perfect catalyst.
And this is the top defense stock to buy now according to the Money Morning Stock VQScore™ system...
The Top Defense Stock to Buy Before 2020