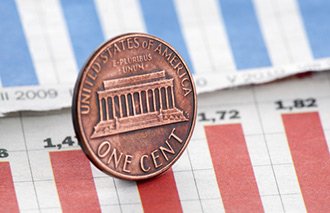 After a rough last month, the S&P 500 has now recovered by 2.3% in September. And while many stocks are still down, the best penny stocks to buy in September 2019 are ready to break out higher.
You see, penny stocks flourish in the kind of up-and-down market we've been seeing. One small movement in price could create a windfall of profits for some of the best penny stocks out there.
That's because penny stocks are stocks that trade at $5 or lower. A $0.20 tick in price doesn't mean much for a traditional stock trading at something like $100 a share. But a penny stock trading at $2 with a $0.20 bump is a solid 10%. Especially since penny stocks traders often buy hundreds of shares at once.
The slightest volatility could create a big move. If the CBOE Volatility Index (VIX) goes up, some of the top penny stocks to buy could quadruple your returns in just a day.
Live Now: Robert Herjavec is helping Americans find new ways of investing to create generational wealth. Click here to watch...
And with the fear-mongering news and Twitter politics, the market turbulence will continue.
Now, of course, penny stocks aren't without risk. They could just as easily go down as well. Which is exactly why it's important to choose the right penny stocks to invest in.
But it can be hard to sift through all of the penny stocks on the market. Fortunately, that's why we created the Money Morning Stock VQScore™ system.
Our VQScore system looks at thousands of stocks to find ones with breakout potential.
And this month, it found some of the best penny stocks to buy in September 2019 that have our highest score of 4.9.
In fact, we have three penny stocks that are absolute buys right now. And one of them could bank you 307.6%.
Best Penny Stocks to Buy in September 2019, No. 3: ASE Technology
Our first top penny stock to buy in September 2019 is ASE Technology Holding Co. Ltd. (NYSE: ASX).
ASX is a Taiwan-based international semiconductor manufacturer.
In recent years, semiconductors have become pivotal to just about all our technology. And they'll continue to be a key part of new and evolving technology as well.
Things like 5G wireless networks, autonomous vehicles, and more run on semiconductors. So, the demand will only rocket higher.
Plus, ASX's profits between 2015 and 2018 saw a solid 37% growth. But it's not done growing. In fact, ASX is in a prime spot to see exponential growth well into the future from semiconductor demand.
This top penny stock to buy currently trades for $4.57 per share. But with a target high price of $5.39, it could go up another 30% over the next 12 months.
And our next best penny stock to buy could jump even higher...
Best Penny Stocks to Buy in September 2019, No. 2: On Deck Capital
Our next best penny stock to buy is On Deck Capital Inc. (NYSE: ONDK).
ONDK is a global online lending firm that works with small businesses in the United States, Canada, and Australia.
Over the last five years, its net revenue has grown 180% from $73 million to $203 million. At the same time, its net profits grew from negative $19 million to positive $25 million.
That's 231.6% growth. And it's largely because of ONDK's big partnerships.
In mid-2016, ONDK partnered with JPMorgan Chase & Co. (NYSE: JPM) to help small business clients by providing a lending platform.
And that's not all. Major firms like Quickbooks, Wave Accounting, and CreditKarma, refer their clients to ONDK's lending platform.
This level of exposure from major companies enabled ONDK's sales to climb 56% in 2015.
And it's expected to continue with another 7% growth in sales between now and 2020.
Right now, this top penny stock to buy trades for $3.68 per share. But it has a target high price of $6. That's a potential 63% upside over the next 12 months.
But with a perfect VQScore, we think this company could go even higher.
Still, our best penny stock to buy in 2019 blows the rest out of the water. In fact, it could rocket as high as 307.6% over the next year.
Check it out...
The Best Penny Stock to Buy in September 2019