On Sept. 10, 2019, Forbes reported that Boris Jordan became the world's first pot billionaire. In fact, he now has a net worth of $1.1 billion thanks to marijuana.
Sure, other billionaires have already dabbled in the cannabis industry. But, Jordan is the only one who has created his fortune through marijuana.
And once you consider the potential of the top marijuana stocks, you can see why he won't be the last.
You see, Jordan's the chairman of Curaleaf Holdings Inc. (OTCMKTS: CURLF) and owns a 31% stake in the Massachusetts-based cannabis company. Curaleaf is the sixth-biggest marijuana firm in the world. And Cannabis Market Cap says it's also the largest one in the United States.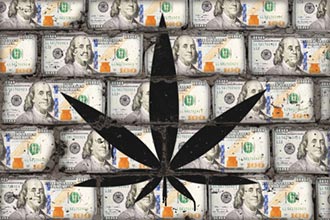 But his path to the world's first marijuana billionaire isn't just thanks to Curaleaf, either. In fact, Jordan founded Measure 8 Ventures. This is a venture capital firm focused on investing in some of the top marijuana stocks.
And if the sixth-largest cannabis stock in the world can mint a billionaire, imagine the potential returns from other big marijuana stocks like Canopy Growth Corp. (NYSE: CGC) and Aurora Cannabis Inc. (NYSE: ACB).
While those are just two of the top marijuana stocks, there are plenty of up-and-coming cannabis stocks to buy with massive potential as well.
That means there's still potential to take advantage of the next great cannabis stock on the ground floor.
In fact, Statista says the cannabis industry in the United States alone will be worth $24 billion by 2025.
This growth potential means Jordan won't be the last cannabis billionaire. And it certainly means that plenty of other marijuana stocks could generate even greater wealth for investors.
This is only the beginning. The United States' green gold rush is just now developing, and you could claim your potential life-changing stake, now.
In fact, we have four lined up for you already, and you still have time to claim your stake.
Right now, Fortune 500 companies worldwide are building up their massive war chests.
They're setting up to feed billions of dollars into some of the best marijuana stocks to buy in 2019. Moreover, they could make their move anytime now.
So, right at this very moment - right here - you have what can be one of the most lucrative once-in-a-lifetime opportunities knocking at your door. And you have a chance to beat them all to the punch and stake your claim.
You can find out how, here.
Follow Money Morning on Facebook and Twitter.
Join the conversation. Click here to jump to comments…
About the Author
Daniel Smoot is a Baltimore-based editor who helps everyday investors with stock recommendations and analysis. He regularly writes about initial public offerings, technology, and more. He earned a Bachelor's degree from Towson University.