A successful IPO can be very profitable. But some investors have figured out how to maximize those profits by investing in companies long before they're publicly traded.
These investors are called angel investors. And they're more common than you might think. In fact, you could be one, too.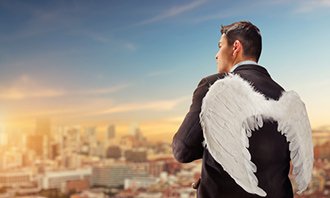 Today, angel investing works differently than it used to. Congress passed the Jumpstart Our Business Startups (JOBS) Act in 2012. This lowered barriers to angel investing, and now you don't have to be a millionaire to do it.
So how does angel investing work?
We'll show you. Then you can get started with as little as $50...
What Is Angel Investing?
The first step to learning how angel investing works is to define "angel investor."
The term "angel investor" once referred to wealthy individuals that were willing to financially back small business.
In return for the financial help, the angel investor receives a small stake in the company. This is like buying shares, but it's not on a public exchange, and there may be different terms attached to the deal.
Watch Now: Robert Herjavec is helping everyday Americans discover the next Airbnb. Click here now...
Angel investors generally aren't family or friends of the business. They're also different from venture capitalists, which are companies that target larger investment opportunities. As an angel investor, you work for yourself and are able to choose which investments interest you the most. It can be both fun and lucrative.
One big-name angel investor is Jeff Clavier, who made successful early-stage investments in Mint.com, Eventbrite Inc. (NYSE: EB), and Fitbit Inc. (NYSE: FIT). Another is former Alphabet Inc. (NASDAQ: GOOGL) employee Chris Sacca, an early investor in Twitter Inc. (NYSE: TWTR).
Even Amazon.com Inc. (NASDAQ: AMZN) CEO Jeff Bezos has dipped his toes into angel investing. He has made early investments in Nextdoor, Airbnb, Workday Inc. (NASDAQ: WDAY), and Uber Technologies Inc. (NYSE: UBER).
Amazon was built on funds from angel investors. Roughly 22 "angels" invested in the company in the mid-1990s, with investments of about $50,000 each in exchange for a 1% stake in the company. Today, those shares are worth over $8.5 billion, or gains of over 17,000,000% in 25 years.
Here's another example of just how lucrative angel investing can be. Then we'll show you exactly how angel investors realize profits.
Angel Investing in Apple
When most investors think of "the one that got away," their thoughts go to Apple Inc. (NASDAQ: AAPL).
Anyone who purchased AAPL shares at the IPO in 1980 would be sitting on gains of about 39,500% today. That's significant, but you still wouldn't come close to the amount that Mike Markkula has pocketed from his investment in Apple.
While Steve Jobs and Steve Wozniak were the two faces of the company, they owe a good deal of their early success to Markkula.
You see, Markkula retired a millionaire at the age of 32 and met the "two Steves" through a mutual acquaintance. Jobs and Wozniak were looking for funding for their startup that would bring personal computers to the masses. Markkula, who understood tech, was interested.
In 1976, Markkula not only helped the pair write a business plan, but he also became an angel investor when he seeded Apple with $92,000 of his own money. He also helped the company get a $140,000 line of credit from Bank of America Corp. (NYSE: BAC).
In just one year, Apple's sales jumped from $773,000 to $7.86 million. By the time the company went public in 1980, sales had soared to $117 million.
Markkula owned about 7 million shares of AAPL stock, which was worth $203 million on the IPO date. In just four years' time, his initial investment of $92,000 had produced 220,552% in gains.
How Does Angel Investing Work?
Those initial investments in Amazon could be worth $8.5 billion today, and 7 million shares of AAPL stock have a current value of $1.4 billion. This doesn't take into account stock splits (AAPL has had four splits since its IPO), which would significantly increase the value of those initial holdings.
The gains from angel investing aren't realized until you sell some shares. Many angel investors use an IPO as an exit point. If they see the company as something with massive potential, such as the next Amazon or Apple, it might be a better idea to sell half and hold on for the ride with the remainder.
Another potential catalyst is acquisitions. Companies that have cutting-edge technology or processes are targets for larger conglomerates. This produces another potential payday for early investors.
Picking the right startups to invest in can be a challenge. There's no shortage of choices, and not every pick is going to be a winner. Fortunately, you don't need a lot of cash to get started, and you don't have to do this on your own.
Anyone Can Become an Angel Investor with as Little as $50
Angel investing used to be off limits to the average American... but Shark Tank's Robert Herjavec said it best during this live broadcast: "The walls have finally come down. You no longer have to be rich, famous, or powerful to become an angel investor!"
Congress has now made it possible for you to take advantage of these life-changing deals.
By becoming an angel investor, you can be right there - one of the first to invest in the next Steve Jobs, the next Bill Gates, or the next Elon Musk.
And because you're there at the beginning, the upside is infinitely greater.
For so long, regular folks have been locked out... but not anymore. Click here for details...