Over a decade ago, I was involved in assessing the vulnerability of Saudi oil installations. The target was to determine risk factors in designing revised security protocols for virtually everything from field security to processing and tanker/pipeline shipments.
Then, the primary focus was al-Qaeda and associated/related groups. Today, we are confronting a more nation-centered source and far more destructive potential.
A significant overhaul of safety procedures followed the release of that report. Nonetheless, a series of attacks/episodes followed that pointed toward a continuing problem. Aramco, the national oil company, remains tight-lipped on the number of attacks thwarted by Saudi security.
However, following an episode several months ago, which the company has still not completely explained, concerns are again being addressed. In late July of last year, an incident took place at the large Yanbu refinery complex on the Red Sea coast. After several days of silence, Riyadh said that a fire at the complex was the result of a power transformer blowing at a gate.
Yanbu is one of three main installations on the west coast of the Saudi peninsula, connected via the nation's dominant pipeline system to the primary oil-producing regions and operations in the east.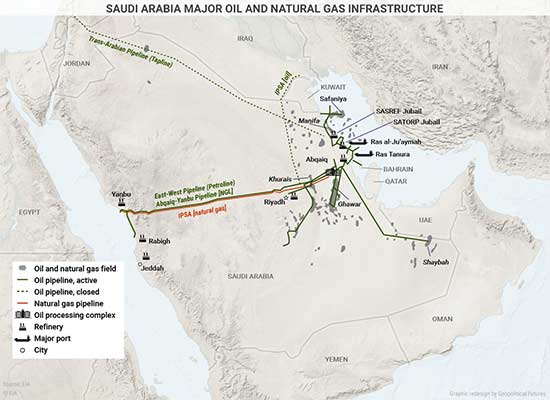 Source: U.S. Energy Information Administration
Unfortunately, there is another explanation that's more disquieting. This one involves an H-2 Burkan ("Volcano") medium-range missile fired from Yemen by Houthi rebels embroiled in a protracted civil war against the Saudis. This version had more regional media exposure, including headlines in Iranian newspapers. And Tehran ought to know.
Must See: The defense industry is a gold mine - you can't afford to miss this $6 company...
The Burkan line of missiles is an Iranian version of a Russian Scud and has been provided to the Houthis. As indicated below, Yanbu is within the range of the Iranian missile... as are the capital at Riyadh and all of the producing oil assets in the eastern part of the country...
Join the conversation. Click here to jump to comments…
About the Author
Dr. Kent Moors is an internationally recognized expert in oil and natural gas policy, risk assessment, and emerging market economic development. He serves as an advisor to many U.S. governors and foreign governments. Kent details his latest global travels in his free Oil & Energy Investor e-letter. He makes specific investment recommendations in his newsletter, the Energy Advantage. For more active investors, he issues shorter-term trades in his Energy Inner Circle.