The U.S.-China trade tensions have many investors on edge. But market-beating gains are still possible.
In fact, the best penny stocks to buy in September could triple your money.
The U.S. Commerce Department put an extra 15% tariff on $112 billion worth of Chinese goods on Sept. 1. By the end of August, the Nasdaq was down 2.5% for the month.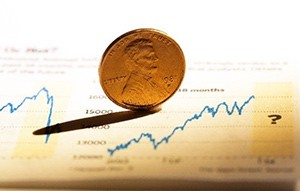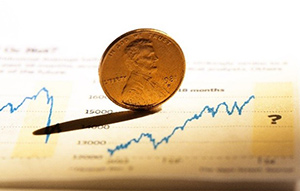 Volatile conditions have become a norm on Wall Street. But this is a good sign for penny stocks.
The Volatility Index (VIX) shot up 102% in August. It went above 20 numerous times before settling around 15. And while volatility is rippling through the market, you can still profit.
You see, penny stocks thrive on volatility. One small share price move in these stocks could net you huge gains.
Watch Now: Robert Herjavec is helping everyday Americans discover the next Airbnb. Click here now…
And there are thousands of penny stocks to choose from. That's why we're going to help you find the best penny stocks to buy now.
We've put the Money Morning Stock VQScore™ system to work. And it's just found three penny stocks with breakout potential in September.
Each of these penny stocks got our highest score of 4.9. This makes them definite buys. And our top pick could jump as much as 147%.
Best Penny Stock to Buy in September, No. 3: BGC Partners
Our third best penny stock is BGC Partners Inc. (NASDAQ: BGCP).
BGCP is a New York City–based financial services firm that employs more than 4,600 full-time staff.
BGCP offers equities, commodities, insurance, foreign exchange, futures, and fixed income. It also offers back-office services like trade execution, clearing, information, and broker-dealer.
BGCP is also highly invested in technology. In fact, it has put $1.7 billion into electronic trading solutions.
Some of its most recognizable ones are Credit Match, BGC Trader, Capitalab, Fenics, and EMBonds.
In 2017, BGCP opened its first office in Seoul, Korea. Later that year, it was also the first inner-dealer broker to open an office in Istanbul, Turkey.
In 2014, BGCP reported $4 million in profits. Now, those profits have soared to $74 million. Between 2017 and 2018, it boosted its bottom line by 43%.
And it looks like BGCP plans to continue this growth. It's a global financial powerhouse, and it's at the forefront of its field.
IBISWorld research shows the digital brokerages could grow 6.2% over the next five years. This would create more than $313.4 billion in annualized return for the sector.
BGCP currently trades for $5.57. But it's forecast to grow another 60%.
That's a respectable gain, but our next penny stock pick could do even better.
Best Penny Stock to Buy in September, No. 2: Resolute Forest Products
Our second pick for one of the top penny stocks to buy now is Resolute Forest Products (NYSE: RFP).
RFP is a Canadian forestry products firm that operates around the globe. Its five segments include wood products, market pulp, newsprint, tissue, and specialty papers.
Resolute produces bleached kraft for diapers and packaging paper. It also creates tissue products, construction-grade lumber products, and paper for newsprint. Plus, it creates specialty items like bags, direct mailers, and books.
RFP also produces its electricity through seven hydroelectric dams and six cogeneration facilities.
It is a supplier in over 70 countries. And it's in a prime position to take over as one of the world's largest providers of sustainable goods.
In 2018, RFP profited $235 million. Beyond that, it boosted its operating income by 736%.
It has a 3.25 price/earnings (P/E) ratio. That's significantly below its historical average of 14.87. So, it's poised for breakout potential.
RFP shares currently trade at $5.29, but it's expected to shoot up another 70% in the next 12 months.
But our top penny stock to buy could jump 147%…
The Best Penny Stock to Buy in September