For months, Wall Street touted WeWork as another promising "unicorn" IPO expected to hit the market in 2019. And on July 23, the real estate firm announced the WeWork IPO date for September.
Those plans have been put on the shelf. In fact, WeWork just announced it was delaying its IPO for at least another month.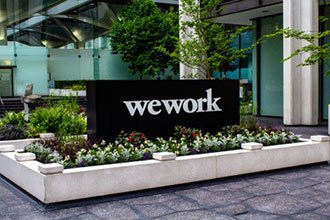 This doesn't bode well for an IPO that we've already said would be a flop. As we've cautioned before, investors should steer clear of WeWork stock after its eventual IPO.
However, we'll show you a much better investment in just a moment.
WeWork is one of the biggest real estate firms worldwide. With an initial valuation of $47 billion, venture capitalists have been vying to stake their claim in WeWork stock.
And it's no surprise. Many of them forecast that it would turn into the second largest IPO of 2019 - behind Uber Technologies Inc. (NYSE: UBER), of course.
But we all know how that one turned out.
We always knew buying WeWork stock after the IPO would be risky for retail investors.
But what makes us so skeptical of the company, anyway? We'll tell you everything you need to know below - and why WeWork stock doesn't deserve a spot in your portfolio.
Plus, we have an even better buy in the real estate sector. In fact, with our Money Morning VQScore™ system, we've found a REIT with breakout potential. And it even has our highest score...
What Does WeWork Do?
WeWork is a real estate firm based in New York. What makes it stand out is its unorthodox business model.
WeWork leases to entrepreneurs, freelancers, small businesses, startups, and even large companies.
And it does this through its "Shared Workspaces." Members of WeWork pay monthly fees to use the "Shared Workspaces."
There are varying membership levels in WeWork, too. Depending on which one you have, the benefits and prices will be different. So, if you sign up for the cheapest one, it's $45 a month and you can book workspaces with community access.
If you use "Shared Workspaces" regularly, it's about $190 a month. Some options even go above $500 a month.
As of 2019, WeWork has 834 locations in 126 cities around the globe. Plus, Statista says WeWork has at least 466,000 members.
With that said, what does WeWork's financial situation look like?
A Closer Look at WeWork's Financials
In the first six months of 2019, WeWork has made $1.54 billion in revenue. That's up 73.8% from 2017's $886 million.
And this rapid growth has attracted some big institutional investors.
Originally, Softbank Group Corp. (OTCMKTS: SFTBY) bought about $10 billion worth of WeWork stock. And on Sept. 13, 2019, the bank bought $750 million more.
Plus, JPMorgan Chase & Co. (NYSE: JPM) was even in competition with Morgan Stanley (NYSE: MS) to finance WeWork's IPO. And in August, it officially announced it was leading WeWork's IPO.
Other WeWork stock investors include Goldman Sachs Group Inc. (NYSE: GS), T. Rowe Price Group Inc. (NASDAQ: TROW), Fidelity, and Benchmark.
Even Chinese firms have shown interest in WeWork stock. Hony Capital, Jin Jiang International Holdings, and Legend Holdings all have a stake in WeWork stock.
These investments and level of interest rocketed WeWork's valuation to $47 billion. And the anticipation of its IPO had investors forecasting WeWork to raise $6 billion in capital.
But its huge valuation was bound to crumble. These big-name investors were overlooking many of WeWork's flaws.
WeWork has had giant losses for years. Its 2018 revenue of $1.8 billion was offset by a $1.9 billion loss. And even with $1.54 billion revenue in the first six months of 2019, its losses are already close to $700 million.
Even with its big funding from some of the largest investors, it's still not even close to being profitable. This fact is finally settling in for institutional investors that have been bullish on WeWork stock.
In fact, growing investor skepticism is why there's a delayed WeWork IPO. Its initial $47 billion valuation has crumbled to a range of $15 billion to $20 billion. And it's now expected to raise half of what investors initially forecasted at its IPO.
But those aren't even the biggest red flags for the company...
Why WeWork Stock Is Riddled with Red Flags
For one, WeWork is in a highly saturated and competitive sector.
It's up against profitable real estate firms with revenue anywhere from $3 billion to $60 billion. Some of these firms include Gecina SA (EPA: GFC), Simon Property Group Inc. (NYSE: SPG), and Boston Properties Inc. (NYSE: BXP).
What really hurts our confidence in WeWork stock is the fact that its CEO, Adam Neumann, cashed out $700 million of his shares in July. On top of that, he just lowered his voting rights per share from 20 to 10. To us, that suggests he's not the most confident in WeWork's long-term success either.
So, with WeWork's delayed IPO, crumbling valuation, losses, competition, and Adam Neumann cashing out $700 million, WeWork stock is not worth your money.
Watch Now: Robert Herjavec is helping everyday Americans discover the next Airbnb. Click here now...
Instead, we have a much better investment to get in on the real estate market. In fact, our Money Morning VQScore™ system says this REIT has breakout potential with a perfect score of 4.9.
Plus, it offers a great 6.64% dividend yield...
Don't Buy WeWork Stock After the IPO - Buy This REIT Instead
Join the conversation. Click here to jump to comments…
About the Author
Daniel Smoot is a Baltimore-based editor who helps everyday investors with stock recommendations and analysis. He regularly writes about initial public offerings, technology, and more. He earned a Bachelor's degree from Towson University.