If you've been following along with Money Morning, you already know about the latest gold rush. The cannabis industry is expected to grow to $66.3 billion by 2025. And investors are scrambling for the best cannabis stocks to buy.
Money Morning Director of Cannabis Investing Research Greg Miller calls today's pick the Microsoft Corp. (NASDAQ: MSFT) of Weed.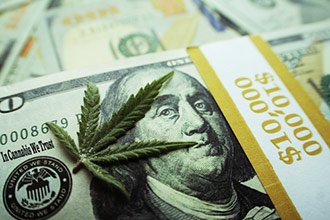 By that, he means that the marijuana industry has profit potential similar to the tech giants of the 1980s and 1990s. A $10,000 investment could lead to $1,000,000 in just a few years.
And we're going to show you our top marijuana stock in just a minute.
Remember, though, the best marijuana stocks aren't going to climb in a straight line. Many are fledging companies developing new products and new markets.
Marijuana is completely legal in Canada. But the United States has been slow to legalize on a federal level. As a result, some marijuana companies have difficulty accessing banks and other services that are subject to federal regulation. This has held back the market from reaching its full potential, for now.
The Next American Aristocracy is expected to be fueled by today's cannabis boom. If you take advantage now, you could enjoy the kind of wealth "that lasts generations." Click here to see for yourself...
But our best cannabis stock is exciting right now, specifically because the share price tumbled recently.
For a leading stock in the red-hot marijuana market, a declining share price is a clear "Buy" signal. When stocks become cheap despite their expected earnings growth, smart investors want in.
That's what's happening now to one of the top marijuana stocks today.
Marijuana might not be fully legal in every state. But that's part of the buying opportunity, too. Every added legalization measure from state or federal government grows this profit opportunity for cannabis stock investors.
In fact, one of the best cannabis stocks to buy recently reported operating results.
Recently, this pot stock fell 50%. And that only means 50% more profit when the cannabis industry grows to $66.3 billion.
Without further ado...
One of the Best Cannabis Stocks Is a "Buy" Long Term