Despite what you may have heard, angel investors come in all shapes and sizes. In fact, a lot of them are just ordinary people like you and me.
That's what we like about our three top angel investors. Their stories prove you don't need to be a genius or a billionaire to make a fortune angel investing.
In fact, we're going to show you how to start angel investing with as little as $50 today.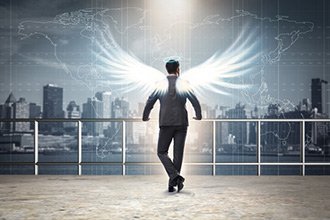 You see, startup investing took on new life following the JOBS Act of 2012. This law made it so anyone could invest in a company pre-IPO, and they didn't have to be millionaires.
Sure, many angel investors now have millions or even billions of dollars. But a common thread in many angel investing success stories is that they started as regular people.
Others might not have had much experience investing at all, but they became experts. What ties them together is good decision-making.
So here's a quick look at three of our favorite angel investors. Then we'll show you how you can become one of them with just $50.
Our Favorite Angel Investors, No. 3: Ashton Kutcher
You might wonder how in the world a wealthy actor proves "anyone can be an angel investor." Or you might not expect a wealthy actor to care about angel investing.
Wherever you land, it takes more than Hollywood money to be a successful investor. Ashton Kutcher's acting chops have little to do with his financial savvy.
This Hollywood star is known for playing dim characters like Kelso from "That '70s Show" and Jesse in the film "Dude Where's My Car." But in real life, he's a "shark."
In fact, he was also a guest on ABC's "Shark Tank."
Live Now: Robert Herjavec is helping Americans find new ways of investing to create generational wealth. Click here to watch...
More importantly, he's made some phenomenal investing decisions.
He started with putting $1 million into Skype. After Microsoft Corp. (NASDAQ: MSFT) bought Skype for $8.5 billion, his stake went to around $4 million.
And that led to further ventures.
His venture capital company A-Grade has invested in Airbnb for a 3,500% return and Uber Technologies Inc. (NYSE: UBER) for an 11,900% return.
You might think Kutcher's acting career made this easy for him. While his wealth gave him a decent head start, it was nowhere near the wealth he would amass once he started angel investing.
Ultimately, it wasn't the acting or the starter money that led to his current net worth of $200 million.
It was good decisions...
Kutcher knew where to put his money, when to get in, and when to get out. This is an important thing for any angel investor to learn, whether playing with thousands or millions.
Out next favorite angel investor is currently a billionaire. But this wasn't always the case...
Our Favorite Angel Investors, No. 2: Mark Cuban
Mark Cuban made his first big investment while he was still in college. He bought a college bar for $15,000. His friend lent him the money, trusting he would turn it into a booming business.
And Cuban did it. It became the most popular student spot in town.
He went on to become a technology and media investor. Now he owns the NBA's Dallas Mavericks.
He's also shared a panel with Ashton Kutcher on ABC's "Shark Tank."
But before anything, Cuban collected stamps. That's where he learned what it meant to grow his money.
Cuban told Bloomberg, "I started with a quarter, bought a stamp, and left with $50, thinking hey, if I can do this, I can do anything."
Today, he's valued at over $4 billion.
So our first pick was a celebrity who became a venture capital mogul. And the next was a venture capital mogul who grew into a celebrity.
Our absolute favorite angel investor might not have the same celebrity status as the other two. But he shares something far more important with Ashton Kutcher and Mark Cuban.
He knows how to do it, and he's made millions.
And unlike the other two, his story is as close to the American Dream as it gets.
In fact, this self-made millionaire is the one showing us how to start angel investing with as little as $50.
And he's sharing his secrets right here...
Our No. 1 Favorite Angel Investor
Join the conversation. Click here to jump to comments…
About the Author
Mike Stenger, Associate Editor for Money Morning at Money Map Press, graduated from the Perdue School of Business at Salisbury University. He has combined his degree in Economics with an interest in emerging technologies by finding where tech and finance overlap. Today, he studies the cybersecurity sector, AI, streaming, and the Cloud.