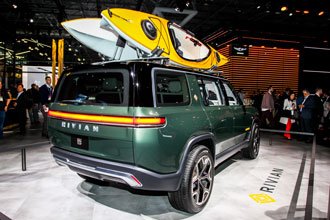 Rivian is one of the most exciting companies operating right now thanks to its potential to build a fleet of all-electric trucks, disrupting everything from the freight industry to consumer vehicles.
In fact, Amazon.com Inc. (NASDAQ: AMZN) just announced its plans to buy 100,000 electric delivery trucks from Rivian on Sept. 19. It's part of an effort to cut the company's carbon footprint.
This trend could be a lucrative opportunity for investors looking to buy electric vehicle stocks. But even with Rivian's explosive potential, you can't buy Rivian stock yet since it's not a public company.
This stock is set to double or more in the next 12 months. A major catalyst has these shares already on the move, so click here now to get the pick - it's free!
While Rivian stock will certainly be one to watch if the company ever holds an IPO, the electric vehicle industry has explosive potential. And we have another electric vehicle stock you can buy right now. We'll show you in just a moment.
The industry is getting a boost after Amazon said it aims to be carbon-neutral within the next 21 years. That's 10 years earlier than the UN Paris Agreement's goal of 2050. And Amazon won't be the only company speeding up its push towards renewable energy.
Auto companies like Ford Motor Co. (NYSE: F) and Cox Automotive are diving into the electric vehicle market, too. Ford invested $500 million in Rivian, while Cox Automotive invested $350 million.
For Rivian, Amazon's order is its largest yet. Rivian is only gaining in popularity, too. On Dec. 23, 2019, the firm raised $1.3 billion in an investment round hosted by T. Rowe Price Associates Inc. (NASDAQ: TROW). This puts its 2019 fundraising total at roughly $3 billion. The company already has plans to develop all-electric trucks and SUVs for consumers by 2020 as well - with its recent showcasing of its R1T pickup and R1S SUV performing full, 360-degree "tank turns."
But this trend goes beyond Rivian...
In fact, we have another electric vehicle stock that's developing consumer-focused electric vehicles. And our Money Morning Stock VQScore™ system just gave it its highest score.
Did You Catch This? Serial entrepreneur Neil Patel reveals what it takes to become the world's next angel investor. Click here to watch...
Plus, it's making billions every quarter. And it even has a 62% upside over the next 12 months...
The Best Electric Vehicle Stock to Buy Now
[mmpazkzone name="in-story" network="9794" site="307044" id="137008" type="4"]
Our best electric vehicle stock is Fiat Chrysler Automobiles NV (NYSE: FCAU).
Back in 2018, Fiat said it was going all-in on electric vehicles. In fact, Fiat released a huge list of electric vehicles that the firm plans to have out on the market by 2022.
Its brand Maserati has four electric vehicles in the works. But Fiat is also developing electric vehicles for its brands Jeep, Chrysler, Fiat, Alfa Romeo, and Ram. And the company has already put $4.5 billion into a plant in Detroit to do this.
Within the next few years, Jeep will have at least four plug-in hybrid vehicles. While Alfa Romeo is getting a hybrid plug-in sports vehicle, the 8C.
Fiat says it's mostly focusing on developing luxury electric vehicles first. But it's made it clear that it was doubling down on hybrids as well. The firm says every Jeep will eventually come as all-electric or hybrid plug-ins.
Beyond that, its Chrysler Pacifica Hybrid just got voted as Autotrader's best electric vehicle of 2019.
And electric vehicle demand is only going to grow. With Fiat's electric vehicle lineup and plans for the future, its profitability will only grow.
In fact, it's already made over $50 billion in revenue in the first six months of 2019. And its net income was roughly $6 billion.
By the end of 2019, its revenue is expected to rocket up to $121.5 billion. That's another 143% growth in sales.
Plus, FCAU stock is currently trading at a bargain of $13.58 per share. And it's expected to jump another 62% over the next 12 months.
And with our highest VQScore of 4.9, we think it could climb even higher...
Neil Patel Is One of the Most Successful Angel Investors in the World
Neil grew up cleaning toilets and emptying trash cans at a B-level theme park in Orange County. Not anymore, though. At this special event, Neil reveals how angel investing took him from making $5.75 an hour... to more than $20,000 per month... to now hundreds of millions per year. And he has indisputable proof that anyone can do this. The best part? You can start for as little as $50. Click here to learn more.
Follow Money Morning on Facebook and Twitter.
About the Author
Daniel Smoot is a Baltimore-based editor who helps everyday investors with stock recommendations and analysis. He regularly writes about initial public offerings, technology, and more. He earned a Bachelor's degree from Towson University.