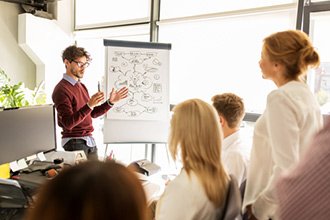 You don't need to be a Silicon Valley millionaire to invest in startups.
All you really need is some startup investing 101 to potentially bank 1,000%.
In fact, startup investing is an extremely lucrative opportunity for everyday investors. But many investors haven't even considered it before.
That's because, for years, startup investing was exclusively for the rich and powerful. Nowadays, just about anyone can invest in startups.
Watch Now: Robert Herjavec is helping everyday Americans discover the next Airbnb. Click here now...
Imagine if you were one of the original startup investors for Amazon.com Inc. (NASDAQ: AMZN). Before it became the retail monopoly it is today, 22 startup investors put in $50,000 each.
At the time, that was 1% of Amazon's value. Fast forward 25 years later, and each of those investments are now worth $8.5 billion.
So, those startup investors have seen 17,000,000% in returns.
But, here's the best thing about startup investing in 2019: You can do it with as little as $50...
And we'll show you exactly how in a minute. First, let's look at what exactly startup investing means.
Startup Investing 101: What Does It Mean to Be a Startup Investor?
Startup investors are those who invest in brand-new firms before their shares trade publicly.
In most cases, startup companies need capital to grow. So, they get startup investors to pitch in. As a result, startup investors are given a stake in the company.
They own a piece of the firm before it even goes public. And they're typically rewarded for it, too.
In fact, startup investors may receive convertible bonds or preferred stock rather than common stock.
The exciting thing about startup investing is that you can do it on your own. And you can invest exclusively in the type of companies that really interest you.
But it's not without some risk. Here's a strategy to stay ahead when investing in startups.
Startup Investing 101: High Risk, but Even Higher Reward
Since startups are typically very small, there's a bigger risk than if you were to buy stocks on a major exchange. In fact, startup investing doesn't guarantee success every time.
But with higher risk comes higher reward. Plus, you can even protect yourself with a good strategy.
At Money Morning, we recommend the 50-40-10 portfolio model. This means that 50% is where you put your defensive investments, 40% is where you invest in growth stocks, and 10% of your portfolio goes into speculative investments.
And startup investing is a speculative play. With a safe stock, you can expect returns of 10% each year. But startup investing could offer returns of 1,000% or higher.
Some startup investments will be losers, of course. But the winners could create potential life-changing windfalls.
Savvy startup investors will invest a small amount into several startups rather than a few.
Now, you're almost ready to begin investing in startups. But first, you should know when you should exit and what stock dilution is.
Startup Investing 101: Avoid the Pitfalls and Bank Huge Profits