In the last five days, the Dow Jones Industrial Average has fallen 0.80%, and the Nasdaq is down 1.73%.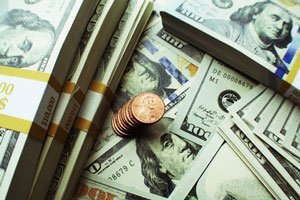 But if your investments are based entirely on broad market averages, you could miss out on a huge profit opportunity.
In fact, while the markets are down, our pick for one of the best penny stocks to buy now is still poised to jump 361%.
Major indexes don't tell the full story.
They're averages. That means they're good for getting your bearings. They can help you measure where you are compared to the rest of the market.
Want to know how to find penny stocks with the most profit potential? Get 5 Steps to Penny Stock Trading Success – it's free! Click here…
On average, investors are becoming bearish today. The market right now is – understandably – reacting to political and economic drama, at home and abroad.
But here's the thing. There's still plenty of potential left in the market once bearish investors clear out. Those investors don't have the tools to find under-the-radar penny stocks, so they can't flock to them and lower the price.
They have no option but to run away. Penny stocks can also be risky investments, so that's maybe even a safe decision for "the herd."
We, on the other hand, have a proprietary algorithm that helps us find our top penny stocks.
The Money Morning Stock VQScore™ system looks at a stock's underlying financials to determine its earnings potential. It then gives the stock a score between 0 and 4.9, which tells us if it's due for a price jump.
To find our best penny stocks, we simply narrow our top VQScore stocks to those trading under $5.
Our best penny stock today has the highest-possible VQScore of 4.9. That means it's getting ready to skyrocket.
With penny stocks like this one, a small share price gain can mean a large return. This can happen quickly in just days or weeks. And it can happen from just a little bit of good news.
Once-in-a-Lifetime Summit: Cannabis IPO Expert Danny Brody has turned little-known startups into booming $1.6 billion businesses. Here's how you can make YOUR fortune on today's cannabis underdogs. Check it out here…
For example, in early September, two penny stocks returned over 90% to investors in just a single week.
Abeona Therapeutics Inc. (NASDAQ: ABEO) is a small New York–based biotech company. Their shares jumped 95.45% on news that they hired a financial advisor.
FuelCell Energy Inc. (NASDAQ: FCEL) is a Connecticut-based utility firm. They saw a 91.04% increase in share price after announcing a higher-than-expected increase in revenue for Q3 2019.
But we don't recommend either of these as top penny stocks right now, since these events are in the past.
Today's best penny stock is soaring for a much better reason. Its growth is fueled by an industry boom. So its likely 361% growth will be sustainable over the long term.
On top of that, this penny stock's perfect 4.9 VQScore makes a 361% profit all the more certain…
One of the Top Penny Stocks to Buy Now