There's an entire legal cannabis wave sweeping the nation. The CBD market alone is expected to reach $22 billion by 2022 - 3,623% growth from today's size.
But that's just the CBD market.
We have a whole list of cannabis stocks to watch in 2020.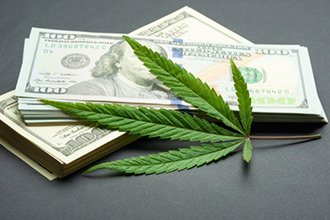 Legalization across the United States is set to provide huge windfalls for pot stocks in the coming year.
Canada has fully legalized marijuana. Eleven U.S. states have legalized it for recreation and 33 for medicinal use.
It's also a fair bet that the United States is heading toward full legalization. A growing percentage of Americans - 62%, according to Pew Research - support legalizing recreational marijuana.
CBD products were made completely legal in the U.S. last year, thanks to the Farm Bill. That allowed CBD products to explode on the market over the last few years.
That's why we're bringing you a full list of our top cannabis stocks to watch in 2020.
Our best pot stock has potential upside of 196%, so stay tuned...
List of Cannabis Stocks to Watch for 2020, No. 4: Tilray
One of our top cannabis stocks to own in the coming months and years is Tilray Inc. (NYSE: TLRY).
A Canadian researcher, cultivator, and producer of medical cannabis products, Tilray has grown into one of the world's largest legal marijuana companies. It's one of the best marijuana stocks for growth in this market.
Tilray operates in Canada, the United States, the UK, Australia, New Zealand, Germany, and many other countries.
The Next American Aristocracy is expected to be fueled by today's cannabis boom. If you take advantage now, you could enjoy the kind of wealth "that lasts generations." Click here to see for yourself...
Last December, Tilray inked a lucrative $100 million partnership deal with Anheuser-Busch InBev (NYSE: BUD). BUD is the world's largest brewer to research non-alcoholic, cannabis-infused beverages in Canada.
While this partnership was meant for Canada, there's no reason it can't expand to other nations once it gets off the ground.
Tilray also purchased Manitoba Harvest for $314 million. Manitoba was the biggest hemp company in the world. That should help Tilray top the CBD market.
As if that weren't enough, Tilray also partnered with Authentic Brands Group LLC in January. It was a $100 million deal to distribute CBD product through the company's existing network of 4,500 legal marijuana outlets.
Tilray is certainly one cannabis stock that we recommend watching for 2020. But there are many others.
Here's our full list of cannabis stocks to watch in 2020. These can help you profit up to 196% on cannabis stocks...
List of Cannabis Stocks to Watch for 2020, No. 3: Cronos
Canada-based Cronos Group Inc. (NASDAQ: CRON) is one of the largest legal marijuana companies in the world.
In addition to the company's size, Cronos continues to innovate. Last year, it partnered with Ginkgo Bioworks to produce CBD oil in a novel way.
Instead of growing hemp and cannabis to create the oil, the groups are injecting yeast cultures with CBD DNA strands. This creates refined and highly pure CBD oil. Better yet, the company doesn't have to pay the overhead to cultivate massive quantities of plants.
Altria Group Inc. (NYSE: MO), one of the world's biggest tobacco companies, also just made a $1.8 billion investment in Cronos this year.
In Q1, Cronos reported 120% growth, and the company has a $4.19 billion market cap. In a market that continues to expand, these numbers will grow as well.
CRON now trades at $11.14 per share, and it has a $19.46 price target from analysts. This represents potential gains of 74%.
But this next pick could more than double your money with growth potential of 175%...
List of Cannabis Stocks to Watch for 2020, No. 2: Canopy Growth
Canopy Growth Corp. (NYSE: CGC) continues to be a top marijuana stock to watch, and it has expanded its operations into the CBD market as well.
Similar to Cronos, this is a Canadian company that is also massive in size and potential. Even so, it has a ton of room to grow.
Household names like Microsoft Corp. (NASDAQ: MSFT) and Amazon.com Inc. (NASDAQ: AMZN) continue to grow simply from brand recognition. The same will hold true for this cannabis firm.
Canopy has already established a strong brand through celebrity partnerships with names like Snoop Dogg, Martha Stewart, and Seth Rogen.
Earlier in 2019, the company bought U.S. marijuana company Acreage Holdings Inc. (OTCMKTS: ACRGF), which is allowing it to sell CBD products in nine U.S. states.
The company has a market cap of $9.49 billion, but this could reach much higher as it continues to expand.
Shares of CGC are trading at $28.35, and this stock has a $78 price target. If you bought it today, that would give you a potential 175% return on your investment.
And that's still not even as much growth potential as our best cannabis stock. Here's our potential 196% gainer...
List of Cannabis Stocks to Watch for 2020, No. 1