When I'm out on the golf course, I can usually play 'em straight and long - on a quiet day, that is. But when the wind whips up and and starts to mess with me a bit, I've got to switch up to a shorter game to keep the wind from burying my handicap.
Playing stocks isn't any different. (You knew I was going to say that, didn't you?) What works on a calm day will bury you when the "weather" gets lively. When you change your game, you get much better long- and short-term results.
I'm going to show you how, right now. And you don't have to just take my word for it; I'll give you the name of a stock - one I think is good for a double-digit gain - to try out this new technique.
[mmpazkzone name="in-story" network="9794" site="307044" id="137008" type="4"]
How to Play the Short Game
Let's clear something up: When I say "short game," I don't mean short-selling stocks. That's a totally different story for a different day.
I mean short as in a short time frame.
Normally, I spend a lot of time talking about the importance of the 50-day moving average (MA) of a stock or the market. I mean, this is the most important indicator that you can watch. It's the only indicator important enough to be represented by one of my "10 Commandments of Trading."
With my brand-new Infrared Index, I can identify specific trigger points that tell me where a stock is anticipated to be headed over the next 24 hours. Click here to find out...
But for all its importance, the 50-day MA is not the indicator that you need to be looking at first these days. The market's winds are messing with the trajectory of those trades. Those winds are calling on all traders to make an adjustment to their game in order to create profit opportunities.
My key adjustment? Dial in on the activity of the 20-day moving average.
Whether it's on a stock, an exchange-traded fund (ETF), or the market's indexes, the 20-day MA is now determining when traders are taking action in this fast-moving market.
This is why I've been referring to the 20-day moving average as the "trader's trend line." This trend line is literally generating dozens of short-term trading opportunities a week as the market whips stocks around like a hummingbird in a hurricane.
Right now, we're doing well with stocks breaking below their 20-day MA, whilst that same 20-day MA is trending lower. For confirmation, I look for the kicker: I make sure the stock's 50-day moving average trend line is also declining.
But, like I said, here's one for you to try today that fits all my criteria...
The Proof Is in the Pudding - Here's a Spoon
HP Inc. (NYSE: HPQ) shares have been in a downward spiral since the market top in July, but the stock wasn't able to recover like many others in the tech universe. The bearish trend was accelerated when the company's earnings report disappointed - that brought in plenty of analyst downgrades.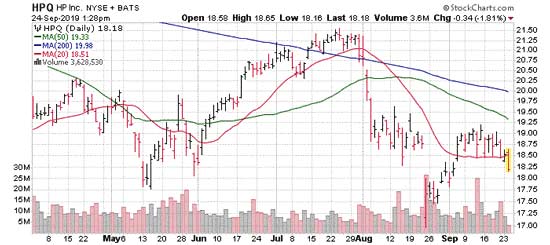 We saw a rally from the August lows, when the stock tried to tread water above its 20-day MA, which was declining. Shares finally broke the 20-day moving average today and are heading towards $17 or lower.
To cash in on HP's woes, we've got a couple of attractive options. I like the HPQ Oct. 18, 2019 $19 put (HPQ191018P00019000) because I've got a short-term target of $17. That would put a cool 100% gain in your pocket... and, I hope, make you a believer in the power of switching up your time frames.
This Could Set History's BIGGEST Revenue Surge in Motion
Think of the profits you can make from stocks, bonds, or options... and multiply them exponentially. That's the kind of potential you're looking at with angel investing. And it's why we've brought in one of the world's most successful startup investors to strip this down to its simplest parts.
Better yet, he's revealing a deal from his inner circle that can hand you enough money that even your great-grandchildren might be talking about this. Go here, and you can look behind the curtain.
Follow Money Morning on Facebook and Twitter.
About the Author
Chris Johnson is a highly regarded equity and options analyst who has spent much of his nearly 30-year market career designing and interpreting complex models to help investment firms transform millions of data points into impressive gains for clients.
At heart Chris is a quant - like the "rocket scientists" of investing - with a specialty in applying advanced mathematics like stochastic calculus, linear algebra, differential equations, and statistics to Wall Street's data-rich environment.
He began building his proprietary models in 1998, analyzing about 2,000 records per day. Today, that database, which Chris designed and coded from scratch, analyzes a staggering 700,000 records per day. It's the secret behind his track record.
Chris holds degrees in finance, statistics, and accounting. He worked as a licensed broker for 11 years before taking on the role of Director of Quantitative Analysis at a big-name equity and options research firm for eight years. He recently served as Director of Research of a Cleveland-based investment firm responsible for hundreds of millions in AUM. He is also the Founder/CIO of ETF Advisory Research Partners since 2007, noted for its groundbreaking work in Behavioral Valuation systems. Their research is widely read by leaders in the RIA business.
Chris is ranked in the top 99.3% of financial bloggers and top 98.6% of overall experts by TipRanks, the track record registry of financial analysts dating back to January 2009.
He is a frequent commentator on financial markets for CNBC, Fox, Bloomberg TV, and CBS Radio and has been featured in Barron's, USA Today, Newsweek, and The Wall Street Journal, and numerous books.
Today, Chris is the editor of Night Trader and Penny Hawk. He also contributes to Money Morning as the Quant Analysis Specialist.