Solar has become a hot market this year, with installations up 25% from 2018. Some of the brightest minds in the solar industry have just upped their forecasts.
That's about to send one of our three top solar stocks up 109%.
Longer-term outlook has improved, now that large utilities are boosting their solar projects.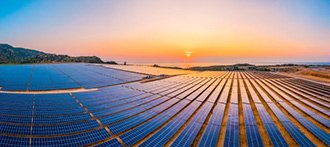 Lower solar costs have increased adoption. So it's now a no-brainer to build and expand solar projects.
Different factors have come together to make solar a go-to source for power. Demand, supply, and cost are all driving a solar sector boom.
Here's why you can still expect more growth from the solar industry. Then, check out my picks for the best solar stocks to buy as the industry expands even further.
Why the Solar Industry Is Just Getting Started
A recent report from the Solar Energy Industries Association and Wood Mackenzie has the solar industry all abuzz.
That's because its latest forecast on installations for this year are up. Way up.
Its previous estimate suggested solar installations in the United States would be up 14% from 2018. But its latest report said 2019 would likely see stronger growth. It predicts installations up by an astounding 25% over last year.
In 2018, installations were actually down by 2%, thanks in part to President Trump's 30% tariffs on foreign solar panels.
Before They Were Stocks: Stock picks are great - but the big money is made before companies go public. Now, you can access these opportunities just like the ultra-wealthy always have. We've made it easy - read how to get started here...
Compounding the situation are cuts China has made, lowering incentives for installations within the country. That paved the way for a 30% year-over-year drop from Q1 2018 to Q1 2019 as equipment prices fell.
All this has led to higher forecast revisions, with the five-year estimate 5.1 GW higher.
Florida has been leading the way as utilities aim to seize tax credits while they're still around. According to a Wood Mackenzie senior analyst, the solar sector has become significantly competitive with natural gas and coal, making it a top choice with Florida utilities.
And it's not just in the United States. Forecasts for annual global installations are growing as well:
Naturally, this has all led to a surge of interest in the sector, with solar equities lighting up.
The last time I told you about a solar stock I liked, it shot up 128%.
When I recommended SolarEdge Technologies Inc. (NASDAQ: SEDG) back in April, the stock was trading at $38. Today, it's north of $87.
At the time, I told you that SEDG was on the cutting edge of the solar industry. It invented a more efficient way to collect and manage energy in photovoltaic systems. That makes it a go-to supplier for panel manufacturers.
Of course, the stock has gotten much more expensive and richly valued since then. But anyone who owns it should hold on for more potential gains.
While I think it's still a buy right now, I've got three others ready to pop very soon. In fact, our best solar stock is still projected to grow 109%...
Top Solar Stocks, No. 3: JinkoSolar
JinkoSolar Holding Co. Ltd. (NYSE: JKS) is another name we brought to your attention in April.
JKS is based in China and makes solar wafers and photovoltaic (PV) cells, boasting its rank as the No. 3 PV cell maker in the world.
JinkoSolar is basically flat since initially recommended. But in the past year, its stock is up an impressive 57%.
JKS is the world's largest solar panel manufacturer. The company shipped 11.4 GW of modules in 2018.
It has a new plant in Sichuan, China, which is likely up and running now. The plant allows for even higher shipment volumes. With JKS moving into more value-added products and away from a conventional offering, its profit margins are likely to expand.
Right now, its forward price/earnings (P/E) ratio is just 7, which is way below the sector's average. I expect JinkoSolar will soon end its multi-month consolidation and resume an upward climb.
Businesses and utilities across the world keep adopting green energy at a stronger pace. The solar sector is likely to remain a hot investment.
This one expects growth of 33%, from $17.98 to $24. That's solid growth, but you'll want to look at our next pick for an even stronger gain...
Top Solar Stocks, No. 2: Canadian Solar
Canadian Solar Inc. (NASDAQ: CSIQ) is also a great contender for investment in the solar space.
The company's results have been humming along. CSIQ is a global leading manufacturer of solar PV modules and provides solar energy solutions. Its high-tech manufacturing facilities are in Canada, China, Brazil, and South East Asian nations.
The company has swung to profits from last year's losses. With manufacturing operating near full capacity, Canadian Solar generated revenue of $673 million in Q2. Its gross margin was 22.8%, and net income was $62.7 million.
Its P/E is a very low 5.9 right now, but there's potential for that to rise aggressively. CSIQ has multiple projects at various stages in its pipeline totaling 13 GW. What's more, the company owns and operates solar power plants with an estimated resale value of $1 billion.
This one is poised for 60% growth from $19.98 to $32 a share. That's almost, but not quite, the 109% we expect from our top solar stock right now...
Top Solar Stocks, No. 1
[mmpazkzone name="in-story" network="9794" site="307044" id="137008" type="4"]
Another company we profiled for you was Vivint Solar Inc. (NYSE: VSLR), which we recommended back in January.
Vivint owns and installs solar systems for residential, commercial, and industrial customers across the United States. The stock has backed off somewhat since peaking near $9.50 in early August. But it's still nearly a double for those who bought in January.
And it's not done growing.
Vivint is the No. 2 solar installer in the United States. As management focuses on growing the business, it plans to bring on new offerings, like energy storage, to the table.
I still see plenty of upside here. That is 109% upside to be exact.
America's Favorite Angel Investor Shows How Easy It Is for Anyone to Invest in Ground-Floor Startups
You've probably seen stories about this person or that person making an absolute fortune from some unknown startup suddenly becoming a household name... like Uber, Airbnb, SpaceX, or Bird.
Now, it's your turn.
Shark Tank's Robert Herjavec is showing how easy it is for anyone to turn as little as $50 into what can be life-changing windfalls... all from investing in startups.