Today, we're going to show you how you can join one of the best angel investing networks. Angel investors help fund firms during their infancy. At its best, angel investing could help you turn a small stake into potential hundreds, thousands, or even millions of dollars.
For angel investors who owned shares of Uber Technologies Inc. (NYSE: UBER), that's exactly what happened.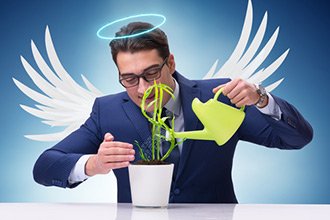 And thanks to a new law, you don't need to be a Wall Street insider or Silicon Valley tycoon to be an angel investor.
In fact, you don't need tons of money to start angel investing.
Now, anyone who wants to be an angel investor can do it. As long as you have the right angel investing network, a plan, and $50, you can start angel investing today.
That's exactly why Neil Patel created the Angels and Entrepreneurs Network.
And it's really easy to start angel investing.
Neil's goal is to help you develop wealth that lasts generations for you and your family.
With the Angels and Entrepreneurs Network, you don't have to wait for a big IPO just for a small number of holdings in a massive firm.
Now, you can lock in a ground-floor opportunity in some of the biggest startups people are rushing to invest in.
This angel investing network offers you a lucrative opportunity to join the next generation of founders at the start of their business ventures.
It could help you find the next Steve Jobs, Bill Gates, Jeff Bezos, or Elon Musk.
The Angels and Entrepreneurs Network has a rare offering for you to become a part of something much bigger than yourself.
It could provide you the chance to create your legacy and greatly reward you for the effort you've put in. You could turn $50 into life-changing returns.
You can find out more about this angel investing network by clicking here...
Just look at Amazon.com Inc. (NASDAQ: AMZN). The original 22 investors put in $50,000 each when it was just a startup. Now, those holdings are worth $7 billion.
That's a 14,000,000% gain...
But that's just one huge example of the returns that angel investors have seen.
As a member, you could see huge potential gains for $50. And with this angel investing network subscription, you're rushed information on two great startups.
Every month after, you're given two more angel deal recommendations that could change your life.
Not only will you be given important information on startups, but you'll also have access to videos, pros and cons of firms, the risks, and potential gains.
Beyond that, you'll receive a step-by-step guide on how to angel invest, investment updates, and more.
You'll even have an angel investing network of founders, members, and famous angel investors to speak with.
You'll be able to talk to founders and angel investors alike. And with this angel investing network, you can hear founder pitches, track start-ups in real-time, and meet with other members.
The Angels and Entrepreneurs Network could help you reap the insane profit potential of angel investing. You can learn more, here.
In fact, we have details on two startups here for you already...
Follow Money Morning on Facebook and Twitter.