I'm sure you've read some of these headlines...
"World Entangled in Plastic Waste Catastrophe"...
"We Depend on Plastic. Now We're Drowning in It"...
"World's plastic binge 'as dangerous as climate change'"...
If you haven't, it probably still won't come as much of a surprise to you that over the past couple of years, a coordinated, global, all-out war on the plastics industry has emerged.
It has spanned from liberal countries in Europe banning all single-use plastics, to statewide bans in New York and California, with more than 300 municipalities in the United States following suit.
Even communist China has gotten into the act, recently moving to ban plastic bags.
You've probably noticed changes in your favorite lunch spot, with some restaurants removing all plastic straws and lids.
Public backlash has become so bad against companies who don't ditch plastic that even major companies like Coca-Cola Co. (NYSE: KO) and PepsiCo Inc. (NASDAQ: PEP) have abandoned the plastics lobby.
Now - and what the headlines haven't shown you - the War on Plastic is going far beyond its own industry, trickling through the rest of the economy.
We've dug into just how far, and this little-known intel is what will drive highly unconventional - but uniquely powerful - moneymaking opportunities that many investors will miss.
Take a look...
Tracing the Global Ripple Effect from the War on Plastic
The War on Plastic is causing serious troubles with other major consumers of plastic - like the auto industry, which comprises about 10% of global demand.
Car sales in India have fallen for 10 consecutive months, or -26% year on year.
China's vehicle sales are down 17%.
Sales are even down in the United States, forcing automakers like Ford Motor Co. (NYSE: F) to close plants and slash as many as 12,000 jobs.
And with new home sales falling in the United States - taking that 40% of domestic demand for plastic along with it - you can start to see why the industry is just getting crushed.
But it gets worse...
Learn how to trace the Global Shockwaves hitting your wallet: On Thursday, Oct. 10, we're going live to show you how to trace a wave of economic phenomena rippling across the globe - and heading for your wallet. Click here to reserve a front-row spot to this event - you'll be immediately registered for free.
That's because, at the same time demand is slowing, we have a huge amount of plastic supply coming to market... all thanks to the shale boom.
You see, the fracking revolution has lifted the United States up to be the most dominant oil and gas producer in the world, but it's also brought an enormous amount of ethane into the market.
That's important because ethane gets consumed at what's called a "cracker" plant, which converts it into a compound called ethylene - the building block of nearly every plastic product on the planet.
And over the last few years, U.S. companies have been building cracker plants like crazy.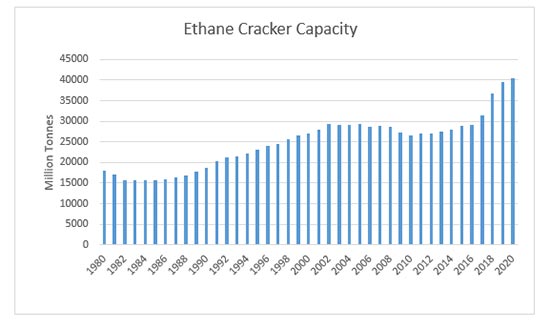 Of course, bringing more plants online means that ethylene production goes up.
But at the same time, the "War on Plastic" means demand for ethylene goes down.
Economics 101 teaches us that when supply is greater than demand, then prices go down, down, down...
And that's exactly what has happened over the last few years - ethylene prices have plummeted.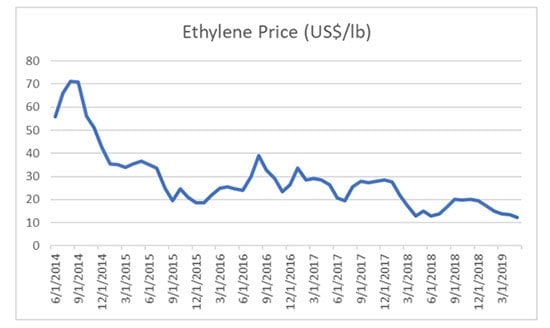 That has spelled disaster for global ethylene producers... and even major producers have had to shut down plants to weather the storm.
In truth, all of these factors are combining to create one giant SHOCKWAVE that is about to wreak havoc on the global plastics industry.
But as you know - where there's chaos, comes opportunity...
The Profit Opportunity in the Plastics Backlash
The initial shock from the plastics war will create huge opportunities in the natural gas and petrochemicals industry.
But the ripples of that SHOCKWAVE will be felt all up and down the supply chain - providing countless opportunities for the savviest investors to make up to 1,000% gains in just a few months.
And that's what we want to give you the opportunity to do...
Thursday, Oct. 10, at 1 p.m., we're going to allow a select number of knowledge-hungry investors access to the first-ever Global Shockwave Summit, where we'll reveal:
How to identify global SHOCKWAVES in real time...
How to analyze the RIPPLE EFFECTS that emanate through global markets...
How to capitalize on them using a 4-Dimensional Trading Strategy...
And finally, how you could transform that information into gains of up to $41,222.
Space is limited, so please, click on this link as soon as possible to reserve your spot and receive additional information as well.
Follow Money Morning on Facebook and Twitter.
Here Are 10 "One-Click" Ways to Earn 10% or Better on Your Money Every Quarter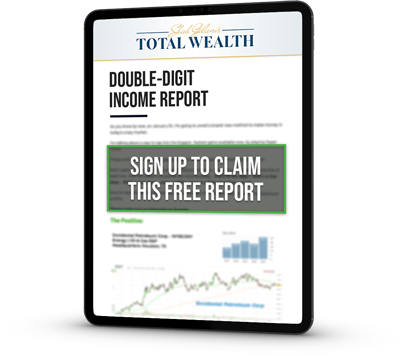 Appreciation is great, but it's possible to get even more out of the shares you own. A lot more: you can easily beat inflation and collect regular income to spare. There are no complicated trades to put on, no high-level options clearances necessary. In fact, you can do this with a couple of mouse clicks – passive income redefined. Click here for the report…
About the Author
Matthew Warder is an internationally recognized energy, metals, and mining expert. He has a decade of experience covering the coal, iron ore, and steel industries. Matt frequently presents at natural resources conferences around the world. Investors seek out his independent, future-looking analysis, which is a critical "one-stop shop" for those looking at in the natural resources industry.
At Wood Mackenzie, Matt was principal analyst for Iron Ore and Steel Costs. While there, he created more than 150 reports annually covering companies, regional supply studies, and emerging trends. He also authored extensive research and provided consulting services for industry clients and institutional investors. Prior to that, he led various teams at Wood Mackenzie covering the U.S., Canadian, and Latin American coal industries, with an emphasis on the Appalachian region.
In other words, Matt has spent more than a decade putting together the high-cost research reports that Wall Street banks, hedge funds, and deep-pocketed individual investors use to make billion-dollar investing decisions. Now you have access to that same thinking - at a mere fraction of the cost. Not many folks get that sort of opportunity.
Before knowing anything whatsoever about the coal industry, Matt played baseball at the College of William & Mary while earning degrees in chemistry and music. After graduation, he became a musician and educator in Morgantown, West Virginia for the better part of a decade. There, he co-founded a musical group called the Argument, which spent most of that time on tour, playing 130+ shows per year in more than 30 states and selling roughly 20,000 records. In the mid-2000's, the Argument was named one of the Top Ten unsigned bands in the country by Dick Clark's American Music Awards and received a grant from the Justin Timberlake Foundation to establish "PopShop," a master class and fundraising program dedicated to supporting music education in rural Appalachian high schools.
Matt still loves playing guitar and following baseball, especially the Boston Red Sox, but he spends most of his time these days with his wife and three-year-old daughter.