Publicly traded CBD stocks have been down this year. But our top CBD stock expects a 212% jump over the next few months.
And it's not alone. In fact, the CBD industry is on track to becoming a $5.1 billion market in 2020 - a 700% increase from 2018. So this is no time to forget about CBD stocks.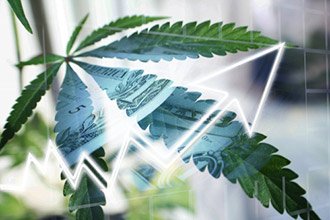 Today, medical marijuana is legal in 33 states, while recreational marijuana is legal in 11 states and Washington, D.C. This has opened many opportunities for CBD manufacturers and retailers.
Despite marijuana still being illegal on a federal level, cannabis is taking a front seat in the health and wellness game. That's mostly what's driving publicly traded CBD stocks.
CBD is a non-psychoactive cannabinoid that's been shown to reduce anxiety and pain. It gives the user the benefits of cannabis without the mind-altering effects of marijuana.
While the CBD stock market will be incredibly lucrative, it's highly volatile right now. It's currently experiencing growing pains, and not all of its stocks are necessarily profitable.
But it's possible to find the best CBD stocks to buy with the right tools and information. We use the Money Morning Stock VQScore™ system to find stocks poised for breakout.
The VQScore rates stocks based on their underlying financials and then gives them a score between 1 and 4.9 based on their earnings potential (4.9 being the highest).
THREE STOCKS: Any one of these cannabis companies could potentially deliver a 1,000% windfall. Click here to learn more...
Like many other publicly traded cannabis stocks, prices have hit a snag ever since news of vaping-related deaths spread across the United States. A mysterious acute lung condition hospitalized hundreds of people.
Government officials are urging people to stop vaping until they have more information about a cause. Until then, such recommendations have really hurt marijuana companies.
But the truth is, these vaping issues are likely tied to the unregulated cannabis black market. Many of those hospitalized admitted to using illegal THC vaping products from unlicensed sellers.
So the problem doesn't actually fall into the lap of legal cannabis companies. That's why this slow period for CBD stocks will be short-lived.
And it's what will propel our best CBD stock to 212% gains into the next year.
This cannabis stock also has a perfect 4.9 VQScore, which means it's almost certain to reach those numbers...
This Publicly Traded CBD Stock Is the One to Buy