NFL stadiums are the latest testing grounds for 5G networks, and they're showing just how the technology will power 5G stocks.
Two weeks ago at New Jersey's MetLife Stadium, Verizon sponsored a race between a random fan and former NFL star Keyshawn Johnson.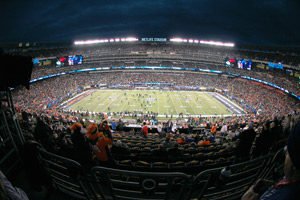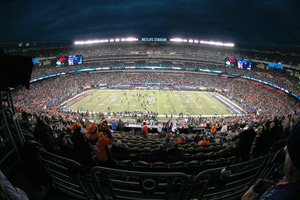 But it wasn't your typical race. In fact, Verizon challenged the fan to download an episode of Hard Knocks on their phone faster than Johnson could run a 40-yard dash.
And the NFL star got absolutely smoked in this publicity stunt of a race. The entire hour-long episode was downloaded in roughly 3.6 seconds.
You see, Johnson never really stood a chance against the speed of 5G. It's clocked in speeds of as much as 200 times faster than current networks...
This Under-the-Radar 5G Stock could mint trillionaires - yes, trillionaires - with its game-changing 5G network. Just click here to learn more...
Over the last year, telecom companies have greatly expanded 5G networks. Firms like Verizon Communications Inc. (NYSE: VZ) now have 5G networks for roughly 13 NFL stadiums.
AT&T Inc. (NYSE: T) has also set up its new 5G network at the Dallas Cowboys' AT&T Stadium.
These telecom companies have been utilizing 5G to improve fan experiences and test out entertainment technologies. One of which is AT&T Stadium's use of augmented reality (AR).
AR basically combines digital images with real life. At AT&T Stadium, you can open your Samsung Galaxy S10 5G's camera and see 36-feet tall Dallas Cowboys players chanting to hype up fans.
But there are also more interactive things to do as well. If you dance, the digital players will dance with you. There's even a mobile game you can play that shows robots on the field that you have to dodge in order to try and score touchdowns.
None of these things could exist without the speed of 5G. And 5G will power far more than football stadiums. The technology will literally impact every aspect of our lives.
Self-driving cars have the potential to go mainstream with 5G. Medical devices will be able to diagnose you in real time.
5G is such a game-changer that many have compared its coming to the invention of the first computer or the dawning of the Internet.
And this kind of revolutionary technology is going to be a moneymaker for early investors.
Major telecom companies like Verizon, AT&T Inc., and T-Mobile US Inc. (NASDAQ: TMUS) have already expanded 5G networks in over 30 cities across the United States. Even with limited service locations, MarketWatch says 5G services are worth $22 billion already.
By 2023, 5G's value is forecast to soar 300% to $86 billion.
That could be too conservative. According to a study by Ericsson (NASDAQ: ERIC), 5G could generate additional revenue of $1.3 trillion for 5G firms by 2026.
And if you invest in the best 5G stocks now, you could get a piece of that potential $1.3 trillion pie.
So, folks won't want to miss out on this once-in-a-lifetime opportunity to get in on the ground floor with 5G stocks. Especially since there are only a few months left to get in before the technology is completely implemented.
And you can find out more about these potent opportunities with 5G stocks, here...
Time Is Running Out to Claim Your Stake in This Projected $12 Trillion Opportunity
This major tech breakthrough is only just starting to catch on. But hear us when we say that when it takes off, it will change the world as you know it.
We have been talking about this wireless network since it was barely more than an idea. But now that it's making headlines, it's preparing for the largest - and what could be the most profitable - breakout in our lifetime.
It's currently being picked up by the largest mobile phone providers in the game, including Verizon, AT&T, and Sprint...
You can still take advantage for under $6 a share, but trust us, you won't see this price much longer.
Follow Money Morning on Facebook and Twitter.
Join the conversation. Click here to jump to comments…
About the Author
Daniel Smoot is a Baltimore-based editor who helps everyday investors with stock recommendations and analysis. He regularly writes about initial public offerings, technology, and more. He earned a Bachelor's degree from Towson University.