The price of silver has slid in the last month. But it's merely a temporary correction, and silver's trajectory continues to head higher. In fact, the data shows that silver prices have outpaced the broader markets since May, and they will continue to do so.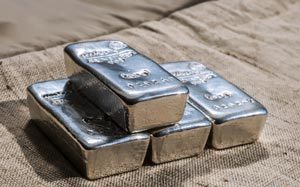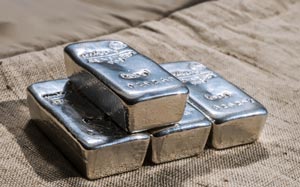 I expect its outperformance to continue, as the Fed is now back on at $60 billion monthly T-bill buying program.
Stay cautious, though: If geopolitical concerns start to dissipate, we could be in for more silver price correction. It might even test lower price levels before resuming its climb.
That said, remain cautiously optimistic. Certain indicators suggest silver could form a bottom, while others suggest more downside ahead. Beyond that, this is still correction mode, and we can expect a bounce back to new highs further down the road.
Fed Action Behind the Price of Silver
Between May 27 and Sept. 4, silver prices climbed an astounding 36%, going from $14.42 to $19.60.
That was about a $5 per ounce gain in just over three months, which was almost certain to be followed by a correction.
Over the next three weeks, the silver price dropped by $2.50 to $17, which was about half the gain, and often typical for a correction.
History in the Making: Capitol Hill has opened doors to the pre-IPO market - now, every American has access to the trend that put airplanes in the sky and light bulbs in every home... [Read the full story.]
At this juncture, it appears that the silver price has more consolidating or correcting to do before beginning a new surge.
I've told you about the gold-to-silver ratio in previous updates. It's trending downward, which is typically bullish for silver, but it remains historically very high, near 84 to 1.
That's very supportive for silver prices as we move forward.
What's more, the Fed announced last Friday that it will begin buying $60 billion Treasury bills monthly in an effort to ensure the banking system enjoys sufficient reserves. While Powell insists this is not a change in monetary policy, it's difficult to see it otherwise.
For now, the Fed says this program will continue until at least Q2 next year. It's also going to plow cash into overnight lending for repos, or repurchase agreements.
As much as the Fed wants the markets to believe this is not a new version of quantitative easing (QE), time and the markets will make that determination.
As I write, the market is pricing in a 73% probability of a 25-basis-point rate cut for the Fed's Oct. 30 meeting. That combined with the repo operations described above certainly looks like plenty of accommodative action.
Of course, the markets are likely pricing in these two news bites already. So it will become increasingly interesting to watch how the price of silver reacts over the weeks leading up to the next Fed meeting.
Now, let's look at some of the silver price technicals.
Gold and Dollars Moving the Price of Silver
The U.S. Dollar Index continues to trade near the middle of its upward range: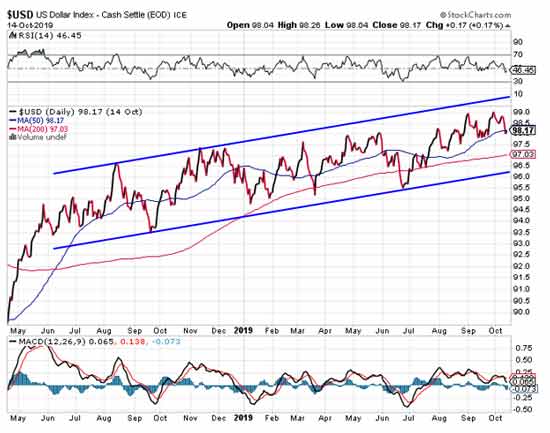 Consider too that, in the near term, continued strength could easily remain part of the equation.
Here's why...
Although Q2 GDP growth in the United States was just 2.3% year over year, the EU only managed 1.4%, and Japan barely scraped together 1%. On this basis, the United States is well ahead.
And when we look at interest rates, the picture is even more positive. Deposit rates for Japan and the EU are both negative. So as investors look for a safe place to park their cash, they see the United States as considerably more attractive, with T-bills paying 1.75% to 2%.
The demand for U.S. dollars remains robust. Until there's a marked change in these metrics, expect to see the greenback maintain strength.
Now, let's look at the dollar on a zoomed-in chart.
As you can see, the U.S. Dollar Index recently pulled back to 98, just below its 50-day moving average. And looking at its relative strength index (RSI) and moving average convergence divergence (MACD) momentum indicators, both are confirming a possible current downtrend since late September.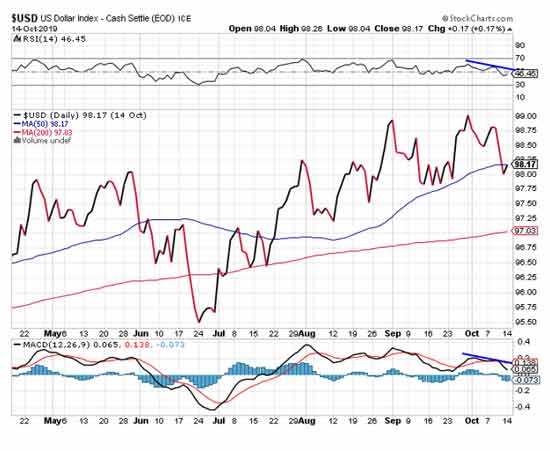 If we continue to see some minor weakness or even sideways movement, that's likely to have little effect on silver prices in the near term.
Let's look at how silver's been acting.
So far, silver has clearly managed to hold above the first support level at $17. However, after recently bouncing up to the 50-day moving average, silver turned back down. Also, the RSI and MACD momentum indicators continue to trend downward: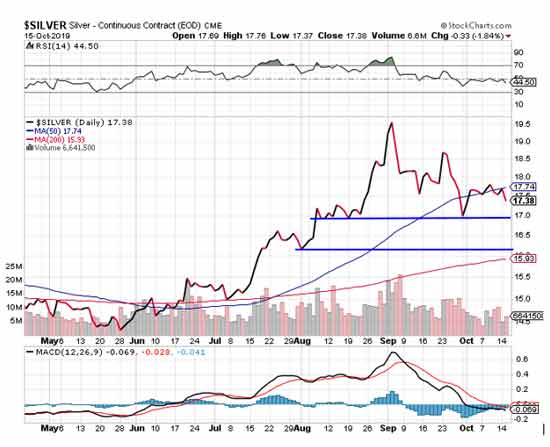 As I mentioned last month, the first support is $17. If that fails, look for $16.25 as the next area. As we move forward in time, the 200-day moving average will likely rise, providing further potential support around the $16 area.
If we look at what "smart money" silver hedgers have been doing, Commitments of Traders reports say there's a clear lack of bullishness.
This next chart from SentimentTrader.com shows the currently sizeable short positions hedgers hold in silver futures.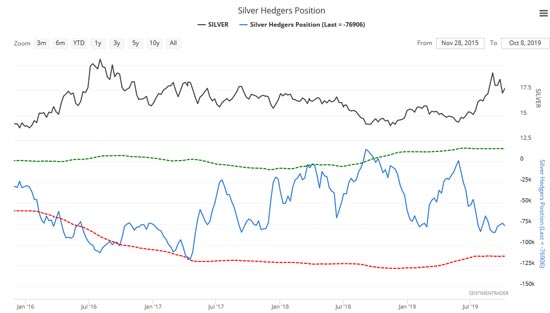 Near 76,000 short contracts is a historically large amount, suggesting they believe silver has more downside than upside risk right now.
The action in silver stocks is also a source of concern.
For the SIL silver stocks ETF, initial support at $28 has just failed. So the next target is $27.27, the July 31 close. If that doesn't hold, then the next support to watch is around $26.
But as you can see in the chart below, SIL remains below its 50-day moving average. It's been making lower highs and lower lows, and both the RSI and MACD have been confirming this downward trend since early September.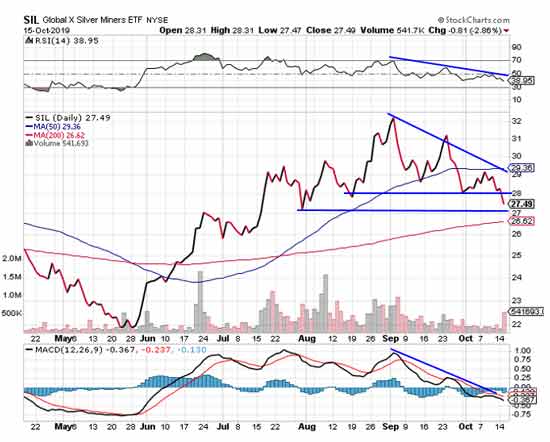 What's more, if we look at the Global X Silver Miners ETF (NYSEArca: SIL) to silver ratio, it's been in a clear downtrend, with the 50-day moving average recently crossing downward over the 200-day moving average: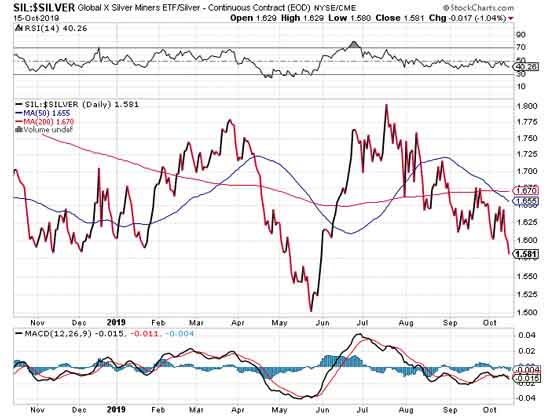 This portends more weakness in silver stocks relative to silver itself. But the potential for rebound is still great.
Here are my silver recommendations to ride the silver price recovery.
Silver Stocks to Watch
[mmpazkzone name="in-story" network="9794" site="307044" id="137008" type="4"]The SLV January 2021 calls with a strike price of $15 have pulled back with silver. They are now ahead 18.6%. Since they only expire in early 2021, they remain a buy. But watch for possibly further silver weakness.
The 2x leveraged ProShares Ultra Silver ETF (NYSE: AGQ) has retraced slightly. It's up by 15.3%. It's an easy way to leverage silver prices, but watch for silver weakness.
Finally, the Global X Silver Miners ETF (NYSE: SIL) has also retreated from last month, for a current gain of 9.1%. SIL too is a cautious buy, but look for weakness first.
So what's in store for silver? Well, its short-term action is the toughest to forecast. But judging by recent moves in silver's technical indicators, it looks like there's more near-term pain before the bull resumes.
That said, the next Fed meeting on Oct. 30 could become a flashpoint. If it should mark a bullish turn higher for silver, then we could still see the metal challenge its September high of $19.50 before the year is out.
America's Favorite Angel Investor Shows How Easy It Is for Anyone to Invest in Ground-Floor Startups
You've probably seen stories about this person or that person making an absolute fortune from some unknown startup suddenly becoming a household name... like Uber, Airbnb, SpaceX, or Bird.
Now, it's your turn.
Shark Tank's Robert Herjavec is showing how easy it is for anyone to turn as little as $50 into what can be life-changing windfalls... all from investing in startups.