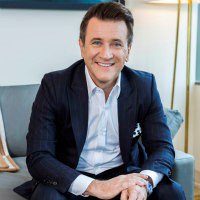 Hi, I'm Robert Herjavec.
Most people know me from TV, investing in today's hottest startups.
But what most people don't know is that I started my first company with just $100.
And years later, with a lot of hard work, that turned into $30 million.
That's over a 300,000x return.
But the real reason I'm here is to tell you how you could experience those exact returns by investing in startups yourself.
Take one of the deals I made on TV recently – Tipsy Elves.
Something about the founders just clicked with me. I invested when the entire company was worth $1 million.
It's done over $100 million in sales since. And it's still growing!
Not bad.
But here's the best part… That same kind of opportunity is available to you today… and you can start with as little as $50 or $100.
In fact, that's exactly why I'm here – to show you how you can get in on the hottest startup investing deals.
I've just joined my friend Neil Patel, one of the world's most successful angel investors, for a truly historic video.
It shows how normal, everyday Americans can generate massive returns in private startup investing.
On the next page, you'll learn:
How to access this private market – and how it gives you the chance to partner with the next Jeff Bezos, Elon Musk, Bill Gates, or Steve Jobs.
All of the risks and rewards that come with backing startups.
The 1,000x Formula, which helps you determine whether or not a startup deal could hand you a 1,000x windfall.
And details on two such business deals! Play your cards right, and they might make you a fortune.
So take a few moments to watch this video.
Follow Money Morning on Facebook and Twitter.