Right now, cannabis is a $16 billion industry in America…
But we're still at the very beginning of this boom.
Long term, the numbers are off the charts.
Within the next few years, the cannabis market is expected to become a $340 billion behemoth.
But right now, what's truly remarkable…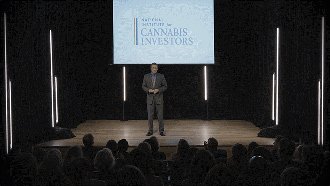 … is that we're seeing people – hundreds, even thousands of everyday folks – make a fortune in this industry.
As we speak, cannabis is minting five new millionaires per day on average.
That's 35 every week…
1,829 every year…
There's no other industry on Earth that can boast profits like this.
Some invested in tiny marijuana stocks and watched as their holdings soared virtually overnight.
Others backed little-known startups long before they went public.
But what does the future hold?
How big could this industry really get?
And how can you be a part of it?
To answer those questions, The National Institute for Cannabis Investors created today's Cannabis Investor's Master Class.
They'll show you a strategy that you can use to grow a small stake by 500%… or even 1,000%… just by following three simple, repeatable steps.
Folks, if you want to learn more about cannabis…
If you're seeking a way to break into this market…
Then pay very close attention to what you're about to hear.
The man you're about to meet is a leader in America's cannabis revolution.
He's a founding partner in one of the very first cannabis venture capital firms.
He was one of the masterminds behind three of the biggest wealth-generating cannabis companies to date, including a world-record-setting IPO.
And just a few weeks ago, he closed a funding round for a tiny CBD company that raised $36 million.
And along the way, he built a multimillion-dollar fortune from the ground up.
More importantly, for the early investors who followed him…
He helped make them more than $2.2 billion in new wealth in less than two years.
If we were able to split that evenly among 100 of us right now…
Do you know what your take would be?
Every single one of you, myself included, would walk away with a cool $22 million.
That's the real power of this strategy.
And right now, for the first time ever, he's agreed to show you how YOU can follow those same three steps yourself.
Click here for more information…
Follow Money Morning on Facebook and Twitter.