Editor's Note: Be sure to check out our free guide on trading penny stocks successfully right here.
There's no denying that investing in penny stocks can be risky. The stocks we've listed below certainly aren't blue chips, and they definitely aren't "stable."
But as is the case with some penny stocks, every single pick below has incredible potential.
With penny stocks, the reward is truly commensurate with the risk.
I love penny stocks for that reason.
One can lose big on many penny stocks, but all it takes is one 1,000% winner and the pain of loss elsewhere will be long forgotten.
How can we mitigate the risk of loss?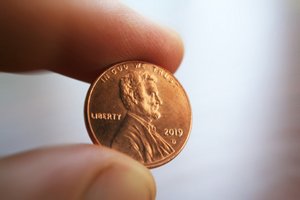 We deploy the Money Morning Stock VQScore™ system, which helps us select penny stocks that increase our odds of success and reduce the potential for loss.
Not to mention, a coordinated effort by global central banks to ease monetary policy promises to boost the market in the next year.
That should help us be successful with the risk portion of a portfolio allocated to penny stocks.
Now, it should be mentioned that not all of these stocks fall under the $5 penny stock threshold. But we've included these stocks because they have higher profit potential than almost any penny stock on the market, despite their slightly higher price tag.
Here's a list of 10 top penny stocks to watch before 2020 arrives...
List of Penny Stocks to Watch for 2020: No. 10
Western New England Bancorp Inc. (NASDAQ: WNEB)
The scare that happened after the yield curve inversion earlier in 2019 has passed. The bond market is signaling good things ahead.
That means banking stocks will be the big winners in 2020. Western New England has been treading water over the last couple years. That changes in a big way next year. A 2% dividend yield helps, too.
List of Penny Stocks to Watch for 2020: No. 9
IRSA Inversiones y Representaciones SA (NYSE: IRS)
Outside the United States, markets have been a mess in 2019. That includes Argentina where IRSA operates.
Fast Money: This powerful secret made one man a millionaire. Now he's sharing it live on camera – find out how you could use it to become $2,918 richer in less than a minute. Click here...
IRSA is a real estate company in Buenos Aires that specializes in commercial real estate. Fortunes change thanks to looser monetary policy. That bodes well for hard assets like real estate.
The average price target for IRSA is $20.85, which would be a gain of 434% from today's price.
List of Penny Stocks to Watch for 2020: No. 8
Antero Resources Corp. (NYSE: AR)
Another hard asset that will do well in 2020 is crude oil. A drop in oil combined with recessionary concern had the entire oil and gas sector in disarray in 2019.
As the Federal Reserve cuts rates and the yield curve steepens, oil prices will go up. So too will stocks like Antero.
AR has an average price target of $4.66, which would be a gain of 75% from today's price.
List of Penny Stocks to Watch for 2020: No. 7
Sirius XM Holdings Inc. (NASDAQ: SIRI)
A hot button topic for 2020 will be on the largesse of social media and technology companies. The concern is monopoly power.
But if you want to own a monopoly, I suggest Sirius XM.
The only player in the satellite radio space, Sirius has serious pricing power. That pricing power makes this one of the less risky penny stock plays out there.
List of Penny Stocks to Watch for 2020: No. 6
Cleveland-Cliffs Inc. (NYSE: CLF)
Looking for a quick double? Steel stocks are the bounce back candidate of the year.
The trade war with China killed the steel industry in 2019. Well the industry is still thriving, even though the stocks are underperforming. Steel is what makes the industrial economy thrive. Take away the trade war, and this penny stock should double in short order.
List of Penny Stocks to Watch for 2020: No. 5