Trump's woes keep piling up.
All the talk of impeachment in recent weeks is like the cherry on top of a big ol' rotten sundae.
That sundae is made of Middle East tensions, dubious Russian connections, political infighting, trade wars that are hopefully easing up for now, and a stagnating market.
With all this going on and an election that's inching closer, Trump's going to look for anything to help improve his track record and his ratings.
Earlier this year, Trump and the Democrats agreed in principle on pursuing a $2 trillion infrastructure plan.
Infrastructure remains a no-brainer spending program that, while being totally bipartisan, would buy the president a whole lot of goodwill.
So you should expect that program to be revived soon, as the president desperately seeks ways to get voters back on his side.
This is a sector that's going to power higher as the country gets on with the business of rebuilding, and we can play that to our advantage. Here's what I mean...
[mmpazkzone name="in-story" network="9794" site="307044" id="137008" type="4"]
America's Infrastructure Is Part Challenge, All Opportunity
Nearly everyone would agree that U.S. infrastructure is disintegrating. The American Society of Civil Engineers grades the United States a D+.
Getting America's roads, bridges, ports, railways, and airports back up to snuff will take a whole lot of work... and money.
Revealed: This one trading tool is as close to a "crystal ball" as you can get. See it in action now.
A week after Trump's State of the Union address last February, an official "Infrastructure & Technology Fact Sheet" was put forth.
It included several specific goals, including $200 billion of federal money to generate at least $1.5 trillion in infrastructure investments at all government levels. It also said decision-making authority would be delegated to states and municipalities and that permitting would be streamlined.
Although it got moved to the backburner because Trump blamed the Democrats for supporting the Mueller investigation, it certainly isn't dead.
With the economy slowing, the Fed cutting rates, and Trump losing support at a hefty clip (think impeachment proceedings), the president needs to look at all his options to "make America great again" and garner support.
Interestingly, there are multiple routes that Congress can take to activate and even multiply the effect of allocated funds.
The Transportation Infrastructure Finance Innovation Act (TIFIA) provides credit for nationwide and regional ground transportation ventures like highways, public transit, railways, etc.
This support from the U.S. Department of Transport can mean as much as 20 times each approved dollar, translating into several billion in the next fiscal year.
In the past, Congress has supported funding through financing methods such as tax-exempt bonds like private activity bonds (PABs) and qualified public infrastructure bonds (QPIBs).
Over just the last few years, that has resulted in $10 billion in loans and PABs to fund infrastructure projects nationwide.
And thirdly, there's also the Fixing America's Surface Transport (FAST) Act, due to expire by the end of next year. The odds are good that Congress will look to renew the FAST Act to help provide assurances that funding will be available for infrastructure projects that desperately need it.
In fact, Congress may even consider authorizing an expansion above the $300 million available through fiscal 2020.
Consider, too, that federal-aid highways and Airport Improvement Program grants are excluded from budget caps and sheltered from cuts, since they source monies from trust funds.
And here's how we can play this to our advantage.
Two Simple Ways to Play This Trend
The infrastructure ETF, SPDR S&P Global Infrastructure ETF (NYSE: GII), is the way to go.
This ETF has been around over 12 years, and it's climbed steadily along with U.S. markets since early 2009.
Critical: This new trading tool reveals WHICH stocks to trade... WHEN to trade them... and for HOW LONG. It's unlike anything ever released before. See it for yourself here.
Geographically, the fund is 40% invested in the United States, 10% in Canada, and 10% in Australia, with much of the rest spread across Western Europe. It consists of 40% utilities, 40% industrials, and 20% energy. Though this profile is not exclusively U.S. infrastructure-focused, I do expect this sector to perform well on a global basis over the next few years.
SPDR S&P Global Infrastructure has a market cap of $386 million and trades on average 24,000 shares daily. Its expense ratio is a modest 0.4%, and the current share price is slightly below its net asset value, meaning buyers are getting a small discount to the underlying holdings.
A more targeted play on American infrastructure rebuilding is U.S. Concrete Inc. (NASDAQ: USCR). With concrete such a basic ingredient of so many infrastructure projects, U.S. Concrete's potential as America renews and replaces is simply massive.
U.S. Concrete operates in major construction markets in the United States, focusing on two segments: ready-mixed concrete and aggregate products. It operates from Texas, Northern California, Oklahoma, New Jersey, New York, Philadelphia, British Columbia, and Washington, D.C.
In recent years, U.S. Concrete has grown to become a veritable national player. As a true innovator with a strategic focus on research and development, it is the first national concrete provider to formalize a company-wide commitment to green building. Its environmentally conscious concrete mixes have helped save over 1 million tons of CO2 emissions in the past decade.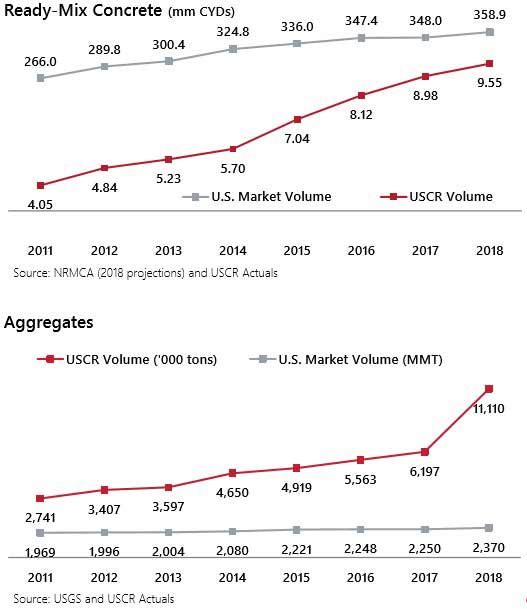 Revenue has trebled since 2011, as it's one of the fastest-growing construction materials companies in North America. U.S. Concrete's forward price/earnings ratio is just 13.8, which is low for the sector, reflecting stronger-than-average earnings estimates.
I expect U.S. Concrete to benefit as attention to infrastructure regains prominence. It's certainly one big way to help make America great again.
You Can Make $500... $1,500... Even up to $4,325 Every Day
Tom's new trading tool, the Money Dial, has the ability to identify "flash patterns" in stocks - intervals of time when a stock has gone up or down virtually every day for a prolonged period based on pricing history. In his new video, he'll reveal how to trade these flash patterns so you can potentially make up to $4,325 every day in a matter of hours. Watch and learn...