Our best solar stocks have nearly doubled on average in the last year. But there's even more growth on the horizon.
In fact, our top solar stock could go up 66% in the next 12 months. But even that projection is modest with so much growth coming out of the solar industry.
Lower equipment and installation prices continue to support higher adoption rates, making solar more attractive for individual homeowners, multi-unit dwellings, and utilities.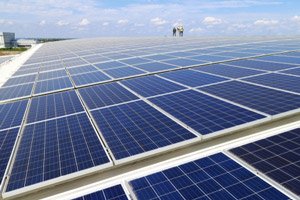 One of the most popular solar ETFs, the Invesco Solar ETF (NYSE: TAN), has been a star performer.
TAN is already up over 56% this year, and it's just 9% below its 52-week high. With the solar sector finally coming into its own, I think it has some serious upside ahead.
In fact, some of the solar stocks we've recommended have more than doubled the return of TAN this year. And they will continue to outperform.
Let's look at some recent developments in the solar space and which companies should be on your radar.
Why Solar Stocks Are Still Hot
Nine years ago, solar and wind energy sources made up just 1% of America's energy mix. By April this year, according to Bloomberg, renewables added more to the national grid than coal.
In Q2 this year, 2.1 gigawatts (GW) of solar photovoltaic (PV) capacity were installed, pushing the overall total to 69.1 GW. That's sufficient to power over 13 million American homes.
There are almost 350 cities in China where the cost of solar energy comes in below sourcing it from the national grid. And in 75 Chinese cities, solar is a cheaper source of energy than coal.
This Investing Trend Has Made Millions for Decades: In 1968, one tech IPO could have turned $50 into $5 million. Click here to see how they did it.
Needless to say, solar companies are here to stay, and they're gaining momentum. They are also gaining favor with some of the savviest investors on the planet.
Just look at Tiger Management, founded by well-known and outspoken investor Julian Robertson. Tiger Global Management, an offshoot of the original fund and headed by Chase Coleman, likes the solar space and has made a big bet on one name in particular.
The fund has been buying San Francisco-based Sunrun Inc. (NASDAQ: RUN) progressively since early last year. That has taken its current position in RUN to 29.7 million shares, representing 25% of the company.
That amounts to a serious vote of confidence for Sunrun as well as the solar sector.
Also, the U.S. Energy Information Administration's most recent edition of Electric Power Monthly, covering July's data, is worth noting.
U.S. monthly power of 12,055 gigawatt hours (GWh) generated by solar in July set a new monthly record and exceeded the previous one set in June. This level is almost three times what it was just four years ago.
Renewable energy continues to lead new power generation at U.S. utilities. Dominion Energy Inc. (NYSE: D) recently announced it would supply 420 megawatts (MW) of renewable energy to Virginia government facilities, aiding the state in its goal toward higher use of clean energy.
Dominion claims it's the largest procurement deal of renewable energy ever by a state. Solar and wind will supply 30% of the state agency electricity consumption by 2022. This deal, along with solar projects announced in the past, will eventually reach 45% of the state government's energy consumption.
And even the largest integrated oil companies have been getting in on the action.
Occidental Petroleum Corp. (NYSE: OXY) recently said it had opened its first solar farm, which will directly power its Permian Basin enhanced oil recovery operations.
Situated near Odessa, Texas, the 16 MW Goldsmith solar farm will generate sufficient power for the Goldsmith oil field.
Occidental also inked a 12-year deal to purchase solar-generated power from a solar farm in West Texas, slated for commissioning in 2021.
Just a month ago, I reviewed SolarEdge Technologies Inc. (Nasdaq: SEDG).
I discussed how the stock traded for $38 back in April and had reached $87 by September.
Well, that rally was clearly not over because SEDG has continued to power higher, reaching $91 recently. That's a 140% gain in just seven months despite a pullback in the TAN ETF over the past month.
According to Insider Monkey, the number of hedge funds with a position in SEDG has increased significantly between Q4 2018 and Q2 2019.
That, too, suggests bullish expectations for this next solar stock.
It's the premier solar manufacturer with a footprint in both China and the United States.
And it offers 66% upside in just the next 12 months. But with how the solar industry's been crushing expectations, that could be on the low side...
The Top Solar Stock to Watch Right Now
[mmpazkzone name="in-story" network="9794" site="307044" id="137008" type="4"]JinkoSolar Holding Co. Ltd. (NYSE: JKS) is one I also reviewed for you last month. While the stock has given back a little more since then, the company continues to deliver.
On Oct. 22, the company announced it had supplied 13.6 MW of PV solar modules to Photon Energy Solutions for installation in three projects in Hungary.
The next day, JinkoSolar announced its official launch of a new high efficiency Tiger module at Australia's largest national showcase of clean and renewable energy in Melbourne. Thanks to module efficiency of 20.78%, the new Tiger module can generate up to 460 Wp of peak power output, suitable for utilities and rooftop installations.
With the stock price pulling back since early September and the 50-day moving average crossing downward over the 200-day moving average, investors should wait for shares to stabilize and begin a new uptrend before new purchases.
If you're looking to buy in this space, consider taking a position in Sunrun Inc. Although the price has corrected since early August, it's been establishing a series of higher lows, and momentum indicators are confirming an upward bias.
Overall, this is a sector you'll want to track closely. It may continue to consolidate for a while longer.
Analysts give it a high target of $25 for the year, a 66% jump from its current price of $15.14.
But the next move is likely to be higher.
America's Favorite Angel Investor Shows How Easy It Is for Anyone to Invest in Ground-Floor Startups
You've probably seen stories about this person or that person making an absolute fortune from some unknown startup suddenly becoming a household name... like Uber, Airbnb, SpaceX, or Bird.
Now, it's your turn.
Shark Tank's Robert Herjavec is showing how easy it is for anyone to turn as little as $50 into what can be life-changing windfalls... all from investing in startups.