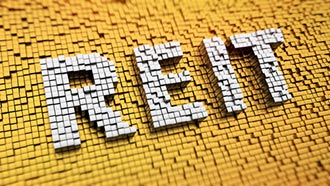 You've heard about real estate investment trusts, or REITs. But are REITs a good investment?
As with any other investment, there are multiple factors to consider before putting your money into REITs.
First off, let's be clear about what a REIT is...
A real estate investment trust is a special kind of stock. It allows investors to profit from real estate properties by buying shares in the companies that own those properties.
As long as those companies distribute at least 90% of their taxable income to shareholders, they don't have to pay taxes on that income up front.
So when you own a REIT, you are profiting directly from real estate income while also bypassing the headaches involved in actually managing real estate properties.
And because many REITs are sold on regular stock exchanges, you can buy and sell shares quickly and easily in whatever amounts you prefer.
So if you want to own real estate but don't want the hassle, investing in a REIT might be the perfect option for you.
History in the Making: The Congressional Jobs Act has opened doors to the pre-IPO market - now, every American has access to the trend that put airplanes in the sky and light bulbs in every home... [Read the full story.]
Not sure if you want - or need - to own real estate? Don't know how to invest in a REIT? Or how to find the best REITs to buy?
No problem. We've got you covered. Let's get into the nitty-gritty of it...
REIT Investing Pros and Cons
Here are some of the pros and cons of REIT investing:
REIT Investing Pros
Owning a REIT is easier than owning real estate directly.
Real estate has been one of the most reliable wealth-building investments throughout history.
Because of the 90% rule, REITs typically pay a high quarterly dividend.
Real estate holdings can offer valuable diversification to your portfolio.
Real estate investments often act as a hedge against inflation.
REITs are typically much less volatile than stocks.
REIT Investing Cons
REITs often don't appreciate in value as much as stocks do.
Because a REIT has its own managers, those managers need to be paid. Their salaries, along with other fees, can eat into your profits.
Those managers might make decisions about the properties that you don't like.
REITs are subject to all the ups and downs that real estate in general is subject to.
REIT investment risk comes from both the underlying real estate properties and from the stock market. So downturns in either market could hurt REITs.
Because most of your income from REITs will come from dividends, and not capital gains, they will generally be taxed at your ordinary income tax rate.
In spite of the cons, it's still very easy to profit from REITs. It's just a matter of doing some research to find the right choices for your portfolio.
Creating Your REIT Investment Strategy
A simple Internet search will turn up hundreds of REITs that you can trade on stock exchanges. But how do you find the best REIT to invest in?
Start by asking these questions:
What does this REIT invest in?
REITs come in two basic types: 1) equity REITs, which invest directly in real estate, and 2) mortgage REITs, which invest in mortgages. There are also hybrid REITs which invest in both.
Beyond that, different REITs invest in different categories of real estate.
They might invest in industrial properties, office buildings, residential properties, or retail space. They also might specialize in a particular type of business, like healthcare, data centers, or shopping malls.
It's important to keep in mind that the industry a REIT caters to will affect profits. If an industry is on the decline, that might lead to vacancies in those properties. If an industry is growing rapidly, that might present growth opportunities for a REIT that specializes in that industry.
But if you don't want to pick one particular sector, that's not a problem. There are plenty of REITs that maintain a diversified portfolio. That limits risk from the rising and falling fortunes of any one type of property.
Who manages this REIT?
Like any investment, you want to know who's running your REIT.
Do they have a track record of success? Are they transparent about the REIT's goals and strategies? Do they have their own money invested in the REIT? Is their compensation linked to its performance?
Seven-Day Cash Course: For Just $1, Tom Gentile will show you how you can collect anywhere from $1,190, $1,313, and even up to $2,830 in consistent income. Learn more...
Unlike with a Fortune 500 company, you probably won't see a lot of coverage about a REIT's management team in the financial news. So finding the answers to these questions will go a long way to increase your confidence as an investor.
What are this REIT's historical returns?
Every investor knows that past performance is not a guarantee of future results. But a REIT's historical returns can tell you a lot about what you can expect going forward.
At the very least, you want to see that a REIT's performance is improving over time.
There is one catch, though.
When gauging potential REIT ROI, or return on investment, you don't necessarily want to look at the same numbers you would for a conventional stock, like sales or earnings per share (EPS). The accounting practices behind those numbers might make sense for most companies, but they can be misleading when the primary investment is real estate.
Instead, look at a REIT's funds from operations (FFO) or cash available for distribution (CAD).
The FFO tells you how much cash a REIT is generating from its operations. It adds depreciation and amortization into earnings and then subtracts gains from sales. So it gives you a clear picture on how the REIT is performing with its properties.
Cash available for distribution is just what it sounds like. It's the money a REIT has to give to shareholders in the form of dividends. You calculate it by taking FFO and subtracting capital expenditures. What's left over is the figure that's going to determine your REIT investment returns. So it's a critical number to pay attention to when you're evaluating a REIT.
If these two numbers, FFO and CAD, are declining, that's probably not going to be the best investment for you. But a REIT with a strong portfolio, good management, and rising returns is one you might want to consider investing in.
To Buy or Not to Buy: Additional REIT Considerations
Whether or not you decide to invest will depend on multiple factors. How much of your portfolio do want to be dividend income? How much real estate do want in your portfolio? (Financial advisors typically recommend between 10% and 25% for real estate.)
When you've found the REIT you want and you're ready to pull the trigger, investing in a REIT is as simple as pulling up the ticker symbol with your online broker, entering the number of shares you want, and clicking the "buy" button.
From there, you can rest easy. You won't be getting any calls from angry tenants in the middle of the night. Pick a good REIT and you'll never have to lose any sleep over it.
America's 1% Are Converging on the Next "Gold Rush"
The Fortune 500, big investment firms, and the Wall Street elite are all pouring billions into a new agribusiness market.
It's an investment strategy that's already worked for them before - for example...
Vanguard, Credit Suisse, and RBC were behind an IPO in this industry that shot up 659% in under one year...
Deutsche Bank and UBS were behind the scenes of a 641% windfall...
And Goldman Sachs, Black Rock, and Morgan Stanley lined their pockets with a whopping 3,813% profit...
But the biggest gains are yet to come. As medical research in this area trucks on, this could become a $1 trillion global industry. Individual investors could become millionaires practically overnight.
I know the numbers are big, but the research backs it up.
What's more, we've picked three stocks in this industry with the biggest upside potential.
Just click here to see for yourself...
Follow Money Morning on Facebook and Twitter.
Here Are 10 "One-Click" Ways to Earn 10% or Better on Your Money Every Quarter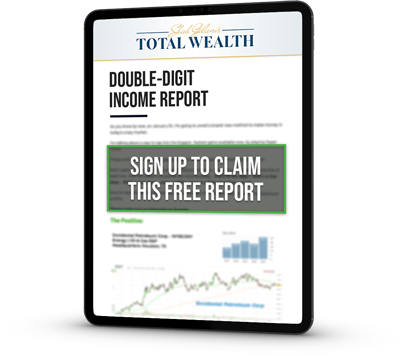 Appreciation is great, but it's possible to get even more out of the shares you own. A lot more: you can easily beat inflation and collect regular income to spare. There are no complicated trades to put on, no high-level options clearances necessary. In fact, you can do this with a couple of mouse clicks – passive income redefined. Click here for the report…