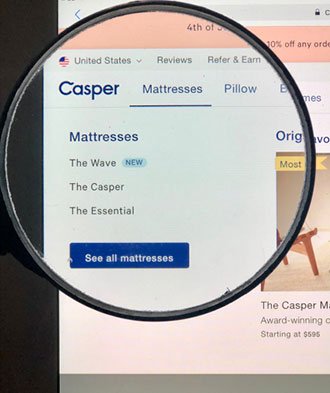 Casper Sleep Inc. could be the next blockbuster IPO of 2019, but that doesn't mean you should buy Casper sleep stock. We'll show you everything you need to know about the Casper IPO, including one way to start profiting from the sleep industry right now.
On Friday (Oct. 18), Bloomberg reported that Casper is working on an initial public offering with Goldman Sachs and Morgan Stanley.
This is big news, considering Casper Sleep completely disrupted the $39 billion global mattress industry in 2014. Casper offered low-cost and extremely comfortable foam mattresses that could be shipped right to your door. That turned the old model of haggling with salesmen for a bulky spring mattress on its head.
Learn how to spot the IPOs that can actually make you money – and leave the flops to the masses – by asking 5 simple questions. Get our free IPO guide.
Now, Casper Sleep has become one of the biggest mattress firms in the world, with a valuation of $1.1 billion. And with so many people eager to invest in the company, it could make that valuation climb even higher once it goes public.
But you may not want to invest in Casper Sleep stock immediately at the IPO.
Instead, we have a backdoor play for folks who want to profit from Casper's growth without the volatility of an IPO.
But before we show you this play on Casper Sleep stock, here's the story behind the firm...
Casper Sleep's Origins
Back in 2013, co-founders Philip Krim, Neil Parikh, Jeff Chapin, T. Luke Sherwin, and Gabriel Flateman bet everything on Casper Sleep. In fact, in an interview with CNBC, Parikh said the founders were racking up their debt.
They had invested their own money. And when that ran out, they put $100,000 on their credit cards. But they were convinced their idea would revolutionize the $39 billion global mattress industry.
So, they seized their opportunity. They created their own comfortable, multi-layered, luxury foam mattress for a fraction of the price. And they made it so it they could ship it right to your home in a three-and-a-half-foot box.
This was unheard of in a sector that relied on negotiating a price and scheduling a delivery just to get a mattress.
At first, they struggled to find any interested investors. Parikh even said many told them it was a dumb idea and it wouldn't work. That all changed in January 2014. The founders received $1.85 million in funds from several venture capital investors like Lerer Ventures.
In April 2014, Casper Sleep officially launched. One month later, it had sold $1 million worth of mattresses.
Five years on, they transformed over $100,000 of personal debt into a blossoming mattress firm worth $1.1 billion. In that time, Euromonitor says Casper Sleep has grown into the seventh largest mattress firm in the United States. In fact, the firm accounted for 3.2% of the entire U.S. market in 2018.
Plus, it's even received endorsements and investments from big-name celebrities. Some of them include Ashton Kutcher, Kylie Jenner, Adam Levine, Tobey Maguire, and Leonardo DiCaprio, turning it into a social media phenomenon.
Now, Casper Sleep has Wall Street hopeful for the IPO market again after a few rough IPOs.
And here's why...
Casper Sleep's Business, Offerings, and Financials
Originally, Casper Sleep set out to challenge the premium mattress market. CNBC reports competitors' premium mattress prices are typically $2,000 and mainly sold in retail stores.
But Casper Sleep wanted to change that.
Casper Sleep's business model is fairly simple. Through Casper Sleep's online store, folks can buy premium, custom-made foam mattresses. Depending on what people are looking for, mattress prices will vary.
The cheapest mattress is its twin-sized "Essential," and it's $395 total, or $35 per month. From there, its mattress prices go as high as $2,695, or $113 per month.
These prices are pretty incredible, considering other brands like Tempur Sealy can go for as much as $7,998.
Casper Sleep primarily runs its business in the e-commerce space. But its products are now available across 1,000 chain retailers. And after the success of its own 23 pop-up stores, it plans on opening up 200 more shops of its own.
Plus, Casper Sleep has expanded its offerings beyond mattresses. Now, you can buy pillows, bed frames, blankets, nightstands, dog beds, and even lights.
Bloomberg reports this has helped the company generate $373 million in revenue in 2018. That's 49% year-over-year growth from 2017's roughly $250 million in revenue.
In an interview with Forbes, CEO Philip Krim said the firm has sold mattresses to over 1 million customers.
According to Casper Sleep, the company estimates it'll be profitable by the end of 2019. The firm forecasts that its revenue will hit $556 million over the rest of the year.
But while this may entice some to invest in Casper Sleep stock at its IPO, you may want to hold out...
Casper Sleep Is Already Competing with Some Big Firms
From the get-go, Casper Sleep has been competing in a highly saturated market.
It was able to "disrupt" the mattress industry by catching some of the biggest players flat-footed. But these companies are already catching up, turning their supply chains, store fronts, and marketing heft against Casper.
This includes the heavy-hitters like Serta-Simmons Bedding LLC, Tempur Sealy International Inc. (NYSE: TPX), and Corsicana Bedding Inc.
Tempur Sealy now has several foam mattress brands rivaling Casper's offerings and price points. And Serta-Simmons bought out another online mattress firm, Tuft & Needle, that had done the same thing as Casper Sleep.
Casper Sleep accounts for just 3.2% of U.S. mattress sales, and with the biggest companies already shifting products and services to compete, Casper may have plateaued.
This could mean Casper Sleep is trying to cash in through an IPO before its sales take a hit. And this could be a bad deal for investors who buy into it now.
But competition isn't the only thing to consider when looking at the Casper Sleep IPO...
What Makes Us Skeptical of Casper Sleep Stock at the IPO
Even with Casper Sleep's potential, it'll be a risky buy for folks at the IPO.
Because Casper Sleep is a private company, much of its financial details aren't available.
But what we do know is that the firm is $64 million in the red. Even with celebrity popularity and the firm forecasting $556 million in revenue, it doesn't mean much if it's not turning a profit.
Plus, IPOs often disadvantage retail investors.
Angel investors can buy shares of preferred stock when the company is still young and then cash out during the IPO, while institutional investors can buy millions of shares prior to the IPO or at the discounted IPO price before it goes public.
Angel Investing Is Easier Than You'd Think: You don't need to be a Silicon Valley millionaire to invest in startups anymore. All you need is $50 and the right network. Get started here...
Sure, there are some IPOs like CrowdStrike Holdings Inc. (NASDAQ: CRWD) and Zoom Video Communications Inc. (NASDAQ: ZM) that were considered successful.
But there have also been some warning signs about the IPO market in 2019.
Zoom is now trading 37.1% below its peak of $102.77 and 0.52% below its closing price at its IPO.
Meanwhile, highly anticipated firms like Uber Technologies Inc. (NYSE: UBER) and Lyft Inc. (NASDAQ: LYFT) flopped hard - so much so that they're down 21.3% and 43.1% respectively from their first day of trading.
It's the same thing with Facebook Inc. (NASDAQ: FB). On opening day of its 2012 IPO, the stock closed at $38.23 per share. By September, it had tumbled 50.4% to $18.98 per share.
Of course, it eventually found success, but its launch was rough. It took over a year for investors to make back their money from its IPO. And even then, if they had waited, they could've bought shares at a steep discount.
But even now in 2019, Facebook has been struggling to recover from its 40.5% dip in late December of 2018.
And we warned our readers about investing in many of these IPOs out of the gate.
These companies might be worth an investment in two or three quarters if the financials look good. But investing in a company at its IPO is often risky.
What happened to firms like Zoom and CrowdStrike is all too common for unicorn companies and their IPOs. That's why Money Morning can't recommend investing in Casper Sleep stock at the IPO - at least not before we have a clearer picture of its financials and how it may perform once it goes live.
Casper Sleep may be trying to cash in now while it still has time, but that doesn't mean you can't make money off of the $39 billion industry. In fact, this little-known company is essential to not only Casper, but three of the biggest mattress firms in the world.
That means you can make a killing even if Casper Sleep loses out to the competition.
You Still Stand to Profit from the Casper Sleep IPO with This One Stock
Here Are 10 "One-Click" Ways to Earn 10% or Better on Your Money Every Quarter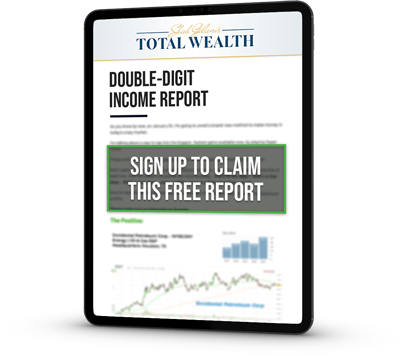 Appreciation is great, but it's possible to get even more out of the shares you own. A lot more: you can easily beat inflation and collect regular income to spare. There are no complicated trades to put on, no high-level options clearances necessary. In fact, you can do this with a couple of mouse clicks – passive income redefined. Click here for the report…
About the Author
Daniel Smoot is a Baltimore-based editor who helps everyday investors with stock recommendations and analysis. He regularly writes about initial public offerings, technology, and more. He earned a Bachelor's degree from Towson University.