Retail stocks saw some of their biggest 2019 losses in just the last couple of months. But our top retail stock is on the brink of a huge catalyst.
Growth in the retail sector slowed year over year this past August. Sales increased by only 0.6%, compared to the 4.1% year-over-year increase the same time last year.
Some will chalk this downtrend to increased competition from digital retailers like Amazon.com Inc. (NASDAQ: AMZN). And there might be some evidence to support that brick-and-mortar is in danger. But our best retail stock pick puts that to bed.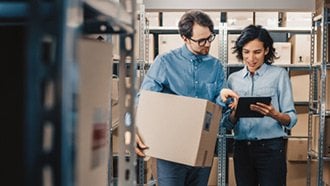 In fact, there's little substance to the notion that brick-and-mortar stores are falling out of favor. Sears Holdings Corp. (OTCMKTS: SHLDQ) declaring bankruptcy in October 2018 and Toys "R" Us completely shutting down in June of that year are both scary things. But it doesn't necessarily mean doomsday – it only means change is scary.
Those chains were poorly managed and unable to adapt to a changing landscape. There are companies like that in every sector. But the death of an entire industry is another conversation entirely.
Retail stocks have been stifled by global disputes. But easing tensions in the U.S.-China trade war will put surviving retail stocks back on par with the market averages.
The Dow lost 9.9% in August when trade talks took a negative turn. China announced its retaliation to U.S. tariffs on $300 billion of Chinese goods, and it looked like things were spinning out of control.
This Investing Trend Has Made Millions for Decades: In 1968, one tech IPO could have turned $50 into $5 million. Click here to see how they did it.
But the Dow gained 12.5% in the weeks since then. The United States reached a partial trade deal with China on Oct. 11, and the markets should continue moving upward as trade concerns are sorted out.
The chart below compares the S&P 500 to retail stocks over time. As you can see, the retail index begins to sag around January-February. That's right around the time the countries were scheduled to meet for the first time in 2019 to discuss trade issues.
Late January saw U.S. President Donald Trump cancelling a preparatory meeting with Chinese leaders ahead of an in-person meeting with President Xi Jinping. Then came the two-day trade talks, then extensions of tariff deadlines.
The index remained flat after February on the uncertainty caused by the rhetoric until President Trump threatened to raise tariffs on China in May, sending the index down further.
Then you have the big drop in late July-August, following China's $75 tariffs on U.S. goods, with Trump threatening to retaliate.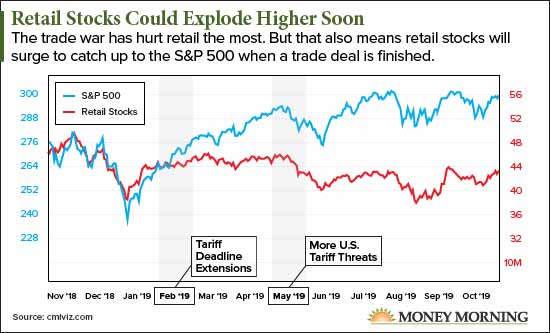 A recent rise in the retail industry came swiftly after the Chinese president's response asking for calm and respect between the parties. It was a sharp spike, and the markets are still headed upward as the sides deliberate.
President Trump said he's hoping for a "phase one" deal by mid-November, and Chinese President Xi Jinping has expressed desire to close a deal for the good of the global economy.
With both sides ready to approach the table, our favorite retail stock pick is getting ready to spring.
We were alerted to this one through our Money Morning Stock VQScore™ system. It's a proprietary algorithm that studies the underlying financials of thousands of stocks trading on major exchanges.
The system scores stocks between 0 and 4.9 – 4.9 meaning the stock has high earnings growth potential and could pop very soon.
And this top retail stock gets a 4.9…
One of the Best Retail Stocks to Buy Right Now
Join the conversation. Click here to jump to comments…
About the Author
Mike Stenger, Associate Editor for Money Morning at Money Map Press, graduated from the Perdue School of Business at Salisbury University. He has combined his degree in Economics with an interest in emerging technologies by finding where tech and finance overlap. Today, he studies the cybersecurity sector, AI, streaming, and the Cloud.