This week, Mexico is set to become the largest country to ever legalize recreational marijuana. Mexico's 128 million people will be the largest population to be able to buy legal marijuana, and that's going to unleash a new wave of money into Mexico cannabis stocks.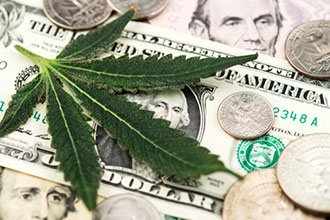 According to New Frontier Data, cannabis legalization in Mexico could open a $2 billion cannabis market south of the border right now. But that market could hit $12 billion in a decade's time.
And we know of one cannabis stock that could earn you 136% profit as cannabis legalization sweeps across Mexico.
But first, here's why it's ready to pop.
Why Mexican Cannabis Stocks Are Ready to Soar
Should Mexican legislators succeed in passing their bill to legalize recreational cannabis use, Mexico will become the world's largest marijuana market overnight.
And it's not by a small margin either.
Canada and Uruguay, the only other nations that have successfully legalized marijuana at the federal level, have a combined population of just over 40 million.
The Next American Aristocracy is expected to be fueled by today's cannabis boom. If you take advantage now, you could enjoy the kind of wealth "that lasts generations." Click here to see for yourself...
That's 88 million fewer people than Mexico.
In short, Mexican cannabis stocks will have front-row access to the world's largest recreational marijuana market.
And if Canada's legalization history is any indicator, Mexican cannabis stocks could be on track for record-breaking gains.
In the run up to legalization in Canada, Alternative Harvest ETF (NYSE: MJ), one of the most popular cannabis ETFs on the market, jumped nearly 50%.
Meanwhile, flagship marijuana stocks like Canopy Growth Corp. (NYSE: CGC) and Tilray Inc. (NASDAQ: TLRY) delivered even stronger returns over the same period.
Canopy locked in a 100% gain, while Tilray surged an incredible 383%.
Thanks to the potential size of Mexico's market, the returns from Mexican cannabis stocks could be even better than the Canadian ones.
Of course, it all depends on whether the Mexican government can get their legalization bill across the line. But that doesn't appear to be much of a hurdle.
Last year, Mexico's highest court ruled that the nation's prohibition on the possession, use, and cultivation of marijuana violated the federal constitution.
As a result, the court mandated that the federal restrictions on marijuana must be lifted by the end of October 2019.
With the nation's judiciary breathing down their neck, Mexican legislators are scrambling to meet the deadline for repealing cannabis restrictions.
Should everything go smoothly, Mexico could be sitting on the cusp of a $2 billion legal marijuana market.
And that would just be the beginning. According to estimates, the recreational marijuana market could be worth as much as $12 billion in the future.
This seems all the more likely when we look at the nation's booming medical marijuana industry, which has been legal since June 2017.
According to estimates from Grandview Research, this small subsector is expected to grow a compounded annual rate of 27.7%.
That's a tremendous rate of growth. And it's likely to be even higher in the recreational marijuana industry.
With Mexican marijuana legalization all but certain, now is the perfect time to get ready for what promises to be the largest cannabis gold rush in history.
Here's a cannabis stock with 136% profit potential as Mexico's weed legalization unfolds.
The Mexican Cannabis Stock to Buy