Tech industry juggernauts have been in a race to corner what's likely to be one of the hottest - and most profitable - tech trends of the next decade.
By the end of this year, the cloud computing industry is expected to grow 17.5%, topping $214.3 billion in global value.
Thankfully, our top tech stock just locked down a nuclear option in the battle to dominate cloud computing.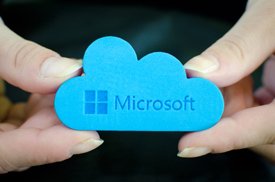 Last Friday (Oct. 25), the Pentagon announced plans to award Microsoft Corp. (NASDAQ: MSFT) with a 10-year contract to build the U.S. Department of Defense's (DoD) Joint Enterprise Defense Infrastructure project (JEDI).
The contract, worth upwards of $10 billion, has the potential to change the face of the cloud computing industry and earn MSFT shareholders a killing.
And that's just the beginning for Microsoft's potential...
Microsoft's $10 Billion Payday Is Just the Beginning
To put it simply, cloud computing is technology that allows individuals and companies to access their data no matter where they are. It's like how you would store information on a physical hard drive, but it's on the Internet instead.
This decentralized hard drive is maintained in servers operated by large tech firms and is referred to as the "cloud."
As people and companies alike increasingly use mobile technology to conduct business and organize their personal lives, cloud computing is becoming a vital tool to store and access data in a cheap, effective fashion.
This Investing Trend Has Made Millions for Decades: In 1968, one tech IPO could have turned $50 into $5 million. Click here to see how they did it.
And it's why the Pentagon's decision to grant a $10 billion cloud computing contract to Microsoft is such a big deal.
You see, the Pentagon's JEDI proposal is the department's biggest effort to date to take advantage of cloud computing technology. It's the military's first significant effort to unify the nation's digital defense infrastructure.
According to the proposal for JEDI, the nation's defense branches have consistently lacked "a coordinated enterprise-level approach to cloud infrastructure," which has "prevented warfighters and leaders from making critical data-driven decisions."
A unified cloud computing system gives the United States an edge in global conflict. Without it, the defense department risks lagging behind the world in digital infrastructure.
To the keep the U.S. defense forces on the cutting edge, Microsoft has the mammoth task of reworking the DoD's entire digital infrastructure. This will equip the military with new digital defenses and processing power.
It will keep Microsoft busy for years, and it's likely only the beginning for the firm.
You see, by clinching the Pentagon's $10 billion contract, Microsoft is on track to become the undisputed king of the cloud computing industry.
While Amazon.com Inc. (NASDAQ: AMZN) is currently the top cloud computing provider, Microsoft is incredibly close to closing in on Amazon's lead.
In its most recently reported quarter, Microsoft's commercial cloud computing platform, Azure, grew 59% year over year - an incredible expansion for an already well-established firm.
And it's even more likely to close in on the lion's share of the industry over the next year.
In fact, Microsoft is in the process of closing deals with both Oracle and SAP to offer Microsoft cloud services through their digital platforms.
With a market capitalization of more than $1 trillion, Microsoft has more than enough capital to finance its future expansion into the cloud computing industry.
As a result, the company could likely eclipse cloud competitors in the near future.
The average analyst predicted a 12% gain for MSFT stock over the next 12 months - but that was before the $10 billion contract. Now, it's much more likely to soar.
With a Money Morning Stock VQScore™ of 3.8, it's close enough to the "Buy Zone" to get in now.
America's Favorite Angel Investor Shows How Easy It Is for Anyone to Invest in Ground-Floor Startups
You've probably seen stories about this person or that person making an absolute fortune from some unknown startup suddenly becoming a household name... like Uber, Airbnb, SpaceX, or Bird.
Now, it's your turn.
Shark Tank's Robert Herjavec is showing how easy it is for anyone to turn as little as $50 into what can be life-changing windfalls... all from investing in startups.
Follow Money Morning on Facebook and Twitter.