There's no question 5G will be an unprecedented technological breakthrough. But as more and more of the world's technology is connected, hackers will be preying on the connectivity.
That fear is fuel for one top 5G stock (hint: it's also a cybersecurity stock).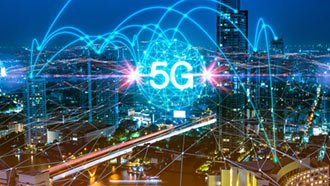 5G is such a powerful technology that it will add $12 trillion to the global economy by 2035. The rollout of the new network will open up unprecedented bandwidth and promises total connectivity across our daily lives.
The 5G network could be 100 times faster than the current 4G network, virtually eliminating wait times for any data transfer. It opens the possibility for everything to be done remotely - from turning on the lights in your home to performing robotic surgery - no matter how far away.
This is not just for scientists and the super-wealthy, either. You likely already know about current field testing in autonomous cars. How about a robot in your kitchen taking inventory of your refrigerator, ordering necessary refills, and sending money from your account to pay for it? 5G will make those possibilities real.
Have 28 Seconds? You could make $2,353 - and you won't need to buy a single share of stock up front to collect this cash, or spend a nickel on anything. Click here to learn more...
In the factory, 5G will allow for the crunching of huge sets of data, automating processes and increasing efficiency.
But such a large-scale transformation of our personal and business lives is going to come with a host of new security problems. And that's exactly what's fueling one of our best 5G stock picks right now...
What's Really Driving the 5G Industry
With 5G, the conversation has always followed that a more connected world could enable and increase the potential impacts of cybercrime.
The New Yorker said that 5G has a "terrifying potential." A recent story said, "A totally connected world will also be especially susceptible to cyberattacks." It talks about how hackers have done things such as attack a control center of a municipal dam system, stop an Internet-connected car, and hijack home appliances.
While it may be inconvenient if your connected home won't let you turn on the lights remotely, a hacked autonomous car - or autonomous airplane - has potentially fatal consequences.
That means money will be pouring into cybersecurity companies that can help handle these new threats. It's also why one of our top 5G stocks happens to also be a top cybersecurity stock.
One of Money Morning Defense and Tech Specialist Michael Robinson's favorite plays on the sector is the appropriately named ETFMG Prime Cyber Security ETF (NYSEArca: HACK). As an exchange-traded fund, HACK invests in many individual security stocks, spreading the risk while taking advantage of the flow of money into this sector.
HACK holds 55 stocks from all parts of the sector. It was the first true cybersecurity ETF, and it's now poised for a strong rebound as 2019 winds down.
Shareholders also get tech and geographic diversity. HACK owns firms that provide hardware, software, and consulting services to defend against cybercrime. And 20% of its components are non-U.S. stocks offering exposure to "tech powerhouse" nations such as Israel, Japan, and the UK.
With HACK, you can ride the cybersecurity wave following 5G while watching your risk.
But there is an even better way to get in this burgeoning area.
ETFs are great because they average away single-stock risk. But they also cut the explosive profit potential of the best 5G stocks on that ETF...
How the 5G Industry Feeds This Cybersecurity Stock