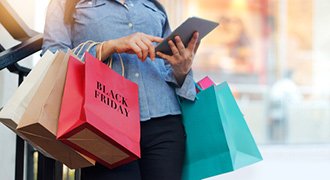 We're nearing the start of Christmas shopping season, and that means cash will be flowing into retailers. And cash will be flowing into our bank accounts if we play the right retail stocks.
Fortunately, we've uncovered a sleeping giant in retail, which makes it one of the best options plays heading into Black Friday.
Everyone "knows" that Black Friday can separate the top retail stocks from the crowd. But unfortunately for most investors, they wait until the sales results come out before buying shares in their favorite company.
By then, it's usually too late to make any real money. Waiting until you learn the news can mean missing most of the stock's gain, which often happens ahead of the actual news.
Worse, buying after the news can mean buying the peak, just before the profit takers arrive.
Options Trading Made Easy: Tom Gentile's readers asked for "actionable, specific insight" on how they can get rich trading options. So he's giving out an all-access pass to his seven-day trading Cash Course for just $1. Learn more...
That's why it makes sense to enter a position now, before everyone else jumps in, especially because the economy is still going strong. And - if you're options trading - options prices are even more sensitive to the news than stocks themselves.
That's especially important since analysts believe this could be another excellent holiday season for top retail stocks...
Why Retail Stocks Are Going to Make a Killing This Year
Adobe Analytics forecasts that holiday spending will surpass $143.7 billion, just for online shopping, up 14.1% from last year. It also says that Cyber Monday, the Monday following Black Friday, will also ring up record sales.
Deloitte expects U.S. retail sales in November and December this year to top last year's levels by 4.5% to 5%. It forecasts that holiday sales will top $1.1 trillion through January.
Retail has clearly come back from the dead. Just consider the S&P Retail SPDR ETF (NYSEArca: XRT), which is up 15.3% just since Aug. 15 and scored a technical breakout on its charts. It is also above its 200-day average for the first time since November of last year.
Don't give Amazon.com Inc. (NASDAQ: AMZN) credit for that move, either. This ETF holds 85 stocks, with none weighing in at more than 1.7% of its value. Amazon only gets a 1.2% weighting.
Still, retail gets a bad rap in the investment world, thanks to its truly dreadful performance over the past several years relative to the market.
That means now is the best time to exploit its comeback - before everyone else really picks up on it.
And they certainly will as this holiday shopping season smashes records.
Our play is one of the best retail stocks around, but buying options on it could even double your money...
The Best Options Strategy Could Take Your Money Further