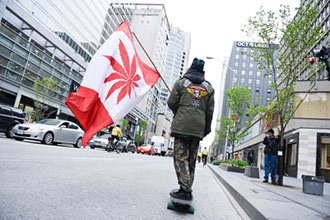 The global cannabis market still has billions in unrealized potential. And our pick for one of the top Canadian cannabis stocks to buy now is a company that plans on competing with the still-thriving cannabis black market.
For over a century, governments around the world have been fighting the war on drugs. But the results haven't been encouraging.
For every victory against people like Colombian drug lord Pablo Escobar, there are just as many defeats. Since 1971, the United States alone has spent over $1 trillion fighting the war on drugs.
And it continues to expend vast resources to imprison nearly half a million non-violent drug offenders. In fact, in 2015, the U.S. government spent $9.2 million every day to incarcerate people charged with drug-related offenses, according to the Center for American progress.
Issues like these are just some of the reasons for the growing arguments against the war on drugs. It's also why many believe marijuana should be legalized across the United States.
According to the latest Gallup poll, U.S. cannabis legalization now has over 66% voter support. That's a 30% increase from 2005.
Despite the progress over the past decade, there is still a lucrative and persistent illegal market for cannabis in America. Even in areas where it has been completely legalized.
And because federal legalization seems more likely than ever, the black market has stepped up its efforts to undermine the legal cannabis industry.
This may sound discouraging, but there is one legitimate marijuana stock that has focused its efforts on outcompeting the black market - on price.
And this pot stock could bring huge profits...
The Black Market for Cannabis Is Still Thriving
Cannabis is currently legal in some form in 41 of 50 U.S. states, the District of Columbia, and four out of five territories. Plus, it is also completely legal throughout Canada.
Because of this, you'd think the marijuana black market would have dried up in all of these places. But that's far from the case.
In fact, the black market remains incredibly active throughout places like Canada and California.
Why is this? One of the main reasons is the price. Taxation and regulation of legal cannabis products have not only made the products more expensive than the black market alternatives, but also less accessible.
In Illinois, a cannabis license costs a minimum of $225,000, which isn't something that the average entrepreneur could afford.
In Washington, D.C., and Michigan, for various reasons, lawmakers have been unable to devise a "process" for legalized cannabis. In response, some dispensaries have developed a process to "gift" their legal marijuana products.
In Quebec and Ontario, Canada's two most urbanized and populous provinces, the supply of marijuana remains too tight to support the new legal market, forcing consumers to turn elsewhere.
And the examples could go on forever. But the point is the black market continues to thrive in areas where cannabis is completely legal.
If consumers can get a decent, yet illegal, product at a low cost and with relatively few hassles, they're going to choose that option just about every time. Unfortunately, this hurts the legitimate marijuana market that is complying with regulations and paying taxes.
Even though black market cannabis is relatively cheap, it can also be dangerous due to the use of unknown chemicals. And let's not forget the fact that it benefits criminal cartels.
Fortunately, we have one Canadian cannabis stock that's taking the cannabis black market head on.
One of the Top Canadian Cannabis Stock to Buy Now