Even though stocks just hit record highs on all three major indexes, a new stock market crash warning sign is showing up.
Most investors consider this a sign to run for the hills. But for you, it's a time to take control when most investors are shaking in their boots.
In fact, a market crash might actually be profitable for investors who stay on their toes.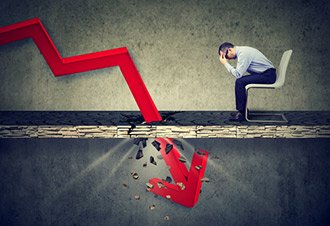 There's plenty of evidence for an oncoming crash. You've probably heard some of these already.
The biggest, broadest piece of evidence is a prolonged bull market. It's been over 10 years, making it the longest in history. And all bull markets come to an end.
Edward Yardeni, president of Yardeni Research, recently told CNBC that stocks reaching all-time highs too quickly may cause a "market melt-up." This refers to unstable, dramatic gains producing like-for-like pullback, introducing a wave of pessimism and eventually a crash. But this is just one of many possible scenarios.
A more specific piece of evidence is the underperformance of major stocks this earnings season. Google parent Alphabet Inc. (NASDAQ: GOOGL) fell 2.2% on Oct. 29 after a big third-quarter miss. The tech sector, in general, has feared a slump as ongoing U.S.-China trade worries threaten their overseas manufacturing.
Even more salient is the inverted yield curve, which has preceded every recession since 1950.
Whether the argument is that the market is cyclical or that the market is reactive, the shared sentiment between analysts is that all bull markets eventually end.
But today's chart shows it's more likely than ever right now. Here's exactly what's happening – and how to prepare.
The Biggest Stock Market Crash Warning Right Now
UBS Group says that earnings expectations are contracting, and that could be a serious sign a market correction – or even a crash – could be on the way.
It said that every bear market of the past 50 years saw an actual decline in S&P 500 forward earnings. It certainly is hard to argue with the logic.
Forward earnings are an estimate of profit for a certain period, at some future date. And as you can see in the chart below, it's not a good sign when they fall.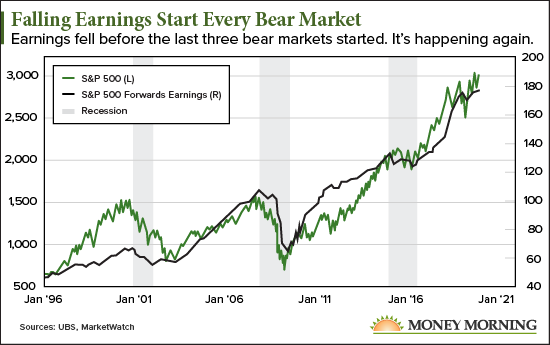 It's important to note that falling earnings expectations can happen without a bear market following. Just consider the market in 2015-2016. Earnings expectations declined, and the stock market merely dipped into correction territory, which most people define as a decline of 10% or greater, but less than 20%.
Remember, this is only the latest atop a heap of other stock market crash signals. And earnings are ultimately what drive prices.
Still, that doesn't mean we want to be scared out of our portfolios. Now is a good time to assess the market's true health and, if necessary, make adjustments to reduce risk.
It's not a time to panic, it's time to take control, protect your money, and even profit from what comes next…
How to Prepare for the Next Stock Market Crash