Talk about Jekyll and Hyde. Now that we're safely out of October, the "Mr. Hyde" market with all the volatility is coming to an end.
The weather's getting cooler, but the market should be more pleasant - and more profitable.
Let's take a look at this "heartwarming" chart...
The "Halloween" Indicator Is Anything but Scary
For all the constant availability of hard, empirical data, traders can be mighty superstitious. There's no shortage of Wall Street sayings, bromides, and so on.
Take "Sell in May and go away" (and if you're British, add "Come back on St. Leger Day" for the mid-September running of the St. Leger Stakes horse race). They may as well change it to "come back on Halloween," because this seasonal trend works: Toward the end of October, downside volatility eases up, and a bigger bounty of long-side profit opportunities await.
Learn How to Turn $500 into $1 Million: This Sunday School teacher's "retirement career" made him a millionaire. This book will teach you how you can do it too. Claim your FREE copy...
Old traders call this seasonal tendency is the "Halloween indicator," though some people call this the "best six months" indicator. And if you look around, you'll find some boneheaded pundit saying it doesn't work. I'm here to tell you they're very wrong. This is one old adage that really works. And it has for centuries! I'll show you in a minute.
There is certainly very compelling data for U.S. markets, going back to post-WWII, that shows this seasonality pattern to be very consistent. The folks at "Chart of the Day" produced this graphic that shows the gains made in the best six months (November to April) compared to those made from May to October: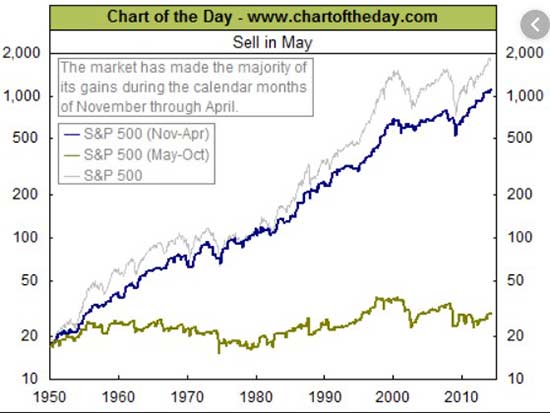 The very light grey line that is highest on the chart represents the total returns of the S&P 500 since 1950. The dark blue line below it shows returns made just in the November-April time frame. This seasonality doesn't work every single time. But over 68-plus cycles, it has proven to be extremely robust.
To see just how robust, today I want to dig into one of the first academic papers that validated this phenomenon - and then in a future article, I'll dig even deeper.
BIG, FAST PROFITS: This one pick paid 100% in seven days, then 205% the next day, and 410% by the next week. You've got to see how it's done...
Bouman and Jacobsen published a paper in 2001 in American Economic Review showing that the November-April time frame outperformed the May-October period by a statistically significant amount. Here is their conclusion:
"Surprisingly, we find this inherited wisdom to be true in 36 of the 37 developed and emerging markets studied in our sample. The 'Sell in May' effect tends to be particularly strong in European countries and is robust over time. Sample evidence, for instance, shows that in the UK the effect has been noticeable since 1694."
A seasonal effect with validity dating back the 17th century! That's pretty cool. The following chart shows how striking the outperformance is across developed countries: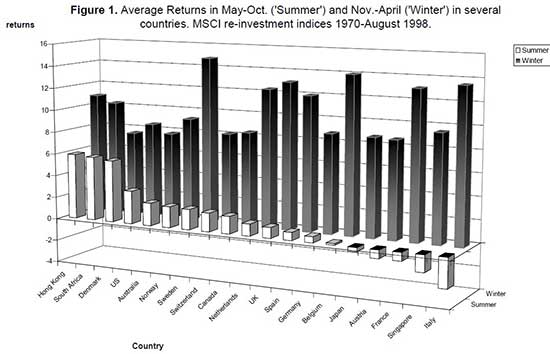 And this one shows similarly impressive results in the emerging markets: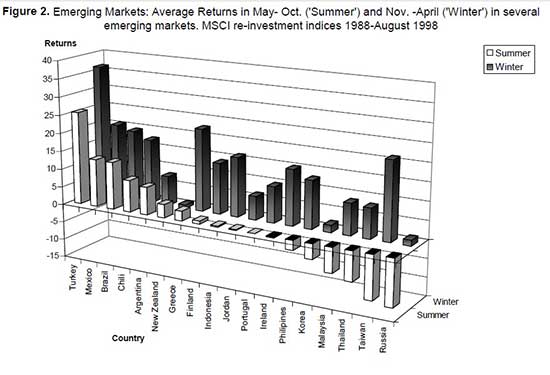 So as we head into the seasonally strongest "six best months," we'll look for other, far shorter-term indications of market health. But with both Halloween and the six worst months behind us, the markets don't look very scary right now.
This is a great time to think about changing to a more bullish, "risk-on" stance - something we're certainly going to be doing in my paid 10-Minute Millionaire Insider and Stealth Profits Trader services.
It Only Takes 10 Minutes per Week to Double Your Way to $1 Million
This extraordinary money-doubling strategy has the power to profoundly impact your financial future.
You don't need any special training... any insider knowledge of the markets... or any exceptional skills.
In fact, all you need is a computer or smartphone and just 10 minutes of "work" to potentially put $1 million in your bank account faster and easier than you ever dreamed.
Follow Money Morning on Facebook and Twitter.
Join the conversation. Click here to jump to comments…
About the Author
D.R. Barton, Jr., Technical Trading Specialist for Money Map Press, is a world-renowned authority on technical trading with 25 years of experience. He spent the first part of his career as a chemical engineer with DuPont. During this time, he researched and developed the trading secrets that led to his first successful research service. Thanks to the wealth he was able to create for himself and his followers, D.R. retired early to pursue his passion for investing and showing fellow investors how to build toward financial freedom.