When your power goes out, or your phone dies, it's an inconvenience.
If the power, lighting, or communications fail in an aircraft, however, that's life-threatening.
So when the aerospace industry needs to equip its fleets, it turns to the most rock-solid company it can find.
That's the stock we're bringing you today.
If you've flown on an airplane, you've almost certainly experienced this company's products. They include the outlets you plug your laptop into and the connectivity equipment that allows you to stream movies. This company's products even power the cockpit to keep the plane flying.
In other words, this company handles virtually every aspect of the communications and electronics on just about any aircraft you'll encounter.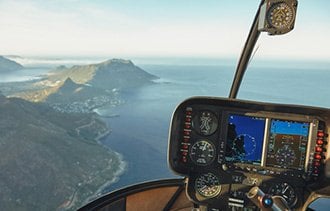 In addition to the manufacture of aircraft and satellite systems, another major driver of growth for this stock is the evolution of LED lighting. Because it's high-efficiency and low-maintenance, many institutions are retrofitting their old lighting systems with LED.
Research firm Technavio says the global commercial airport lighting market - another client base of our stock - will grow at a compound annual growth rate (CAGR) of 8% between 2019 and 2023. That's more than double the economic growth rate in the United States right now. And the switch to LED lighting is a key driver of that growth.
This stock's share price has been hurt after a couple disappointing quarterly reports. But it just shows what short memories investors have - because this company crushed its earnings report at the beginning of the year by more than 280%. That's more than enough to make up for the later misses.
And yet, the share price is lower now than it was before that stellar report early in the year.
It's a clear sign that this stock is undervalued.
Another clear sign: It just got a top score from our Money Morning Stock VQScore™ system.
Based on multiple metrics, there's good reason to believe this stock could be looking at a jump of 135% or more in short order.
So you won't want to miss this...
The Fortune 500, NASA, and the Armed Forces All Depend on This Aerospace Stock
[mmpazkzone name="in-story" network="9794" site="307044" id="137008" type="4"]
Astronics Corp. (NASDAQ: ATRO) got its start almost 50 years ago providing essential components to airframe manufacturers.
Today it has about 3,000 employees at 14 manufacturing facilities in North America and Europe. And it has customers in the aerospace, defense, and semiconductor industries.
Essentially, Astronics fills all those technical needs that are important enough on the ground, but are do-or-die critical in the air and in space. That means power and motion, connectivity and data, lighting and safety, and testing and simulation equipment as well.
Click here to see all of our top-rated stocks, and you'll automatically get free updates on our top stocks, based on our proprietary rating system, the Money Morning Stock VQScore™.
Aside from the U.S. Armed Forces, Astronics clients include Airbus SE (OTCMKTS: EADSY), American Airlines Group Inc. (NASDAQ: AAL), Delta Air Lines Inc. (NYSE: DAL), NASA, Intel Corp. (NASDAQ: INTC), Honeywell International Inc. (NYSE: HON), and a host of other Fortune 500 companies.
Last year, Astronics received the Supplier Excellence Award from General Atomics. The award recognized the company's timely, high-quality production of remotely piloted aircraft systems and other security-enhancing products.
It also won Tech Briefs Product of the Year awards for two different products. Both are used to enable sophisticated testing and measuring in air-based communication equipment. The technical details of the products are difficult for us non-specialists to understand. But it goes without saying that testing and measuring equipment is absolutely necessary in an industry that regularly puts people's lives on the line.
In short, Astronics is the gold standard when it comes to providing power, lighting, electronics, and communications when they matter most. And after nearly 50 years, it hasn't lost its edge, as evidenced by its continued award-winning innovation.
That's why the stock market's nail-biting is a costly miscalculation.
But for those investors who take advantage of it, the rewards will be sweet.
Now Is the Time to Buy ATRO
Astronics' share price has been hurt by a couple recent earnings misses. It missed by $0.19 and $0.17 in the second and third quarters.
That's disappointing, for sure. But to put it in perspective, earnings per share (EPS) in the report immediately prior to those two beat expectations by $1.73.
Add the last three quarters together, and Astronics has beaten EPS expectations by a collective $1.37.
That's an average beat of 112% during that time.
According to FactSet, Astronics is expected to finish this fiscal year with 50% growth in EPS.
And yet, the stock price is down 5% over the last year.
It seems the market has overreacted to a couple disappointing earnings reports and has lost sight of the big picture.
Wall Street analysts agree. Four out of six analysts tracked on FactSet call ATRO a "Buy" or "Overweight." And one look at its valuation metrics shows why.
The price/earnings ratio for the last 12 months comes in at just 42%, suggesting a 135% rise just for ATRO to reach fair value.
Other metrics tell a similar story. Price-to-book ratio, forward price/earnings-to-growth (PEG), price-to-cash-flow, and price-to-sales all come in between 29% and 72% of industry average.
So 135% gains could be a conservative estimate.
One way or another, it's clear that right now is the time to buy.
Anyone Can Become an Angel Investor with as Little as $50
Angel investing used to be off-limits to the average American... but Shark Tank's Robert Herjavec said it best during this live broadcast: "The walls have finally come down. You no longer have to be rich, famous, or powerful to become an angel investor!"
Congress has now made it possible for you to take advantage of these life-changing deals.
By becoming an angel investor, you can be right there - one of the first to invest in the next Steve Jobs, the next Bill Gates, or the next Elon Musk.
And because you're there at the beginning, the upside is infinitely greater.
For so long, regular folks have been locked out... but not anymore. Click here for details...
Follow Money Morning on Facebook and Twitter.
About the Author
Stephen Mack has been writing about economics and finance since 2011. He contributed material for the best-selling books Aftershock and The Aftershock Investor. He lives in Baltimore, Maryland.