Today, we are going to show you how to trade stock options to grow your wealth.
Trading options can be confusing if you are just getting started. But it's easier than it looks at first.
Options can provide a relatively inexpensive way to make money as stocks rise and fall. One small investment can double or even triple in a very short period of time.
Options trade on options exchanges and over the counter. However, you want to stick with exchange-traded options for many reasons. They are standardized and regulated to protect both the buyer and the seller.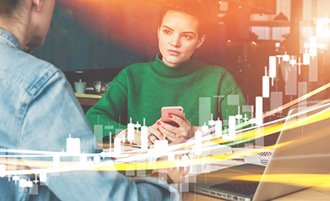 Much like a stock, an option, or an options contract, is defined by the underlying company for the stock on which it is based. However, unlike stocks, options have a shelf life. They expire by a predetermined date, called the expiration date, and that is what makes them far more interesting. You know exactly how much time your options strategy has to work. But if the option you buy meets your target profit early, you can sell it and reap your reward.
Options are bought and sold quickly and easily with most online brokers. Chances are the broker you already use to buy and sell stocks can handle your options trades. Your broker probably has a link on their website for you to sign up to trade. You will likely have to sign a standard agreement stating you understand the risks before you can begin.
If you don't have a stock broker, don't worry. There are a number of online brokers eager to help you get started. Robinhood, Ally Invest, TD Ameritrade, and others have quick online signup processes, if not a phone number you can call to get started.
Once your account is set up, all it takes is a little funding. You can send a check, do an online money transfer or, in some cases, link your bank directly with the brokerage account. Your broker will have more information on this on their website.
Now, with all that squared away, you get to the fun part. Here are three ways you can make money with an options trading strategy.
How to Trade Stock Options, No. 3
The simplest way is to buy a call option on a stock you believe will perform well in the market and go up in price. You can simply use the option as a proxy for the stock itself, and if you are correct in your market view, you don't even have to make a trade to sell it. The option will stop trading at its expiration date, and your broker will deposit your profit in your account.
Remember, because options expire, a portion of their value decreases over time. Therefore, be sure you select the proper combination of strike price and expiration date to fit your needs. We can help you with that.
How to Trade Stock Options, No. 2
The next way is to buy call options or put options to capture short-term stock gains or losses. Typically, you will sell them ahead of expiration to close the trade.
This is a little different than holding your options until expiration, because you are really utilizing the leverage that options provide. If the underlying stock moves in price, the option will typically move much faster.
With this options strategy, unlike the last one, you really need a well-timed exit strategy to maximize your profits. You can minimize risk here by finding the stock's general behavior during the time of year you purchase the option.
If it's the fall season, for example, you can look at the last 10 years and see if the stock has a tendency to move up or down during that time. The more years you can log, the more certain you can be of what it will do.
But you don't have to carry the pressure of choosing an exit date with this next strategy. And this could potentially be the most lucrative of the three…
How to Trade Stock Options, No. 1