With the full rollout of 5G networks right around the corner, the best 5G stocks to buy in 2020 have money-doubling potential.
And if you've been a longtime reader, you already know how bullish we are on 5G stocks. In fact, 5G could be one of the most lucrative investment opportunities in history...
Indeed, in 2017, Swedish networking and telecom company Ericsson (NASDAQ: ERIC) released a study showing that 5G technology could create as much as $1.3 trillion in additional revenue for tech companies by 2026.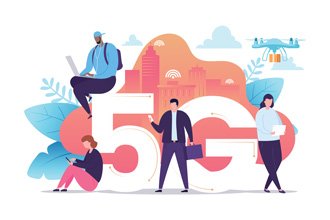 So, today, we're going to show your three of our favorite 5G stocks to invest in.
For close to a decade now, our mobile devices have been running on 4G networks. And while 4G has defined smartphones as we know them today, 5G is on a completely different level.
In fact, it's a revolutionary technology.
"5G" is the fifth generation of mobile network technology. It has data download and upload speeds as high as 100 times faster than current networks.
5G could be as important to the economy as the invention of the first computer or the Internet. It could make remote robotic surgeries, self-driving cars, AI, and more a reality because of its unmatched speed.
That's why we think it could mint a new wave of millionaires throughout the next decade.
While some companies are in the early stages of developing their 5G networks, 5G stocks still have plenty of room to grow throughout the course of 2020.
To help our readers take advantage of 5G's potential, we have three top 5G stocks to buy now.
Check out our picks below...
The Best 5G Stocks to Buy in 2020, No. 3
Chances are you're already familiar with our third best 5G stock to buy - Verizon Communications Inc. (NYSE: VZ).
What makes Verizon a good pick is the fact that it's practically at the vanguard of the 5G network movement. Its 5G networks are now available across 15 U.S. cities, such as Chicago, Houston, Minneapolis, Indianapolis, Sacramento, and Los Angeles.
And once 2020 rolls around, that number will grow until the entire country is covered.
As a pioneering force for 5G in the United States, it emphasizes that even though it's a massive, blue-chip company, it's still focused on innovating and adapting to new technology.
In fact, it was even the first 5G firm to carry the Samsung Galaxy S10 5G - one of the first phones designed to handle 5G.
It also doesn't hurt that it's a relatively safe investment to get in on the 5G revolution. Its revenue and growth have remained stable over the last 14 years, with an 89% increase to $131.3 billion in annual revenue since 2005. That revenue will also continue to increase to $133.7 billion by 2020 as well.
Beyond that, over the next five years, analysts have forecast Verizon's earnings to grow 9.46% annually. Morningstar Research reports that's triple the rate of the overall market forecast.
Right now, Verizon stock trades for $59.52 per share, with a high price target of $70. While that's a modest growth of 17.6%, the fact that the company pays a dividend yield of 4.13% means it's a solid and stable investment for income-minded investors to profit from 5G.
The Best 5G Stocks to Buy in 2020, No. 2
Our second top 5G stock to buy is Qualcomm Inc. (NASDAQ: QCOM).
While most firms are focused on developing 5G networks for mobile devices, QCOM is making the chips to make 5G work. In fact, QCOM already has more than 1,800 5G and technology patents.
Major firms like Verizon, AT&T Inc. (NYSE: T), Microsoft Corp. (NASDAQ: MSFT), Samsung, and more all use QCOM's modems for 5G mobile network tests.
Beyond that, Samsung and QCOM also partnered to develop 5G mobile chipsets. And QCOM's chips are anticipated to greatly improve battery life and allow for even slimmer phones.
At the moment, QCOM is poised to receive royalties up to $16.25 for every 5G mobile device that is sold. But even that is just a rough estimate and doesn't account for potential future agreements and cross-licensing deals.
So, with its modems, chips, and other technologies being used by some of the biggest players in the 5G technology space, QCOM is poised to grow throughout 2020 as firms like Apple Inc. (NASDAQ: AAPL) release their 5G phones.
Right now, QCOM stock trades for $90.80 per share, with an analyst high price target of $115 over the next 12 months. That's a reasonable 26.7% increase.
But our best 5G stock to buy pays a 3.1% yield and could grow 77.2% over the next 12 months...
The Best 5G Stocks to Buy in 2020, No. 1
Join the conversation. Click here to jump to comments…
About the Author
Daniel Smoot is a Baltimore-based editor who helps everyday investors with stock recommendations and analysis. He regularly writes about initial public offerings, technology, and more. He earned a Bachelor's degree from Towson University.