As the largest hemp-grower in the world, China claims it's on pace to lead the global CBD market… whenever China legalizes CBD, that is.
Most of China's hemp operation goes to textiles. So until China comes around on legalization, the United States will continue to be the best place to invest. And one of the best cannabis stocks to invest in is an American CBD company poised for a 212% climb in price over the next year.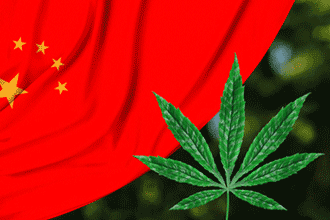 That should hold investors over while China sorts out its feelings on pot.
Last week, The Wall Street Journal reported on China's Yunnan and Heilongjiang provinces making 11% of the worldwide CBD supply in 2018.
That number is still expanding. And it has Chinese CBD companies lined up to sell to its population of over 1 billion people when the time comes.
But it's slow coming.
The WSJ article takes us through one of China's CBD plants, where a technician mentions offhand that the Chinese government watches every step of their process through security cameras.
It sounds – and looks – sort of like the operation set up by the Mexican drug cartel in Breaking Bad. They want to make absolutely certain the CBD is extracted without any THC getting in the mix.
THC is the hallucinogenic compound in hemp. And it's highly illegal in China. The mere possession of it can land you in prison, or on death row.
CBD is illegal as well, though with some grey area due to its health benefits. So the Chinese government allows shipments around the world, but not domestically.
Lucky for us, there's already a huge market opening up in the United States.
The reality is there's still time for investors to get in early on America's growing CBD sector.
In fact, the sector could explode by 700% in a few short years…
Why American CBD Stocks Are on the Rise
The 2018 Farm Bill only recently made hemp farming legal in the United States.
Hemp production saw an 80% increase in Canada from 2016 to 2017, when the Canadian government began providing hemp licenses. And with the United States adjusting its culture and legislation around cannabis, we're only beginning to see the fruits of this stateside.
Word is spreading about CBD's antiaging properties and other health benefits.
The stigma around cannabis in general is disappearing, which is good for CBD. Medical cannabis is legal in 48 states and territories right now, and it's opening a whole new line of business for dispensaries and existing pharmaceutical companies across the country.
Even if recreational cannabis takes time to legalize, the promotion of hemp's medical properties is a huge boon for CBD. This emphasis is part of what's behind a projected 706% growth year over year by the end of 2019. According to the Brightfield Group, it could soar from $620 million to $5 billion in that time.
Buying anything from China right now is risky due to its overregulation of products and its unpredictable stance on marijuana.
But once the U.S. legal wave gains traction, this top cannabis stock could dominate not just the CBD industry, but the marijuana industry as a whole.
The Best Cannabis Stock to Invest in Right Now
Join the conversation. Click here to jump to comments…
About the Author
Mike Stenger, Associate Editor for Money Morning at Money Map Press, graduated from the Perdue School of Business at Salisbury University. He has combined his degree in Economics with an interest in emerging technologies by finding where tech and finance overlap. Today, he studies the cybersecurity sector, AI, streaming, and the Cloud.