The year 1949 was a year of firsts.
Polaroid sold its first camera, RCA released its first color television, and the Yankees became the first team to win a 12th world series.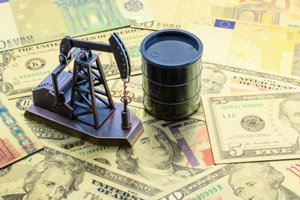 It was also the first year the United States imported more oil than it exported - a trend the nation has kept up ever since.
Until now.
This week, the U.S. Energy Information Agency (EIA) estimated that the United States is new exporting more oil than it imported since the agency began keeping track 70 years ago. And that's very good news for oil stocks...
This estimate from the EIA is the latest in a string of historic breakthroughs for the American oil industry.
In fact, record-breaking production levels, explosive global demand, and increasing instability plaguing rival producers are putting the nation on track to become the world's most important oil producer...
And that's setting our top oil stock to buy up for tremendous profits...
The Oil Renaissance Is Just Beginning
In addition to estimating that the United States is shipping out more oil than it's taking in, the EIA projected the nation's net crude oil and petroleum exports will jump to 750,000 barrels per day in 2020.
That's 230,000 more barrels a day than the nation's current net exports - a 44% increase in just one year.
That kind of growth in one of the nation's most established industries is almost unbelievable.
However, it's the natural result of the oil renaissance we've been witnessing. After the oil price crash of 2014, investors have been reluctant to dive back into American oil. But that's changing in a hurry.
You see, improvements in drilling technology, increased global demand, and growing instability among the world's other oil-producing nations have pushed U.S. oil production higher, even without record high prices.
History in the Making: Capitol Hill has opened doors to the pre-IPO market - now, every American has access to the trend that put airplanes in the sky and light bulbs in every home... [Read the full story.]
Over the last 10 years, faster drilling, better well designs, and widespread use of fracking have made it possible to reach oil deposits that were previously inaccessible.
That's what led to American oil companies tapping into a 20-billion-barrel reserve at the Wolfcamp shale formation just two years ago - a game-changing discovery that put the United States on the path to dominate global oil output.
According to estimates from the U.S. Energy Department, discoveries like this have pushed production levels to over 13 million barrels a day. That's roughly 16% of the planet's entire oil output.
It's also allowed the nation to produce more oil than it has since 1970, the nation's highest production period in history.
More importantly, global demand is making American output a necessity.
According to the International Energy Agency (IEA), global oil demand will balloon to 106.4 million barrels a day in 2040 - an increase from its 96.9 million prediction from last year.
In addition, the IEA predicts the United States will account for 85% of that growth.
Russia and Saudi Arabia, the world's two largest oil producers behind the United States, have suffered significant setbacks in their production compacity over the last year due to geopolitical conflict and internal problems.
Meanwhile, Iran's had demand for its oil crippled by U.S. sanctions.
This has left the United States as the last man standing when it comes to global oil production.
And you could cash in on this growth with the right oil stock in your portfolio.
Thankfully, the Money Morning Stock VQScore™ found a stock that's perfectly positioned to surge higher as the U.S. becomes the world's largest and most profitable oil producer.
In fact, it's our top rated VQScore stock right now.
And it could jump as much as 50% in the short term...
Our Top Oil Stock to Buy
[mmpazkzone name="in-story" network="9794" site="307044" id="137008" type="4"]Murphy Oil Corp. (NYSE: MUR) is an oil and natural gas exploration company headquartered in El Dorado, Arkansas.
Founded in 1944, Murphy has grown from a few oil wells in North Texas to a globally diversified petroleum firm making $415 million in annual profit.
While the firm has developed oil reserves in Canada and Malaysia, the firm's largest reserves are based in the Eagle Ford Shale area of South Texas and in the Deepwater Gulf of Mexico.
That means Murphy is tapped right into some of the United States' best oil reserves just as demand for American oil is surging.
Plus, right now is the perfect time to enter a position in this stock.
Murphy is trading at a criminally low price/earnings ratio of 2.94, meaning you can access its $415 in profits for a fraction of a supermajor like Exxon Mobil Corp. (NYSE: XOM). Exxon is trading over 20 times earnings.
That also means Murphy is yielding a 4.16% return on its dividend. That's also comparable to the oil giants for a huge discount.
And we're seeing plenty to like on the balance sheet. Production costs have been halved since peak production days in 2014, but oil production is growing again. The firm has grown its production for three straight years now. While its debt is up, it's still at a manageable level for this company and we expect oil firms to be expanding right now, so we know Murphy isn't going to be sitting on the sidelines.
Murphy currently trades for around $24.02 a share. However, it could soar to $36 as global demand for American oil continues to sky rocket. That would return Murphy to just above its 52-week high.
But it's also our highest-rated VQScore™ stock. A return to a previous baseline might actually be too conservative, especially if earnings continue to grow. This is a stock to get in on now before Wall Street catches on.
America's Favorite Angel Investor Shows How Easy It Is for Anyone to Invest in Ground-Floor Startups
You've probably seen stories about this person or that person making an absolute fortune from some unknown startup suddenly becoming a household name... like Uber, Airbnb, SpaceX, or Bird.
Now, it's your turn.
Shark Tank's Robert Herjavec is showing how easy it is for anyone to turn as little as $50 into what can be life-changing windfalls... all from investing in startups.