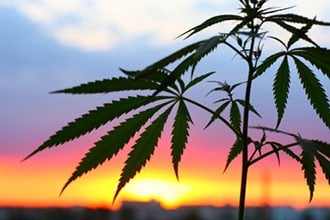 In 2018, global pharmaceutical spending hit an incredible $1.2 trillion. That's roughly the same size as the GDPs of Norway, Israel, and Ireland combined.
And that number will hit $1.5 trillion by 2023, according to the IQVIA Institute for Human Data Science.
But make no mistake: The drug industry is in store for a major disruption.
For that, you can thank the world's only universal drug, as Money Morning Defense and Tech Specialist Michael Robinson calls it.
It's not a technological breakthrough compound developed in a lab. This miracle drug grows right out of the ground.
We're talking, of course, about cannabis.
And while medical cannabis has been legalized for decades in some states, recent discoveries could totally revolutionize the industry...
The Medical Revolution Sweeping the World
Much of the recent news around cannabis in the last few years has been about its recreational use.
In 2018, Canada became the second country in the world (along with Uruguay) to fully legalize recreational cannabis. And in 2019, Illinois became the 11th U.S. state to legalize the plant for recreational use.
By comparison, the medical uses of cannabis seem like old news. It's been legal in Canada for 18 years, and all but three U.S. states allow for medicinal cannabis to some extent.
But we're only just now starting to see the medical potential of cannabis.
And it's enormous...
Cannabis can now be used to treat 172 different medical conditions, including nausea, anxiety, and epilepsy.
It can also be an effective treatment for pain, as Michael Robinson can attest.
Michael spent years relying on ibuprofen, menthol rub, and muscle relaxants to manage chronic pain in his neck and back.
But a switch to cannabis-based treatment has made Michael's life easier and more pain-free than ever.
Despite the benefits, cannabis has still barely scratched the surface of its potential...
Any other substance with the medicinal properties of cannabis would have been hailed as a "miracle drug" as soon as it was discovered. But because of fears propagated largely by the Federal Bureau of Narcotics in the early 20th century, cannabis was associated with criminals and declared illegal instead.
It's taken decades to erase the stigma - and it still hasn't disappeared completely - but the healthcare industry is finally bringing cannabis treatment into mainstream practice.
For investors, that's a potential gold mine.
According to Coherent Market Insights, the global medical cannabis market is growing at a 24.4% compound annual growth rate (CAGR).
That means it's likely to multiply almost six times over between 2017 and 2025, from $3.5 billion to $20 billion.
There is one catch, though...
While medical cannabis has enormous profit potential, it's a lot like investing in biotech firms. There's a lot of risk involved. You might hit the jackpot if your pick develops the next life-saving drug - or the most effective strain of cannabis. But finding those diamonds in the rough can be very difficult.
That's why we're opting for a backend play.
We've got a small-cap stock for you that doesn't grow the cannabis itself, but directly supports the industry as a whole.
That way we get the upside of medical cannabis while avoiding the risk that comes with investing in a single cannabis grower.
Perhaps most importantly, this pick is playing a critical role in making the medical cannabis revolution possible.
The Stability of a Dividend Stock Plus the Growth Potential of a Cannabis Stock
Join the conversation. Click here to jump to comments…
About the Author
Stephen Mack has been writing about economics and finance since 2011. He contributed material for the best-selling books Aftershock and The Aftershock Investor. He lives in Baltimore, Maryland.