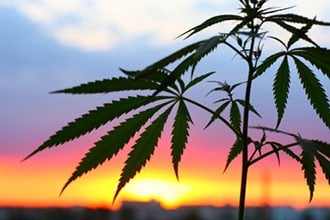 In 2018, global pharmaceutical spending hit an incredible $1.2 trillion. That's roughly the same size as the GDPs of Norway, Israel, and Ireland combined.
And that number will hit $1.5 trillion by 2023, according to the IQVIA Institute for Human Data Science.
But make no mistake: The drug industry is in store for a major disruption.
For that, you can thank the world's only universal drug, as Money Morning Defense and Tech Specialist Michael Robinson calls it.
It's not a technological breakthrough compound developed in a lab. This miracle drug grows right out of the ground.
We're talking, of course, about cannabis.
And while medical cannabis has been legalized for decades in some states, recent discoveries could totally revolutionize the industry...
The Medical Revolution Sweeping the World
Much of the recent news around cannabis in the last few years has been about its recreational use.
In 2018, Canada became the second country in the world (along with Uruguay) to fully legalize recreational cannabis. And in 2019, Illinois became the 11th U.S. state to legalize the plant for recreational use.
By comparison, the medical uses of cannabis seem like old news. It's been legal in Canada for 18 years, and all but three U.S. states allow for medicinal cannabis to some extent.
But we're only just now starting to see the medical potential of cannabis.
And it's enormous...
Cannabis can now be used to treat 172 different medical conditions, including nausea, anxiety, and epilepsy.
It can also be an effective treatment for pain, as Michael Robinson can attest.
Michael spent years relying on ibuprofen, menthol rub, and muscle relaxants to manage chronic pain in his neck and back.
But a switch to cannabis-based treatment has made Michael's life easier and more pain-free than ever.
Despite the benefits, cannabis has still barely scratched the surface of its potential...
Any other substance with the medicinal properties of cannabis would have been hailed as a "miracle drug" as soon as it was discovered. But because of fears propagated largely by the Federal Bureau of Narcotics in the early 20th century, cannabis was associated with criminals and declared illegal instead.
It's taken decades to erase the stigma - and it still hasn't disappeared completely - but the healthcare industry is finally bringing cannabis treatment into mainstream practice.
For investors, that's a potential gold mine.
According to Coherent Market Insights, the global medical cannabis market is growing at a 24.4% compound annual growth rate (CAGR).
That means it's likely to multiply almost six times over between 2017 and 2025, from $3.5 billion to $20 billion.
There is one catch, though...
While medical cannabis has enormous profit potential, it's a lot like investing in biotech firms. There's a lot of risk involved. You might hit the jackpot if your pick develops the next life-saving drug - or the most effective strain of cannabis. But finding those diamonds in the rough can be very difficult.
That's why we're opting for a backend play.
We've got a small-cap stock for you that doesn't grow the cannabis itself, but directly supports the industry as a whole.
That way we get the upside of medical cannabis while avoiding the risk that comes with investing in a single cannabis grower.
Perhaps most importantly, this pick is playing a critical role in making the medical cannabis revolution possible.
The Stability of a Dividend Stock Plus the Growth Potential of a Cannabis Stock
[mmpazkzone name="in-story" network="9794" site="307044" id="137008" type="4"]
Innovative Industrial Properties Inc. (NYSE: IIPR) is a real estate investment trust (REIT) that leases farmland to the medical-use cannabis industry.
More specifically, Innovative Industrial typically buys its properties from cannabis companies and then leases them back.
That frees up capital and allows the cannabis companies to grow and stay competitive.
Given that cannabis growers are often shut out of the traditional bank lending market, this arrangement with Innovative Industrial is one of the few ways they can get the funding needed to invest in their future.
So not only is Innovative Industrial capitalizing on a booming industry, it's also giving its clients a leg up in the race to market dominance.
That's going to keep the above-market return it gets on its properties flowing in for a long time.
Its leases run 10 years to 20 years with an annual rent increase of 3% or more. And unlike a typical cannabis stock, IIPR pays out most of its profits directly to shareholders.
That's the advantage of owning a REIT. The company is required by the SEC to pay out at least 90% of its taxable income to shareholders in the form of dividends.
As a result, shares of IIPR come with a dividend yield currently around 3.9%.
That's a nice dose of stability in a notoriously volatile industry.
THREE STOCKS: Any one of these cannabis companies could potentially deliver a 1,000% windfall. Click here to learn more...
For any investor who's been scared away from weed stocks because of that volatility, Money Morning Director of Cannabis Investing Research Greg Miller calls IIPR "the perfect introductory cannabis stock."
Regular dividend payments - combined with the stability of Innovative Industrial's income - will help investors weather downturns in cannabis stocks like the one we saw in 2019.
Last quarter's dividend was a 30% increase from the previous quarter. It was the fourth consecutive quarterly raise, during which time the dividend surged 123%.
Overall, IIPR's dividend has risen 420% since the first one was paid out in 2017. And you can expect it to keep rising. Because IIPR's portfolio has been expanding at a lightning-fast pace.
2.9 Million Square Feet and Counting
Three years ago, when Innovative Industrial went public, it only had one property to its name. Today, it's up to 41 medicinal cannabis sites licensed in 13 states.
All told, those sites amount to 2.9 million square feet of property.
That includes the company's original site, a 127,000-square-foot parcel in Upstate New York run by PharmaCann. That company has become one of the largest vertically integrated cannabis producers in the United States. It now leases five properties from Innovative Industrial spanning from Illinois to Massachusetts.
While PharmaCann has recently ventured into recreational cannabis sales, its primary mission is to advance knowledge of the plant's medicinal benefits and to promote health and wellness for end users. And thanks to its deals with Innovative Industrial, it's in an excellent position to lead the medical cannabis revolution in North America.
Other lessees include Holistic Industries Inc., which rents its 72,000-square-foot facility in Maryland. HI has been building a reputation in five states and the District of Columbia as one of the most responsible producers of high-quality medical cannabis in the country.
That's probably how it managed to raise $55 million in financing in October, while other cannabis firms struggle to find sources of funding. HI's relationship with Innovative Industries is going to be a big help as it secures more state licenses in the next few years.
And Cresco Labs Inc. (OTCMKTS: CRLBF) recently sold two Illinois properties to IIPR for $46.3 million. That extra cash is essential to the firm's aggressive growth strategy. It's been elbowing its way into markets in the Southwestern United States, including Nevada, Arizona, and California.
In April, Cresco entered into an agreement to acquire Origin House (OTCMKTS: ORHOF). That gives it access to several exclusive and highly sought-after California distribution licenses that allow companies to transport cannabis around the state.
It's part of an acquisition strategy in which Cresco hopes to put its product in front of 70% of the addressable market in the United States. And it could make it one of the dominant players in the domestic cannabis market.
Clearly, Innovative Industrial's portfolio is impressive. But don't expect its growth to slow down anytime soon.
To start, the company has about $200 million available for spending, enough to double its portfolio.
It also has no debt right now, which gives it a lot of flexibility to expand and maximize returns. As a REIT - rather than a pure play cannabis company - Innovative Industrial would likely have an easy time securing loans to make acquisitions. And doing so, rather than spending cash, would boost return on equity.
That's what made Michael Robinson call Innovative Industrial a "bona fide growth machine."
It also brings us to another great reason to buy IIPR: its outstanding fundamentals.
A 300% Gain in Two Years Is Just the Beginning
The financial picture is looking stellar for Innovative Industrial.
It's coming off a quarter in which revenue more than tripled from the year before. It also acquired 10 new properties in the quarter.
And as we already mentioned, shareholders enjoyed a 30% dividend increase.
A big part of the reason for the success - aside from acquisitions - is IIPR's favorable lease terms.
Its lease agreements are "triple net," meaning the tenants pay not just for the use of the property but also real estate taxes, insurance, and maintenance costs.
Before They Were Stocks: Stock picks are great - but the big money is made before companies go public. Now, you can access these opportunities just like the ultra-wealthy always have. We've made it easy - read how to get started.
That leaves Innovative Industrials with little overhead and little growth in operating expenses. So as rental rates rise - remember that annual increases are built into the leases - so will the company's profit margins.
Its yield on invested capital was an impressive 13.8% in October 2019, compared to the 5% to 7% most real estate trusts bring in from their commercial properties.
The future continues to look bright for Innovative Industrial, too. According to FactSet, sales are expected to more than double in 2020, from $40.2 million to $83.2 million. Funds from operations (FFO) are expected to jump 94% from $2.64 to $5.12.
This isn't the kind of REIT that you buy for the dividend alone. You can also expect the kind of explosive capital gains you would expect from a successful cannabis stock.
Case in point: IIPR's share price has quadrupled over the last two years, from a little less than $20 to about $80.
You might see that and think you've missed the party. But actually, IIPR is undervalued at its current price.
The share price fell more than 40% between July and November. That's in part thanks to the general downturn among cannabis stocks.
It's also thanks to an announcement that Innovative Industrial had filed a shelf registration to sell $250 million worth of stock. That triggered panic on Wall Street, and fears of stock dilution sent the share price plunging.
Michael Robinson calls it a "classic Wall Street overreaction." The fears were based entirely on speculation - and misguided speculation at that.
"This is a growth firm that also is very shareholder-focused," Michael says. And as IIPR's most recent earnings report shows, it's rewarding shareholders in a big way.
Innovative Industrial Is the Best Cannabis Stock to Buy Now
Legalization is just the beginning. This "miracle drug" is providing sorely needed relief for more than a million patients in California. But that's only a small fraction of the long-term potential.
That's why cannabis is still rapidly making its way into healthcare systems in the United States and around the world.
Remember, the medical cannabis market is set to rise almost 500% in eight years.
So a ho-hum, middle-of-the-road cannabis grower could grow at a 24.4% annual clip.
That would probably make you happy as an investor.
But Innovative Industrial is not an average company.
As landlord to the medical cannabis industry - one that both facilitates industry growth and generates high return on its investments - this company is positioned to outsize profits for years to come.
And because it's a relatively young company in a young industry, with an impeccable balance sheet, it's going to be able to keep making acquisitions at a blistering pace.
That's going to mean lots of growth in share price ahead.
Of course, there might still be some volatility. Wall Street is always going to be fickle.
But whenever IIPR's share price dips due to market jitters, its profits will still be passed directly into your pockets through dividends.
Better yet, those dips in price are great times to buy more shares of this cannabis juggernaut.
That's exactly the case right now.
Michael Robinson recommends grabbing IIPR at a discount now, "before Wall Street wakes up to the huge mistake it made regarding this long-term winner."
Illinois Becomes the 11th State to Legalize Cannabis (Making More People Rich)
Cannabis laws are being reformed en masse: Illinois has not only become the 11th - and second largest - state to legalize marijuana, but the first to do so by way of state legislation.
That means the medical, personal, and economic benefits of "America's Green Gold Rush" are appealing to Republicans and Democrats alike.
One cannabis research executive is hailing Illinois the "Marijuana Mecca of the Midwest," a hallmark of the rising uncapped profit potential ahead.
Once the feds end cannabis prohibition nationwide, all bets will be off - demand will boost share prices through the roof. But you can still get in on the ground floor, just in time for what could be the windfall of the century.
Illinois is already housing some of our top picks in the industry, so a few of our favorite stocks could get yet another boost.
Just click here to see how you can get them - and to potentially profit from this "unstoppable economic revolution"...
Follow Money Morning on Facebook and Twitter.
About the Author
Stephen Mack has been writing about economics and finance since 2011. He contributed material for the best-selling books Aftershock and The Aftershock Investor. He lives in Baltimore, Maryland.