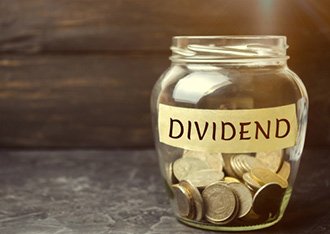 Many income investors are tempted to pounce on the dividend stocks with the highest yields, but the savviest investors seek out stable companies that can pay dividends over the long term.
While a double-digit dividend might seem like a no-brainer, these can be some of the worst stocks to own. In fact, it could signal that the company may not be able to keep paying that dividend for much longer.
Fortunately, we've found some of the top dividend stocks to buy that offer high yields and stability. These high-yield dividend stocks offer over 4% and have the long-term reliability we like to see for our readers to collect that passive income.
And one of these top dividend stocks to invest in yield as much as 7.27% with 111.7% upside potential...
Top Dividend Stocks to Buy, No. 3: IBM
You likely already know our third best dividend stock: International Business Machines Corp. (NYSE: IBM).
IBM is a U.S.-based information technology firm that operates throughout 170 countries around the world.
For over 100 years, IBM has been at the vanguard of the IT industry. It was originally a record-keeping firm in New York. But since then, it has evolved into a technology powerhouse with its hands in everything from hardware to software, cloud computing, AI, network management, nanotechnology, semiconductors, and even 5G.
Its long history, experience, and steady growth since its founding mean it also makes more than enough revenue to reward its shareholders. Not only has it been profitable for decades, but in the last 12 months alone, IBM's revenue was over $77 billion with a net income of $7.7 billion. And the firm gives that money back to shareholders with a great 4.77% dividend yield.
The Best REIT to Buy for 2020: Our top REIT pick could climb to five times its current price – and these shares yield a solid 7.9%, too. Get the pick now…
Unlike some other income-paying stocks, IBM has the stability and growth potential to make sure that hearty dividend keeps coming to shareholders. Just look at some of the major contracts and partnerships IBM is locked into.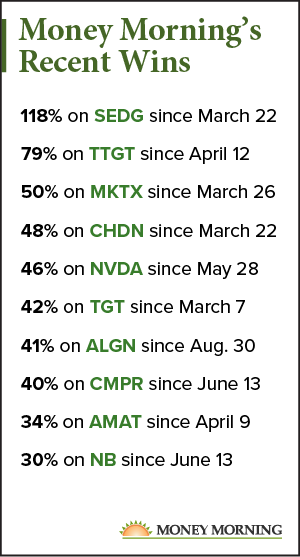 The firm's semiconductors are crucial to the 5G rollout and are already used by major firms like Microsoft Corp. (NASDAQ: MSFT), Oracle Corp. (NYSE: ORCL), and Alphabet Inc. (NASDAQ: GOOGL).
IBM has landed deals with Vodafone Group Plc. (NASDAQ: VOD) and AT&T Inc. (NYSE: T). IBM's deal with Vodafone will net it $550 million, while IBM said its deal with AT&T is worth billions.
Plus, IBM also has partnerships with Exxon Mobil Corp. (NYSE: XOM), Apple Inc. (NASDAQ: AAPL), United Continental Holdings Inc. (NASDAQ: UAL), and Walmart Inc. (NYSE: WMT) for network service management, cloud services, AI, 5G networks, semiconductors, and plenty more.
Plus, with its position solidified for the 5G revolution, IBM is expected to grow its revenue to as high as $81.3 billion over the next year.
Right now, IBM stock trades for $135.97 per share. But it has a high price target of $173 over the next 12 months. That's a solid potential 27.23% upside for a reliable, long-term dividend stock.
Top Dividend Stocks to Buy, No. 2: Royal Dutch Shell
Our second top dividend stock to invest in is Royal Dutch Shell Plc. (NYSE: RDS.A).
Shell is one of the biggest oil companies in the world. But the company is also diversifying its business by expanding into renewable energy, which means it will be able to pay its healthy dividend for years to come.
Over the next few decades, Shell's management aspires to not only be a leading oil firm, but also one of the largest electricity companies in the world.
And there's no doubt the firm has the capital to do it. It's the second largest oil explorer in the world, with a market cap of $234 billion.
Back in April 2019, Shell bought out a European company, NewMotion. NewMotion gave Shell a vast network of electric charging stations. Not only that, but Shell also bought a startup that created solar panel batteries called Sonnen. It even has a 49% stake in a solar energy company in Southeast Asia, Cleantech Solar.
As of 2019, Shell has spent upwards of $2 billion per year on renewable energy. But the firm also announced plans to double that spending with the goal of increasing the number of electric charge stations.
Of course, oil and natural gas are still a major part of Shell's business, too. A report released by Shell says its oil demand is set to grow 1% per year between now and 2025. And even with oil's predicted drop in demand by 2050, the demand will still be 78 million barrels per day.
So, while oil will still be a hot commodity even 30 years from now, the current leadership knows the firm will need to adapt to the changing energy market as well.
Shell's had revenue in the hundreds of billions for decades now. But in the last 12 months alone, its revenue was $363 billion with a net income of $20.46 billion. And its revenue for 2020 is anticipated to be as high as $368.8 billion.
With consistent revenue growth and its jump into renewables, Shell is not only adaptive but a great long-term investment that offers a superb 6.41% dividend yield.
Shell stock currently trades for $58.64 per share. With a high price target of $89, it could grow by as much as 51.8%...
But our top dividend stock to buy pays a whopping 7.27% and could even grow by as much as 111.7%...
Top Dividend Stocks to Buy, No. 1
[mmpazkzone name="in-story" network="9794" site="307044" id="137008" type="4"]
Our best dividend yield stock to buy is Iron Mountain Inc. (NYSE: IRM). Iron Mountain is a Boston-based diversified real estate investment trust (REIT) in the storage services and information management industries.
This Investing Trend Has Made Millions for Decades: In 1968, one tech IPO could have turned $50 into $5 million. Click here to see how they did it.
Iron Mountain was founded by Herman Knaust in 1951, and it was named after a depleted iron ore mine in the Hudson River Valley where Knaust earned his wealth as the "Mushroom King" - growing and cultivating mushrooms.
But as the Cold War loomed above, Knaust saw a need in the market for secure storage of records and documents. So, he set up his first business in Manhattan. And since then, Iron Mountain has grown to operate in over 50 countries with more than 1,400 data storage facilities worldwide.
It securely stores valuable documents from famous individuals like Princess Diana, Charles Dickens, Charles Darwin, Frank Sinatra, and even the musician Prince.
Nowadays, a majority of Iron Mountain's storage services revolve around digital storage and cybersecurity. Its services are so well-received that 95% of all the Fortune 1000 companies trust Iron Mountain with their precious data.
With the way the world has changed, data has become more valuable than gold. And data security has become a necessity that will likely never go out of demand. In fact, Cybersecurity Ventures reported that by 2021, cybercrime damages will rocket up to $6 billion a year. That's 100% higher than 2015's $3 billion in damages.
And Iron Mountain continues to boost its revenue from its evolving business model. In 2018 alone, 19% of its revenue came from newly emerging markets. That's more than double what it was just five years prior.
Over the last decade, its revenue has more than doubled to $4.2 billion, with a net income of $397 billion. And by 2020, its revenue is expected to grow as high as $4.42 billion.
Right now, Iron Mountain pays a 7.27% dividend yield to shareholders. And it has increased its dividend yield for nine years in a row.
Right now, Iron Mountain stock trades for $34.05 per share. But with a high price target of $51, analysts think it could grow as much as 50% over the next 12 months.
But we think it could go even higher.
Iron Mountain received a score of 4.6 from our Money Morning Stock VQScore ™ system. This means the stock is not only a buy, but it's also poised for breakout growth.
And it's really no surprise.
Iron Mountain's current price/earnings (P/E) ratio is 24.60, while its five-year average P/E ratio is 52.09. With the growing threat of cybercrimes, we think it could very realistically climb back to its average.
If it were to grow enough to hit this average again, its share price could gain 111.7%.
So, with its 68 years of experience, its adaptability, its earnings increase record, a whopping dividend yield of 7.27%, and future growth prospects, this is a great dividend stock to buy and hold for the long term.
America's Favorite Angel Investor Shows How Easy It Is for Anyone to Invest in Ground-Floor Startups
You've probably seen stories about this person or that person making an absolute fortune from some unknown startup suddenly becoming a household name... like Uber, Airbnb, SpaceX, or Bird.
Now, it's your turn.
Shark Tank's Robert Herjavec is showing how easy it is for anyone to turn as little as $50 into what can be life-changing windfalls... all from investing in startups.
Follow Money Morning on Facebook and Twitter.
About the Author
Daniel Smoot is a Baltimore-based editor who helps everyday investors with stock recommendations and analysis. He regularly writes about initial public offerings, technology, and more. He earned a Bachelor's degree from Towson University.