Stocks are near all-time highs, and it means you could triple your money on our pick for one of the top penny stocks to buy now. In fact, this penny stock is ready to pop 243%.
The S&P 500 is up 3.4% this month, at an all-time high as the United States and China approach a "phase one" trade deal. Investors are optimistic, and it's lifting the broad market averages.
While global trade news boosts major blue-chip stocks, however, penny stocks can soar even higher.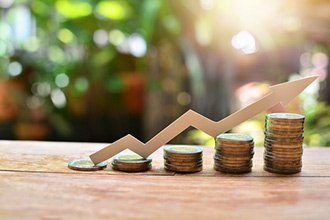 You see, penny stocks are stocks tracking under $5, and that allows them greater percentage gains than the broader market when good news arrives. Simply put, a small swing in the share price of a low-priced stock could mean double- and even triple-digit gains. A 3.4% gain on the S&P 500 could mean double or triple your investment on the best penny stock.
You can expect the stock market to continue its climb toward the end of the year. We're heading into an election year, when presidents typically seek to maximize market performance nearing the end of their term.
That's what could send this top penny stock soaring 243%…
But before we show you our penny stock pick, here's how you can keep your money safe investing in penny stocks.
What You Need to Know About Investing in Penny Stocks
Penny stocks may have lots of potential, but they are also quite risky. While the best penny stocks could gain upwards of 100%, a bad penny stock could lose as much.
But you can minimize your risk with penny stocks with a few simple tactics.
First, allocate your investments properly by limiting the total amount of money you dedicate to riskier investments like penny stocks. The 50-40-10 allocation model provides a good rule of thumb for this.
With this model, you put half of your money in defensive positions that will hold value long term, 40% into global growth and income positions, and just 10% into "rocket riders" like penny stocks and IPOs.
Second, you can avoid a lot of the common scams with penny stocks by sticking to the major exchanges. Only buy penny stocks that trade on the Nasdaq or New York Stock Exchange. These have tighter controls and more reporting requirements than over-the-counter or pink sheets.
Lastly, make sure you're well informed about the financials underlying the penny stock.
One thing that many people don't realize is that there are thousands of penny stocks to wade through to find the best choice.
This is why we use the Money Morning Stock VQScore™ system to cut through all the noise. This proprietary system scans the financials for thousands of stocks and scores them based on their breakout potential.
We can narrow down the list by choosing the best stocks trading under $5. And that's how we determine the top penny stocks.
We've found one for you today that has a potential upside of 243%.
The Top Penny Stock to Buy Now Could Triple Your Money