There are always winners and losers in the stock market, and cannabis stocks are no different. To help you find a winner, we're showing you one of the top CBD oil stocks to buy now.
With the legalization of marijuana, cannabis stocks are starting to face some fierce competition. Beyond that, the recent public health crisis surrounding vaping has made investors skeptical of cannabis stocks.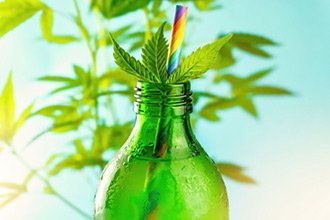 According to the CDC, there have been reports of nicotine and marijuana vape products causing lung illnesses, and in some cases, they've been fatal. So far, the CDC has determined that Vitamin E acetate - a thickening agent in unregulated THC vape products - is potentially responsible.
However, these mysterious lung illnesses seem to be primarily linked to black market THC vape products, according to Money Morning Director of Cannabis Investing Research Greg Miller.
Despite this fact, the panic over the vaping crisis is starting to weigh on the firms that are selling their products legally.
For example, vaping products accounted for more than 19% of Colorado's marijuana sales in August. Once October rolled around, that percentage had plummeted to 12% in total...
So, where are investors interested in the top cannabis stocks going now? Well, just as the vaping illness calls the purchase of vaping products into question, it also inadvertently puts a spotlight on other areas of the legal weed market: CBD.
Cannabidiol (CBD) is a non-intoxicating chemical found in marijuana and hemp that can help with inflammation. And since the Decemeber 2018 Farm Bill legalized the cultivation of hemp, CBD has exploded into a $591 million market, with the potential to grow more than 3,600% to $22 billion, according to Grand View Research.
As you can see, CBD firms are quickly becoming some of the best cannabis stocks to buy now. And here's why...
CBD Products Can Replace Vaping
One of the biggest reasons marijuana users choose vaping is to avoid one of the best-documented negative health challenges in smoking weed: inhaling burning plant matter.
But consumers are also drawn to marijuana CBD products for a similar reason. It's the gastrointestinal tract that absorbs the active ingredients in all cannabis consumables - whether they are CBN, CBD, THC, or a combination - and not the lungs.
There's another big positive associated with CBD products from publicly traded firms, too. CBD oils, edibles, and drinkables provide a good introduction to weed products. They work with folks entirely new to marijuana, but they also work for those who have used CBD or THC vaporizers in the past.
Now, it's challenging to definitively say the silver lining in the vaping crisis will be higher sales for CBD manufacturers. As we all know, correlation doesn't necessarily mean causation. When CBD sales rise, it could have at least four causes.
There could be more popular products like edibles and drinkables, easier access with legalization, expanded consumer education, as well as the vaping illness pushing CBD product sales higher.
But the point is, multiple catalysts could lead CBD's massive, $22 billion potential to become a reality.
Cannabis, of course, is completely legal in Canada. Vape products are expected to roll out there in the middle of December. Given the health concerns happening in the United States, Canada is very likely paying close attention to the issue and its potential to weigh on Canadian cannabis enthusiasts' minds.
Now, the CDC has identified at least one major chemical of worry, but without a definitive full picture, many will have their guard up.
However, vaping is just one method of cannabis consumption. People who like or consume marijuana regularly are highly unlikely to stop because of the public health crisis surrounding vaping, black market THC, and companies illegally selling marijuana products.
The industry is not going to stop its roll toward juggernaut status because of this. Federal legalization is still extremely profitable - with states like California making billions in tax revenue. And it'll grow in profitability as states continue to legalize marijuana.
Consumers will still be purchasing CBD products like edibles, drinkables, creams, and more. Early data shows that edibles sales - both THC and CBD ­- have risen in states like Nevada, Colorado, California, and Washington - even as vaping sales have dropped.
Beyond that, CBD edibles from publicly traded firms are likely to see a breakout in Canada, too. That's exactly why we're bringing you one of the top CBD stocks to buy now...
Edibles and Canada: a Great Combination for the Top CBD Stock
[mmpazkzone name="in-story" network="9794" site="307044" id="137008" type="4"]
Canadian weed companies are moving fast to get THC edibles, CBD-infused edibles, and CBD-infused drinkables to consumers by the middle of December.
This could be a major opportunity for firms to get an entirely new source of revenue from CBD's growing popularity. Two companies are already in the process of collaboration in order to reap the potential benefits.
Truss Beverage Co. is one of the players in the CBD market in Canada. It's a joint venture between Molson Coors Canada, a subsidiary of Molson Coors Brewing Co. (NYSE: TAP) and Hexo Corp. (NYSE: HEXO).
Truss plans to launch two CBD-infused beverages. Each will be infused with 10 milligrams of CBD. Beverage Daily says that 80% of Truss's beverage products will be infused with either CBD, THC, or both - with doses ranging from low- to mid-level.
Truss management intends to be among the "first on the playing field" as the CBD beverage market opens, according to Greg Miller. Molson forecasts that the THC and CBD beverage market could be worth a range of 1.5 billion Canadian dollars to CA$3 billion ($1.14 billion to $2.27 billion) in the medium term. First movers will have a definite advantage.
The other player is Canopy Growth Corp. (NYSE: CGC). In 2020, it plans to launch a new product: CBD-infused, cucumber-flavored sparkling water. Beyond that, it has a psychoactive ginger ale in the works, too. It even premiered 16 new infusion products at a tasting event in Ontario just a few months ago.
Will these products be a hit? Vivien Azer, Cowen's marijuana analyst, noted when speaking to Yahoo Finance Canada that she believes the first licensed CBD and THC beverages will be similar to established sodas, alcoholic beverages, and sports drinks we enjoy today.
Azer said she believes there is room for all the products until consumers indicate their preferences. That means the first-mover advantage here will be very real.
Cannabis Sector Secrets Herein: Wall Street doesn't want you to know this, but... not all cannabis stocks are champs. All pot stocks see highs and lows, but some are just... flops. Don't worry; we've picked what we believe are the "winners from the wannabes." Just click here to get them.