Hearing phrases like "iron condor options trade" might be intimidating at first. But it's really just a fancy name for another simple options trading strategy.
An iron condor is an options strategy that pays you if the underlying stock does absolutely nothing. And if the stock does happen to start moving in either direction, the iron condor trade limits your risk.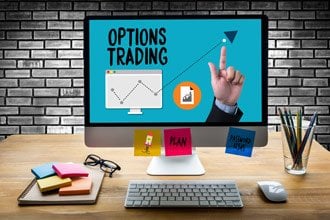 Today, we're going to show you how an iron condor works, then how to execute it. We even have an image that might help you out.
It's true, an iron condor is not your basic entry-level options play. It's not necessarily a strategy for beginner options traders. But even so, it is fairly straightforward once you know how it works.
In options trading, you can profit whether your stock goes up or goes down. Sometimes, you don't even have to pick the direction to make money. And sometimes, you can make money if the stock does not go anywhere. That is what we will attempt with an iron condor.
You may be familiar with options spreads, such as a bullish put spread or a bearish call spread. Each of these involves two options with the same expiration date but different strike prices.
Since you sell the more expensive of the two options, and buy the less expensive, you start the trade with a net credit deposited in your account. If the trade works to your expectation, you keep the full amount of the credit when the options expire.
The bullish spread hopes the stock will go up in price, and the bearish spread hopes it will go down. By combining them together, the net result is that you want the stock to stay put so all options expire worthless – and you keep all the money.
Here's a how you can start executing an iron condor trade. There's also a graphic to simplify things a bit more…
Building an Iron Condor