We want you to be the most informed cannabis investor in the nation, so we're taking a deep dive into the 10 states most likely to legalize marijuana in 2020.
According to the National Institute of Cannabis Investors, it's a crucial year for marijuana stocks. Most of the 2020 presidential candidates support federal legalization. And even some of the most hardline anti-pot states are easing restrictions.
The legal cannabis market is worth $10.8 billion right now. But the Institute says full U.S. legalization could make the cannabis market "jump to over $300 billion practically overnight."
Currently, 33 states and Washington, D.C. have legalized medical marijuana, while recreational cannabis is legal in 11 states and Washington, D.C. That means some form of cannabis is legal in 44 states, plus the District.
But these 10 states could crack open the U.S. cannabis market a little wider in 2020. There is still plenty of opportunity here.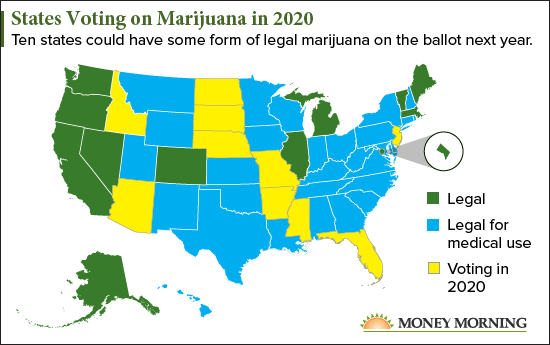 Make no mistake, you still have a shot to get in early on the cannabis industry. In fact, there are still 40 states left to fully legalize marijuana. And you can profit again and again as each state moves toward legalization.
We've already seen glimpses of this in Canada. Cannabis stocks surged shortly after Canada legalized marijuana with the Cannabis Act in October 2018. The ETFMG Alternative Harvest ETF (NYSEArca: MJ) shot up 54% that December.
The same ETF went up 9.4% less than two weeks after Illinois legalized recreational weed. And that's just one state. This year, we could see several shocks to the cannabis sector at once.
As many as 17 state ballot measures could be on their way to the election booth next November. In some cases, it will be the state's first motion to legalize marijuana. Of course, this isn't the only path to marijuana legalization-the state legislature could even vote on it before leaving it in the peoples' hands.
Six of these states are voting for recreational marijuana, with medical marijuana already legal.
Historic FDA Approval: This biotech just received FDA approval for a first-of-its-kind treatment for a growing health crisis. There's still time to get in on the biggest gains – if you act fast. Click here to get this FREE pick now.
Two of them are gearing up to legalize pot for medical purposes. And two could vote for both medical and recreational. So this election will be a huge catalyst for the cannabis sector.
But there's still one unlikely state that's getting a huge marijuana catalyst in 2020. We initially thought it was too good to be true. But we now know there's been a strong push for reforms from inside this state. And if this state goes through with it, the impact on the cannabis industry will be monumental.
We're going to show you the states legalizing marijuana in 2020, medically or recreationally, from the least likely to the most likely.
Then we'll show you a potential catalyst in another state that could change America forever...
Why Missouri Will Legalize Marijuana in 2020 - Recreational
Missouri legalized cannabis for medical purposes a year ago, and a new movement is emerging this year to catch up with pot laws in neighboring Illinois. But the state is moving slowly, making it our least likely state to expand marijuana laws in 2020.
Despite legalizing medicinal marijuana, the citizens of Missouri are still waiting to use their medical marijuana cards. The state has approved over 17,972 patients for medical marijuana as of November, but those patients will have to wait until January 2020, when the state awards licenses to the dispensaries.
Meanwhile, a group is collecting signatures for Missouri's sole ballot measure, the Marijuana Legalization and Expungement Initiative. It needs 160,199 signatures by May 3 to make it on the 2020 ballot.
A whole 65% of voters helped legalize medical cannabis a year ago. But again, this was only a year ago. You wonder if proposed full legalization will take so quickly.
Like Missouri, this next state has the potential to legalize, but it's slow coming...
Why Arkansas Will Legalize Marijuana in 2020 - Recreational
The Arkansas Recreational Marijuana Initiative could be up for a vote on November 3, 2020-along with two other potential measures gathering signatures.
But voters in this state, similar to Missouri, are but slowly convinced toward recreational marijuana use. In a 2016 poll, after medical marijuana was legalized in Arkansas, citizens were asked about legalizing recreational marijuana. Up to 70% were against it. In a similar poll last year, the number fell to 53% against recreational marijuana legalization.
That's progress, but it's gradual. Arkansas favored marijuana for a while, so it may only be a little more time before pot is fully legalized here.
We'll get to the state that's ready to bust the cannabis industry wide open. First, here's North Dakota. It's only slightly more open to recreational use than the last two...
Why North Dakota Will Legalize Marijuana in 2020 - Recreational
North Dakota legalized medical marijuana in 2016, after failing to do so the year before. In 2020, it'll try to move the needle another notch.
The North Dakota Marijuana Legalization Initiative, its only marijuana ballot measure, would allow for legal recreational use of marijuana for anyone over 21. It's currently in the signature-gathering phase, needing over 26,000 signatures by July 2020 to get on the ballot.
A poll by Legalize ND showed a slim majority of 51% of North Dakotans in support of recreational weed.
But South Dakota could have even more support. This state could be more likely to adapt quickly, with both a medical and recreational ballot measure at play.
Why South Dakota Will Legalize Marijuana in 2020 - Medical and Recreational
South Dakota currently has two potential ballot measures in motion, one for medical and one for adult recreational use. They both have significantly more than the required signatures.
The medial petition has gathered 30,000 signatures, nearly twice the 16,961 necessary for a ballot initiative. Over 50,000 signatures have been submitted for recreational use, more than the 33,921 needed for a ballot initiative.
There have been many attempts to make this happen in South Dakota over the last decade - either stopped by lawmakers or a lack of signatures. But sentiment has shifted significantly in recent years.
According to the Institute, a shift in South Dakota could be the linchpin for federal marijuana reform. It's historically one of the most restrictive states for all forms of marijuana. But it has the opportunity to completely turn that around in 2020, a year when most presidential candidates are pro-legalization.
If marijuana ends up on the ballot, majority support for legalized marijuana could see these measures through. But of course, with the way it's gone in other states, medical marijuana is more likely to arrive first.
Expect at least medical marijuana to be on the 2020 ballot in South Dakota. The same can be said for this southern state...
Why Mississippi Will Legalize Marijuana in 2020 - Medical
A group called Mississippians for Compassionate Care collected over 214,000 signatures in support of legalizing medical marijuana in Mississippi.
The Mississippi Medical Marijuana Amendment of 2020 is the only potential marijuana-related ballot measure in 2020. And it looks like it's headed for the voting booth.
About 67% of Mississippians support medical marijuana legalization. That means, if it's up to the voters, there's a strong likelihood it will pass. This will be huge for the cannabis industry, and it will create ripples in the more conservative southern states.
But an even greater percentage of voters support medical marijuana in this next state. Though Idaho is one of the more stringent on marijuana issues, it's facing pressure from all sides...
Why Idaho Will Legalize Marijuana in 2020 - Medical
Idahoans right now have one potential ballot measure collecting signatures for legalizing medical marijuana. Weed is still very criminal there - anyone possessing it can land five years in prison and a $10,000 fine.
So why are we talking about it? The state is surrounded by legal marijuana. Montana, Oregon, Nevada, Washington, Canada, and Utah have all legalized it for recreational or medical use.
Something's gotta give...
Right now, just 43% of Idahoans support legal recreational marijuana. But a whole 73% of Idahoans support medical marijuana, which is a start for a state that's shut it down in recent years. As Idaho makes headway on medical marijuana sentiment, don't be surprised if their Medical Marijuana Initiative succeeds in 2020.
But medical marijuana has even more support in this other Midwestern state...
Why Nebraska Will Legalize Marijuana in 2020 - Medical and Recreational
Nebraska has a whole of two marijuana petitions in play.
State lawmakers have thrice rejected medical marijuana bills. But the group Nebraskans for Sensible Marijuana Laws claims to be picking up steam with its Medical Marijuana Initiative for 2020.
There's also a Cannabis Legalization Initiative, which would make cannabis use a constitutional right in the state. But this is less likely to pass.
The medical measure currently has over 15,000 of the 122,000 signatures needed by July 2020. If it ends up on the ballot, there's a potential 77% of Nebraska voters in support of medical marijuana, according to a survey by the Marijuana Policy Project.
Now, we're getting to the real meat of the legalization wave. These next three states are gearing up to send the cannabis industry through the roof.
Why Arizona Will Legalize Marijuana in 2020 - Recreational
Arizona has three potential ballot measures in play. And that's no surprise.
The state is home to a number of growers and manufacturers of medical marijuana that could benefit from full legalization. Arizona will also face pressures from other Southwestern states such as California, Colorado, and Nevada, where "cannabis tourism" has taken hold. They don't want to be left out of the tourism boom.
Arizona will leave marijuana legalization up to its citizens next November. A poll showed a majority of 52% of Arizonians in support of legalizing recreational marijuana.
Some larger cannabis brands, as the Institute points out, have also gained recognition here through the medical market. Curaleaf Holdings Inc. (OTCMKTS: CURLF) made two acquisitions in Arizona totaling $25.5 million in 2019.
Another one of our top cannabis stocks has a presence there as well.
Here's another state that's almost certain to pass recreational weed in 2020.
Why New Jersey Will Legalize Marijuana in 2020 - Recreational
The New Jersey Senate voted last month to put recreational marijuana on the ballot in 2020.
New Jersey lawmakers had been debating legalizing cannabis for two years, killing proposals left and right. The governor wanted it, but half of the legislature didn't. And they'd struggled to find a resolution for years, until now.
It's finally in the hands of New Jersey voters.
And New Jersey voters are fully on board. A Monmouth University poll found that 68% of New Jerseyans agree with legalizing recreational marijuana.
This is great news for cannabis tourism on the east coast. It will expose the cannabis industry to destinations like Atlantic City and the rest of the Jersey Shore.
But the impact of New Jersey's budding marijuana industry comes only second to this next state...
Why Florida Will Legalize Marijuana in 2020 - Recreational
Florida has no less than four ballot measures collecting signatures for recreational marijuana.
As of last month, the Make It Legal Florida ballot initiative received 313,000 signatures and is headed for judicial review. They need 766,200 by February to be on the ballot for the 2020 elections.
Florida is most likely the next state to legalize recreational marijuana, with 64% in support, according to a University of North Florida study.
Florida is also having the second-highest average daily growth in medical marijuana patients per day. This indicates a sentiment more in favor of marijuana than the stigmatic position maintained by other southern states.
The Institute highlights several major cannabis companies that currently have operations in Florida. Trulieve Cannabis Corp. (OTCMKTS: TCNNF) has 31 dispensaries, SurTerra has 26, and Curaleaf has 25.
These states could all put money in the pockets of cannabis investors in 2020. But the biggest break for marijuana could come from the most unlikely place next year...
The Biggest Catalyst for Marijuana Legalization in 2020
Join the conversation. Click here to jump to comments…
About the Author
Mike Stenger, Associate Editor for Money Morning at Money Map Press, graduated from the Perdue School of Business at Salisbury University. He has combined his degree in Economics with an interest in emerging technologies by finding where tech and finance overlap. Today, he studies the cybersecurity sector, AI, streaming, and the Cloud.